Need to know facts about
New York State
Currency
American dollar ($, USD)
Dialling codes
To phone the USA from other countries: +1 To phone other countries from the USA: 011 Health Insurance Notoriously high medical costs, so good vacation medical insurance is a must.
Electricity
110 volts / 60Hz. Plugs have two flat pins or two flat and one round.
Emergency numbers
911 for police, ambulance or fire
History and culture
Now the third most populated state in the country, New York was inhabited by various tribes of
Algonquian
and
Iroquoian
speaking
Native Americans
when Dutch settlers moved into the region in the early 17th century. From the time when Henry Hudson, an Englishman exploring under the Dutch flag came up the Hudson River in 1609 and began trading with the Native Americans, the state has been filled with European migrants. Hudson and the Dutch first settled Fort Nassau which is now the site of Albany, the state's capital city, with the Dutch then moving south on the Hudson River, where they settled in New Amsterdam, later to become New York, when the British took over in 1664. There were various battles between the Dutch and the British for the state, with the British gaining final control in 1675, where they stayed until their final evacuation after the American War of Independence in 1783. Albany became the state's capital city in 1797.
Four of New York's Iroquois Nations fought on the British side during the war, and were resettled in Canada afterwards, with the British handing over vast tracts of Iroquois land as part of the treaty. Five million acres of this land was then sold, much of which was developed as upstate New York, sales which are still contested to this day.
During the war, France, Spain and The Netherlands had supported the Americans, creating the first wave of New York's immigrants. Closely followed by the industrial revolution in the form of the Erie Canal which, in the early 1800's, opened up a whole new world of international trade and attracted workers from all over, with cities like Buffalo and Albany expanding hugely. New York City became the main port of entry for immigrants and still has a multi-national make-up.
Agriculture is now the largest industry in New York State, and farming, small community hubs and outdoor living is still very much part of the culture in New York. In spite of its cosmopolitan reputation, based on New York City, the majority of the state is made up of small rural towns and villages, which thrive on community events and a strong ethos of neighbourly support. There is a great sense of regional pride everywhere you go, and with most international visitors going to New York City and rarely beyond, New Yorkers are overwhelmingly hospitable when they realise you want to discover the rest of the state. They love it when, as an international visitor, you recognise and celebrate that there is so much more to New York than Manhattan. They know it, are rightly proud of it, and they want nothing more than to share it.
Language
English
Recommended reading
Useful New York guidebooks include, The Official Rails to Trails Conservancy Guidebook: New York, by Craig Della Penna and Tom Sexton (
globepequot.com
) ; Appalachian Mountain Club Best Day Hikes in the Catskills and Hudson Valley (
globepequot.com
); Fifty Hikes in Western New York and Fifty Hikes in Central New York, both by William P Ehling (
countrymanpress.com
); Take a Paddle in Western New York by Rich Freeman (footprintpress); The Nature of New York: An environmental history of the Empire State by David Stradling (
cornellpress.cornell.edu
); Erie Canal Bicyclist & Hiker Tour Guide, 2nd Edition and Finger Lakes Bicyclist's Tour Guide, 2nd Edition by Harvey Botzman (
cyclotour.com
)
State vacations
New Yorkers, like all Americans take their state vacations very seriously as there is very little vacation entitlement in the USA generally. So many places book out in advance during these key dates. The summer tourism season often starts around Memorial Day and finishes around Labor Day, with some businesses going to weekend only operations before and after these dates. Federal and New York State vacations are as follows:
1 January - New Year's Day
Third Monday in January - Martin Luther King Jr Day
Third Monday in February - President's Day (honours Washington, Lincoln and all subsequent US presidents) Last Monday in May - Memorial Day (honours those who have died while serving in the United States Armed Forces)
4 July - Independence Day
First Monday in September - Labor Day
11 November - Veterans' Day
Fourth Thursday in November - Thanksgiving
Fourth Friday in November - Day After Thanksgiving
25 December - Christmas
Time zone
Eastern Time Zone
GMT/UTC - 5h during Standard Time
GMT/UTC - 4h during Daylight Saving Time
Weather
The weather is very seasonal in New York State. With temperatures an average 82 °F (27 °C) in summer in New York City, the ocean breeze of Long Island and the peaks of the Adirondacks and Catskills offering some reprieve. Winter is, by contrast, one big freeze in the state, particularly the further north you go, and although many regions benefit from winter sports tourism, areas like The 1000 Islands pretty much shut down in winter. Autumn, or The Fall, is big business in New York, with relatively mild temperatures still allowing outdoor activities, at a time of year when the leaves change, and 'leaf peeping' and 'fall foliage' tourism kicks in.
The southern part of New York State have been hit by hurricane season in the past, which can be anywhere between August and October. The two most recent hurricanes from which many places are still recovering were Hurricane Sandy in October 2102, and Hurricane Irene in August 2011.
Top tip
Dates are written in the reverse way to Europeans, ie. Month, day, year, and times are never given in the 24 hour clock to which Europeans have become accustomed. Which means times are still defined as being PM or AM. Both these factors can have an impact when you are booking tickets, so be wary.
More things you might need to know:
Responsible Travel would like to thank the New York State Tourist Board for their sponsorship of this guide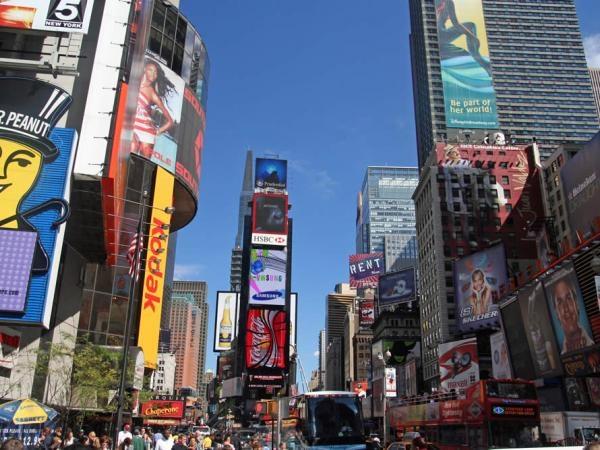 Niagara Falls & upstate New York short break from nyc
From
US $

949
3 days
ex flights