Niagara Falls, New York State
Niagara Falls is on the north west of New York State on the border with Canada, meaning that this world famous natural attraction is shared between two nations. This is a successful partnership, with a friendly rivalry between the two as to which side does 'the falls' best. And it has to be said, New York does it extremely well. I was slightly resistant to going there at first, as I tend to stay shy of over commercialised tourist attractions generally, but I was actually overwhelmed by the whole experience. Overjoyed even, and so relieved that I didn't miss it.
There are actually three waterfalls at Niagara - from biggest to smallest they are Horseshoe Falls, the American Falls and the Bridal Veil Falls. But the first thing that strikes you when you arrive at Niagara Falls is the Niagara River itself, which drains Lake Erie into Lake Ontario and which you traverse using a pedestrian bridge, the fast and expansive waters gathering speed underneath as they race towards their final plunge just a stone's throw ahead. This bridge is the escape from the commercial boulevards that hit you when you first arrive in the town. It takes you into the heart of Niagara Falls, a protected and profoundly beautiful, moving (physically and metaphorically) landscape. This is, in fact,
Niagara Falls State Park
, the oldest State Park in the USA, created by a team of environmental visionaries who recognised, as early as the 1860's that the potential industrial growth of this region would destroy its future forever. Known as the Free Niagara Movement, who fought to have the land protected by the state and then given to the people for free access to enjoy it at all times.

Niagara Falls State Park
Travis Satterley, guide and technician at Niagara Falls State Park describes the rebuilding of the viewing deck by hand each year to protect it from winter ice. [01:35]
And this is how Niagara Falls still is today. It is a free State Park, you don't have to pay anything to enter, unless you bring a car, and it is open 24/7 every day of the year. Every season is different, with summer being peak for visitors as the weather is hot, and getting wet by the falls is a fun part of anyone's summer day. Although the Falls never stop flowing in the winter freeze, there are beautiful ice formations to be seen, even if the attractions such as the boats don't run until about April and of course, the autumn is a gorgeous time to visit, as the trees take their 'fall foliage' flip of colour. Niagara Falls State Park was designed by the leader of the Free Niagara Movement and America's first landscape architect, Frederick Law Olmsted, and there is a great freedom in its design. There are no fences around the river's edge, some signs warning people that it can be dangerous, but it is all very open. Of course there are railings by the falls themselves, and you do pay to take some of the close-up experiences such as following the boardwalk to the veritable shower under the Bridal Veils Falls, or the famous Maid in the Mist boat that goes up close to the Horseshoe Falls, but wandering -and wondering -is absolutely free.
Here are a few ways to experience and enjoy Niagara Falls and the surrounding region which are responsible and fun:
Hike in Niagara Falls
. Niagara Falls State Park is over 400 acres in size, so there is plenty of walking to be done. However, if you follow the Niagara River upstream, you enter other state parks, all of which have trails, such as
Whirlpool State Park
and
Devil's Hole State Park
as well as the Robert Moses Parkway Trail, a multi-use trail that follows the Niagara Gorge. Head to the Niagara Falls Discovery Center at the trailheads for maps and more information. Hikes vary from one to three hours and you need good hiking boots to enjoy them properly. There is also a very useful Facebook site, Niagara Gorge Hiking for hiking fans in the area and worth tapping into if you would like to see what local walkers are recommending.
Cycle in Niagara Falls
. You can cycle in all Niagara Falls State Park and also in the Whirpool State Park, so it is worth hiring a bike to get around. You can combine it with a bit more serious cycling in the region by taking the
Route 5 Bicycle Route
(on road but with dedicated cycle lane) to Lockport on the Erie Canal and following a three day
inn to inn cycle
along the canal to Palmyra, a very popular section of the canal.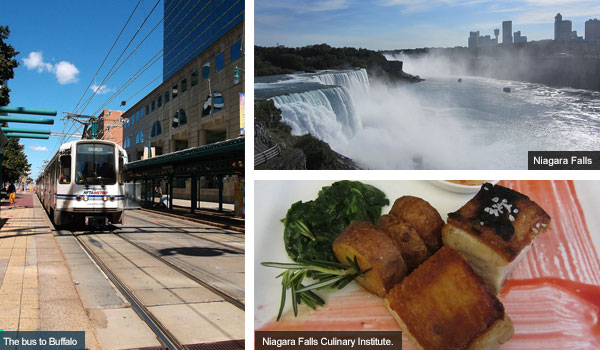 Bus from Buffalo
. Buffalo is just under twenty miles from Niagara Falls, and only a $2 bus journey. You can put your bike on the local bus as they have bike racks on front of and then cycle into the Park. Buffalo is also a booming and buzzing city with lots of responsible and sustainable developments happening there, making it one of my
top ten places to visit in New York
.
Niagara Wine Trail
. Niagara is a prolific wine producer, and with over fifteen vineyards and wineries to visit on the trail, you will certainly get a taste of what is on offer from all these local growers and producers.
Becker Farms
, for example, combines other farm activities such as pick your own apples in season and a superb bakery with their wine producing, or
Arrowhead Springs Vineyards
which hand produces all their Merlots and Malbecs, Cabernets and Chardonnays, using sustainable methods and handmade barrels. There are many events along the Wine Trail throughout the year, so keep an eye on their calendar. You can also purchase a
Vino Visa Passport
, which entitles you to free tastings and discounts on purchases.
Niagara Falls Culinary Institute
. A center of epicurean excellence, its headquarters is hard to find between the Hard Rock Café and the hardcore souvenir shops of Niagara Falls main street, but it is worth the search. And it is only minutes' walk from the falls. Make your day complete, and replete, by heading here at the end of the Wine Trail, catch the falls at dusk and go sample the students' work in fine dining style. They also have the only
Barnes and Nobles
bookstore that is wholly dedicated to cuisine.
Artpark
. In Lewiston, this is the summer hub of the arts, with outdoor performance spaces for concerts and play as well as visual arts and family cultural events. All set in a natural riverside environment, Very happening. Very New York State.
Castellani Art Museum.
Niagara University, Greater Niagara. As well as its permanent collection of over 5700 works of art, including Picasso, Miro, Dali and Warhol, the Castellani has an impressive folk art collection celebrating many aspects of this region's local heritage. This museum was a a philanthropic gesture made by Mr. and Mrs. Armand J. Castellani, of Niagara. Mr Castellani was a grocer by trade, and went on to found Tops Markets, one of the largest supermarket chains in Western New York, bought by Morgan Stanley in 2007. The company has rebranded with a smaller, more local influence again as
Tops Friendly Markets
.
Food to go
. When you are on the road, keep an eye out for the region's many farmers' markets, farm stands and pick your own fields.
Find out more about
nature and wildlife in New York State
Responsible Travel would like to thank the New York State Tourist Board for their sponsorship of this guide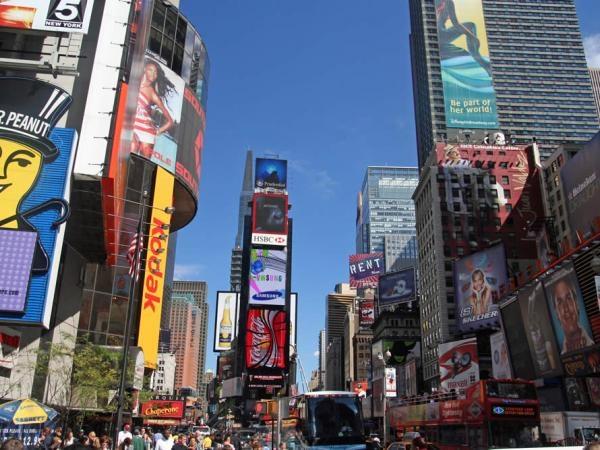 Niagara Falls & upstate New York short break from nyc
From
US $

949
3 days
ex flights