Outdoor adventure in New York State
As the aeroplane descended towards New York City and I looked out the window in anticipation of catching a glimpse of that famous skyline, I was stunned by just how much nature encroached on the concrete jungle. We followed the route of the Hudson River, a 315 mile long artery which runs from Henderson Lake in Newcomb in the North of New York State all the way into New York City. On either side of it I could see forests, mountains and lakes - a veritable natural playground all just within a few minutes from landing. And that was just the tip of the iceberg.
Further North, the Adirondack Mountains offer outdoor adventurers six million acres of hiking, biking, kayaking, skiing and so much more. It is larger than five of the US National Parks combined, is falling down with trails and it is five hours' drive from Manhattan. Or you can get there by train with Amtrak on the New York to Montreal service, which drops you at Westport where a 'Thruway' bus service connects you with the hub of the region at Lake Placid.
Just like this rail service, and unbeknownst to many, New York State stretches up as far as the Canadian border, and there are two wonderful regions within the state where you can experience this proximity. Most famously at Niagara Falls, where the mist enshrouds both sides of the border. Less well known, but equally stunning is in the
1000 Islands Seaway
region of New York State. There are, in fact, almost 1800 islands up here, but some belong to the Canadian side, which lies just a kayak trip away across the St Lawrence Seaway. An archipelago to rival Stockholm's, this is cloud nine for any canoeist.
Kayaks and canoes are strapped to nearly every car heading towards the Finger Lakes region of New York too. Not to be upstaged by the Great Lakes of Ontario to the North and Erie to the West, the
Finger Lakes
stretch down from north to south in an elegant line, just like outstretched fingers, offering not ten but thirteen watery wonderlands. All with Native American Indian names like Canandaigua, Seneca, Owasco and Onondaga, because this is also the area to explore some of the traditions of the
Six Nations of Irraquois
people, many of whom originated in this region.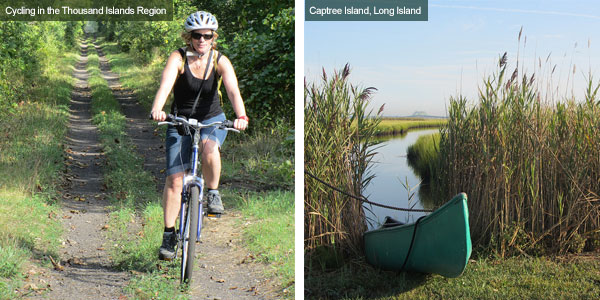 Another aqua artery for outdoor activities is the Erie Canal. Completed in 1825, this was one of the most significant industrial developments of the USA, but when railroads starting taking over much of the freight transport it fell into disrepair. It is now a protected
National Heritage Site
, used by leisure boats and cyclists, the
Erie Canalway Trail
offers 365 miles of superb cycling opportunities between Buffalo and Albany.
And then of course New York has beaches. The glamorous Atlantic shores of
Long Island's
South Shore contrast beautifully with the more serene creeks and inlets of the North Shore. You will even find beaches in
Central New York
at Sylvan Beach and Verona Beach. Albeit on Oneida Lake, the sandy beach, traditional fairground, lighthouses and laid back atmosphere proffers summer solace and a sense of sand between the toes carefreeness.
Responsible Travel would like to thank the New York State Tourist Board for their sponsorship of this guide