State and National Parks in New York State
"There is nothing so American as our national parks.... The fundamental idea behind the parks...is that the country belongs to the people, that it is in process of making for the enrichment of the lives of all of us." Franklin D. Roosevelt
USA's National Parks include not only areas of scenic and scientific importance, but also those of historical and cultural significance. There are no national parks of the traditional type in New York, but there are lots of National Monuments (Statue of Liberty), National Memorials (Hamilton Grange National Memorial), National Historic Sites (Home of Franklin D Roosevelt), a National Seashore (Fire Island) and a National Heritage Corridor (The Erie Canalway), which are also part of the National Parks system.
It is all a little confusing, but don't let that put you off. Because there are also 179 State Parks in New York State. And they are still vast. And vastly underrated. And then just to add to the confusion, there are Parks that call themselves parks but which are, in fact, Forest Preserves - namely The Catskills and The Adirondacks. New York's State Parks are, however, the biggest secrets I have ever come across. To help you choose, here are just a few of my favourites (with a few cool national thingies thrown in there too) but for details of all them, check out
New York State Parks
website or download their
free iPhone app
.
The Adirondacks. A Forest Preserve, this is the place to wrap yourself in the warmth of wilderness. To come to New York and not visit the 46 peaks and thousands of lakes of the Adirondacks, is like going to France and never seeing the Alps. If you don't want to hire a car, take a bus, but do just get yourself to this wonderful landscape to ski, hike, swim, cycle or just go a bit wild. There are six million acres of it to explore and lots of outdoorsy guides to make it accessible and enjoyable. Known as ADK -it's like a natural drug. You will just keep wanting more and more.
Allegany State Park, Chautauqua Allegany region. This is New York's largest state park with over 65000 acres divided into two areas. The Red House is a lake area with cabins, beach and water activities as well as hiking, cycling and cross country skiing trails around it. And the Quaker area, traditionally a Quaker settlement, has two lakes, the Quaker cabins, store house and amphitheatre as well as many trails for horses, hikers and happy campers.
The Catskills. Just a hundred miles from Manhattan to the mountains, The Catskills also has a Forest Preserve within the park, which is protected 'forever wild'. Within the Preserve, there is official Wilderness, about 143000 acres are only accessible by foot, while other areas within the Catskills called Wild Forest and State Recreation Areas do allow bikes, skiing, camping etc. If it all sounds a bit prescriptive, it isn't when you get there. It is all just simply a tonic. Great map available here.
The Erie Canalway is a National Heritage Corridor and a massive coup in terms of restoring industrial wasteland back to natural wonderland. Just pick a section of the 400 miles that go from Albany to Buffalo (both with train stations and airports) and get cycling along its stone dust paths to take yourself across the state - and through time. Your best starting point is getting this free Cycling The Erie Canal guidebook and then choose which section appeals.
Fire Island, Long Island. This is a designated National Seashore which is part of the National Park system. 26 of the 30 miles of this barrier island which lies parallel to Long Island are protected by law, although sadly this natural beauty spot could not be protected from Hurricane Sandy which tore much of it apart in 2012. However, this is beach bliss with no roads on the island, although you can get there by road bridge and drop your car in a car park. After that, it's dunes, dips and diving territory.




If you are traveling on foot or bike, State Parks are free, charging only for the car park, which is usually under $10. Or you can buy an Empire Passport, which allows you to bring your car into all State Parks for $65 for the year.





John Boyd Thatcher State Park, Capital-Saratoga region. These are the hills that stretch around the hill towns just outside Albany. Known as the The Helderberg Hilltowns named after the escarpment that traverses this State Park, this is a land of gorge walking, incredible views across the surrounding valleys and states, waterfalls, hidden lakes and idyllic hamlets. It is also tourist free territory, and yet it feels like the real heart of New York.
Letchworth State Park, Finger Lakes. Sometimes referred to as the Grand Canyon of the East, follow the trails up the magnificent Genesee River gorge that merits this nickname. Another nickname might be, quite simply, gorgeous. The Genesee is one of the few rivers in the world to flow in a northerly direction. There are three beautiful waterfalls, white water kayaking and rafting, rich forest, vultures soaring overhead, camping and cabin accommodation, or you can opt to stay at the original owner, William P Letchworth's original house, Glen Iris Inn.
Minnewaska State Park Reserve, Hudson Valley. Located in the Shawangunk Ridge it overlooks the Catskills Mountains, or seques into them rather, making this just one big expanse of extraordinariness . There are three lakes within the park, and one of the most unique features is the collection of carriage roads traversing it. As this was once land belonging to twin hoteliers Albert and Alfred Smiley, they created the roads to link their two hotels, one of which still survives: Mohonk Mountain House. Use these trails for hiking, biking, skiing, or to be totally American, jogging. They are too good to be missed.
Niagara Falls State Park, Greater Niagara region. The oldest state park in the USA, it was created by the Free Niagara Movement in 1860's, which fought to have the land protected by the state and then given to the people for free access to enjoy it at all times. This is still the ethos today, enabling you to look beyond the souvenirs and cynical commercialism of the Falls, and just breathe in its beauty.
Wellesley Island, 1000 Islands Seaway region. Although there is a bridge to this island, there are many parts of it that are only accessible by foot or by boat when you get there. This is camping and cabin land, a real little get back to nature haven, and although it is one of the largest of the islands in the 1000 Island archipelago, its protected landscapes keep it just wild enough. Cedar Island State Park is also worth a visit, by renting kayaks here.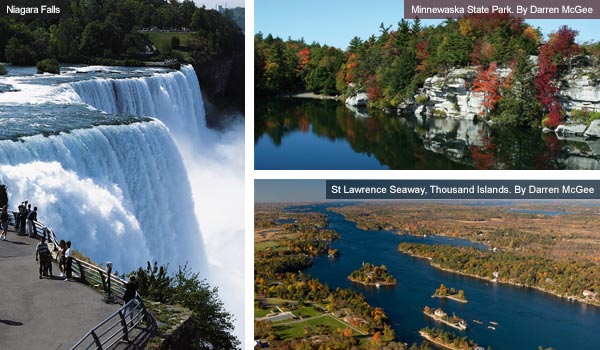 "Everybody needs beauty as well as bread, places to play in and pray in, where nature may heal and give strength to body and soul alike" John Muir - Conservationist, national park crusader
Responsible Travel would like to thank the New York State Tourist Board for their sponsorship of this guide