The Adirondacks, New York State
The Adirondacks don't need much introduction. They are the mountain wilderness of New York and, with 45 peaks, most covered with rich deciduous forest, this is furthest from any image of New York that most people have. If your heart jumps with excitement just looking up at the towering wonders of Manhattan, think of it as a mere starter course. The entrees are upstate and upstaging.
The name "Adirondacks" comes from the Native American Mohawk word 'ratirontaks' , meaning "they eat trees", a derogatory name that they used against another tribe suggesting they were so poor they had to eat tree bark. The word was also used later in a derogatory way against the French and English. The ironic thing is that, in some ways, this is what people do in The Adirondacks. They eat the mountains up, savour every single bit, and just when you think they might be full, they gobble up another slope. Because you have to be hungry for the outdoors to join the healthy consumption of nature that you find everywhere you turn. Whether it is imbibing another view, gorging on another lake, or feasting on a new cycle trail - it's all a veritable feast.
Lake Placid is the hub, famous for its winter sports as it hosted the Winter Olympic Games twice, and it is still buzzing. As well as its eponymous lake, there is Mirror Lake, Saranac Lakes, Tupper Lake, and then beyond that Lake George. And in case this isn't enough, there are in fact seven hundred lakes in the Adirondacks Lakes region. All within the confines of many hiking trails, so you can interchange between your land and water explorations very easily.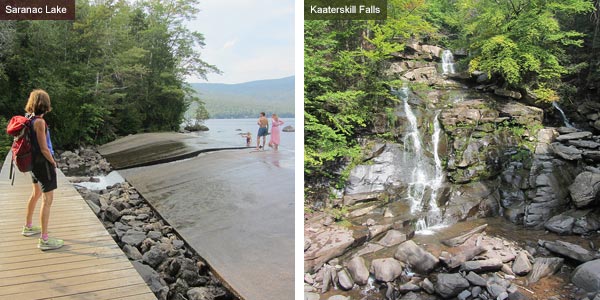 They like to think big in the Adirondacks, because they are big. They have the largest temperate forest in the world. The region is bigger than Vermont or Massachusetts and, an even cooler detail, it is bigger than Yellowstone, Glacier, Grand Canyon, Great Smokies and Yosemite national parks combined. Yet the towns here have kept small and rural in design, loyal to the Adirondack ethos to keep pristine and pretty, and with a history of hosting people for generations they are well set up in terms of tourism facilities.
This ability to welcome guests was informed by the Adirondack architectural and design movement of the 1800's that used timber to ensure a connection between habitation and nature. Such as the
mountain lodge or 'loj' movement
which cater for Adirondack hikers. The original one was opened in 1890 by Henry Van Hoevenberg on the shores of Heart Lake. He then went on to build many more in the High Peaks, offering warmth and food to hikers, a tradition that
The Adirondack Mountain Club
have kept alive and kicking, so that others can keep hiking, kayaking, skiing, climbing and discovering.
Responsible Travel would like to thank the New York State Tourist Board for their sponsorship of this guide