1000 Islands Seaway, New York State
How can there be a thousand islands in New York? I couldn't believe it until I saw it myself, and in fact, it isn't even really true. There are about 1800 islands up there on New York's northernmost tip, but they are divided up between Canada and US, as the border cuts through the middle of them. The islands were divvied up according to acreage, so Canada has more but the USA got some of the biggies. Such as Wellesley Island which, accessible by road bridge, is a
State Park
where you can rent wooden cabins to stay in. Other popular islands for day trips are "The Towers" on Dark Island, now called
Singer Castle
, of the Singer sewing machine fame and the romantic
Boldt Castle
, built by George Boldt, general manager of the Waldorf-Astoria Hotel in New York City for his wife in the early 1900's. Grief struck after her untimely death, he never completed it, but it has now been refurbished and visitors flock to the, aptly named, Heart Island, to see this labour of love.
This region was the vacation destination of the rich and famous in the past, and it still attracts quite a well-heeled yachty crowd. In Alexandria Bay there is a good bit of power boat posing, with the
Antique Boat Museum
a huge pull for the region in the beautiful town of Clayton. The town itself is not like that really, as Thousand Island residents are down to earth folk, in spite of the omnipresent water. Check out the impressive on-going work of the
Thousand Islands Land Trust
to see what I mean, with local people all working towards the development of cycle trails, wetlands and grasslands for everyone's enjoyment. And if you want to kayak in quieter creeks where the power boats don't have enough people to pose for, head to
Chippewa Bay
, spend all day island hopping in a kayak, and sleep in a cabin on the bay at night.

1000 Island Seaway and Cedar Island State Park
Mike Stock, of River Bay Adventure Inn describes the clear waters of Cedar Island State Park. A real hidden gem.
Find more water-based adventures
[01:44]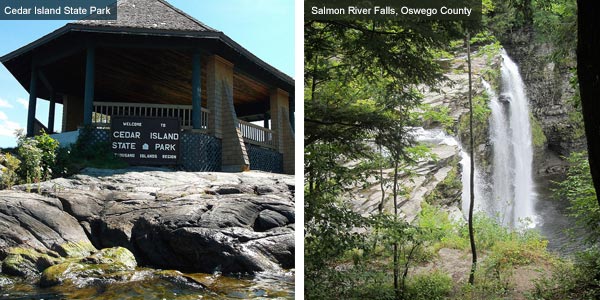 Part of the 1000 Island's lack of pretentiousness, in spite of it being one of the most stunning regions of New York, is because this is fishing country. Anywhere that has had fishing as part of its legacy has, in my humble opinion, a strong community, a survival instinct and a respect for the waters that feed them. And if you want to see this at its best, head to Oswego County further along the coast from the leisure boats, and join a real fishing boat outing on Lake Ontario, or go angling in the salmon filled rivers. Pulaski is the place for real fishing. Here you will find angling suppliers, fish smokers and even fish taxidermists. It's the 'reel' thing in Oswego and New York as you have never seen it. But when you catch your first giant salmon from the depths of Lake Ontario, you will certainly believe it.

Salmon fishing on Lake Ontario
Captain Greg Gehrig of 'Top Gun' explains how he teaches all sorts of people to fish for salmon on Lake Ontario.
Find more water-based activites
[02:00]
As most of the 1000 Islands are wooded (in fact an island has to support one living tree to be counted as an island in the first place) this is an extraordinary place to come in the Fall, kayaking through a palette of aqua autumnal riches reflecting off the ripples all around you. And hardly a soul to disturb you, as this part of New York gets very quiet after the summer rush, and more or less closes down when the ice and snow comes in over the river. I am surprised that no one has started ice skating trips here yet, however, as this is a gem of an activity waiting to happen. A popular sport in Sweden, this archipelago is as arresting and exhilarating to explore as the world famous Scandinavian one.
Find more information on the
regions of New York State
Responsible Travel would like to thank the New York State Tourist Board for their sponsorship of this guide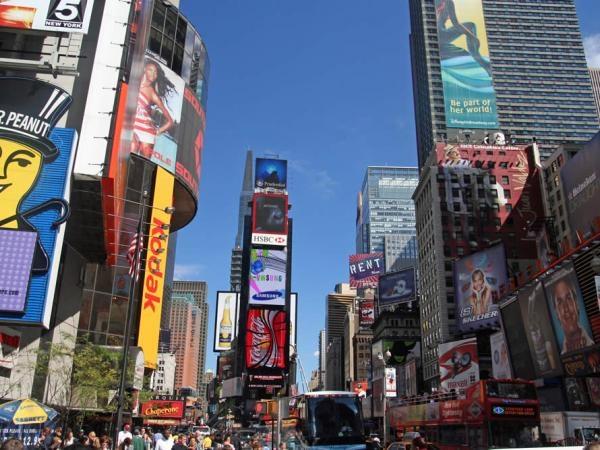 Niagara Falls & upstate New York short break from nyc
From
US $

699
3 days
ex flights