Best time to go to North America
North America is often thought of as fairly homogenous in comparison to other continents – but this is highly misleading. West to East, there are six time zones on the mainland alone (while Hawaii is another two hours behind), and North to South the continent stretches from the polar bear inhabited reaches of the Arctic Circle to the sweltering swamps of the Everglades. In between are vast mountain ranges, one of the earth's hottest deserts, vast forests and Pacific, Atlantic and Gulf of Mexico coastlines. In other words, when it comes to working out the best time to go to North America, there is always some time.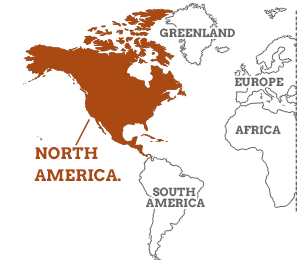 Our North America Vacations
North America, month by month
If you want to see bears in the likes of Yellowstone National Park, March, April and May are great, as are the autumn months, particularly in Alaska when they come out to catch the migratory salmon. For polar bear watching in Churchill, Canada, October and November is key time, or March when cubs come out of their dens for the first time. For Alaska, the best times are generally mid-May until mid-September. The wildflowers are wonderful in May. February, March and April are top times for seeing the Northern Lights up in Canada's Yukon Territory. Hurricanes do happen in the southern states between June and November, including Florida. For serious hiking in the famous USA canyons such as The Grand Canyon or Bryce, the heat in July and August can be extreme and dangerously high. So, avoid the height of summer if you can, unless you are with experts. Consider visiting them in winter, when they are dusted with snow and devoid of tourists. Public vacations are huge in the USA, so book well in advance if your vacations coincide with Independence Day (4th July), Memorial Day (last Monday in May) Labor Day (first Monday in September) or Thanksgiving (fourth Thursday in November) which are the biggies.
Our top North America Vacation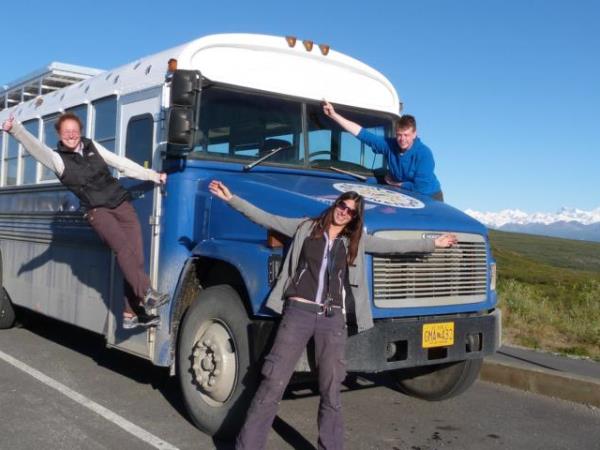 Active small group adventures in a retrofitted school bus
From
US $

3990

to

US $

4090
20 days
ex flights
Small group travel:
2021: 7 Aug
2022: 4 Jun, 25 Jun, 16 Jul, 6 Aug
If you'd like to chat about North America or need help finding a vacation to suit you we're very happy to help.
USA's national parks
Most are open all year round, but sometimes certain roads are closed during heavy snow periods, such as the famous Trail Ridge Road in the Rocky Mountain National Park, which closes for the winter, usually November until late May or June. Don't overlook visiting them in winter. The canyon national parks, such as the Grand Canyon or Bryce are sizzling in summer, so not great for extensive hiking. But they are equally stunning in winter, or of course 'fall'.
Canada
Famously vast, and with six time zones alone, and eclectic landscapes from Arctic tundra to Rocky Mountains, there is a lot to get your head around weather wise. British Columbia is super mild, warmed by Pacific currents, and one of the best times to go is during tourist-free September. When the whales still come to play off Vancouver Island too. Try dog sledding in the wilds of Yukon Province in winter, polar bear watching in autumn, and rambling the Rockies in summer, or when the leaves are turning.
Whale watching
North America brings whales in droves, and the best time to go whale watching along Mexico's Baja California Peninsula, for example, is between February and April with dolphins, blue, sperm whales and orcas coming to play along this 3,000km coastline. In Hawaii, you can savour the whales January until early May and blue whales add to the California dreaming vibe in May too. June is the time to go to Alaska, with spectacular displays of humpbacks as well as dolphins, orcas and porpoises in these iceberg filled idylls.
Adventures in Alaska
Camping out and hiking in Alaska is one of the most exciting ways to embrace the USA's northernmost state. The season generally runs from May until end September, so it is a short window out into this wilderness. Mid June until end July is notorious for mosquitoes, so take precautions, particularly at dawn and dusk. By August the night frost starts to kill them off.
Bear watching
To see polar bears in Churchill, Canada, your best bet is autumn, when they move from land to sea in search of seals. For a really special time, March is when baby polar bears emerge from their dens, but book well in advance for this natural treat. Seeing Kodiak bears in Alaska's Katmai National Park is also a treat, although less so for the salmon trying to escape their claws with bears coming out to feast on them en masse as they migrate upstream in early autumn. To see British Columbia's grizzlies, spring, summer and autumn promise a good chance of sightings if you are with expert naturalists. In Yellowstone National Park, spring and autumn are best, as they keep clear of the heat and too many people in summer.
Carnivals & festivals
Some of our favourites are summer solstice in Anchorage, Alaska, Day of the Dead at the end of October in Mexico or the Yukon Quest 1,600km dog sled race in Canada in February. In Masaya, Nicaragua every Sunday in October and November, dancers perform El Baile de Negras to celebrate the city's patron saint, San Jerónimo. All masked as women, but underneath the masks, all men. And you just have to experience the 'Fall' in the Rocky Mountains, from Canada to Colorado. Leaf changing can be life changing.
Back to the top