When to see the Northern Lights

The Northern Lights are a winter phenomenon, and the epic arctic nights are the perfect pitch black backdrop for these luminous creations.

However, it's not as simple as turning up and staring skyward – as lunar cycles, cloud cover, light pollution and solar activity also play a part in when to see the Northern Lights. While some of these are seasonal or can be monitored days or hours in advance, others are fluke occurrences, and the speed with which the aurora moves means that they often materialise as if from nowhere. Quite simply, the main obstacle is cloud cover. If it is clear, there is a high chance you will see the aurora – so booking a four or five night trip will increase your chances of seeing the light show of your life.
Our Northern Lights - location Vacations
The Northern Lights, month by month
In theory, the Northern Lights appear from late August to mid April, but you are much more likely to see them from late September to late March, when there is less light. In the high Arctic, the sun never rises in December and early January so while you might have more hours in which to see the lights, you will be very limited with the activities you can do during the sunless days. The days will be much longer in February and March. In December, families flock to Lapland to meet Father Christmas – so this is not the best choice of when to see the Northern Lights if you're seeking a peaceful retreat with few crowds. October and November tend to be cloudier, especially in northern Europe; you need clear skies to see the lights. The aurora is present on 80 percent of clear nights – so this is the key factor in increasing your chances of seeing it. The lights generally appear between 6pm and 4am, although the highest probability is around 10pm-11pm. But they do materialise with no warning – so keep your eyes on the sky! The lights are not all that bright; a full moon will bleach them out. For this reason, many tours are scheduled around the new moon – check your dates to ensure this is the case. Forget seeing the lights in May, June and July – the midnight sun ensures they are well hidden.
Our top Northern Lights - location Vacation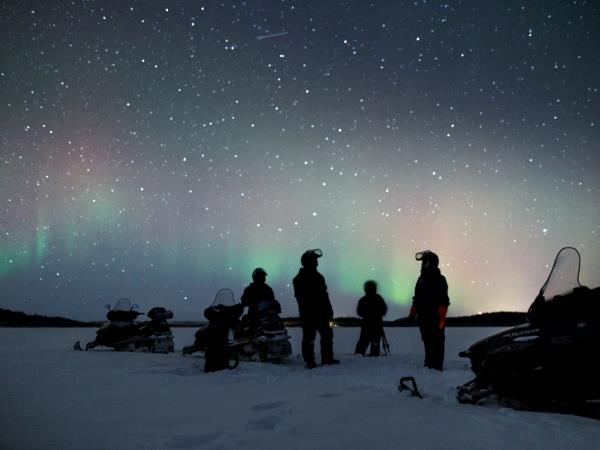 Winter activities & Aurora hunting in the Finnish wilderness
From £1445 to £1495 5 days inc UK flights
Small group travel:
2020: 1 Mar, 8 Mar, 15 Mar, 22 Mar, 29 Mar
If you'd like to chat about Northern Lights - location or need help finding a vacation to suit you we're very happy to help.
Best time to see the Northern Lights
David Phillips is an astronomy expert and Iceland tour guide with our supplier Explorers Astronomy Tours. He has a 100 percent success rate for seeing the aurora on his trip to Iceland - here's his experience of seeing the lights – and their unpredictability: "People just don't realise that every night it's different – sometimes it will be very muted and quiet. You'll see nothing for several hours and then within the space of five minutes there's an eruption of activity, with curtains dropping down and rays that point up to the sky. You'll have ten minutes of tremendously dynamic activity which is impossible to predict, even with all the data. You know that there might be an incoming solar wave, but you still don't know precisely when that eruptive display will happen. So that's why you have to be patient – but that's also why it's kind of lovely because you don't know what you're going to get each night."
More about Northern Lights - location
Back to the top
Convert currencies