Where to see the Northern Lights
---
Top 10 places to observe the aurora
To see the Northern Lights at their best,
it's not simply a case of heading as far north as possible
. The Aurora Borealis actually appears in a ring around the Arctic, commonly known as the 'Auroral Oval', and the areas under this oval include
Lapland
,
Iceland
, Northern 
Canada
and
Alaska
. Where you choose to go will be affected by weather conditions as well as light pollution –
the further away from the towns you are, the brighter the lights will appear.
The map below highlights where to see the Northern Lights on vacation. Click on the map points for more information about each location.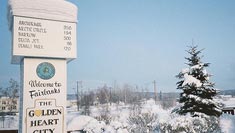 Fairbanks
Fairbanks offers a good chance of aurora sightings, along with the Museum of the North, geothermal hot springs, glacier walks and World Ice Art Championships – lit by coloured lights of their own. Traveling in late Feb-early Mar means you can watch the incredible Iditarod dog sled endurance race in Anchorage beforehand, meeting the mushers and taking a safari with one of the teams.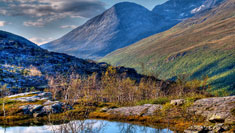 Finnmark Peninsula, Norway
In the furthest northeastern reaches of
Norway
, where it stretches across Finland to touch Russia, is the Finnmark Peninsula. This frozen wilderness, far from city lights, is a great place to spot the Northern Lights. One of the most thrilling ways to cross Finnmark is by dog sledding, traveling from hut to hut (or tent) – and an overnight husky safari offers one of the most unique aurora experiences you can imagine.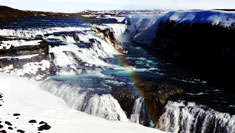 Golden Circle & Hvolsvollur Valley
Few natural spectacles match that of the Northern Lights – but we reckon Iceland's Golden Circle might just be up there. Combining the two on a winter vacation lets you enjoy 30m-high geysers, powerful waterfalls and geological wonders by day, with the lights working their magic by night. Head off the popular Circle route and into the nearby Hvolsvollur Valley for the best displays, far from the crowds.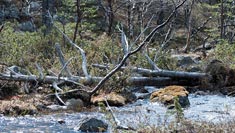 Inari, Northern Finland
This is Sami territory, and a great spot to combine local culture with the aurora – including hearing ancient myths from the people who know the lights best. See the lights reflecting on the frozen surface of Lake Inari, or spend a night in an "Aurora Bubble" – cleverly designed pods where you can watch the lights from the warmth of your own bed. By day, snow shoe, cross country ski or meet reindeer herders.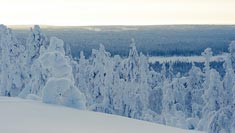 Luosto, Finland
Luosto is brilliantly set up for the Northern Lights, often viewed from a nearby lake. There are a great range of hotels and more rustic log cabins; many have "Aurora Alarms" to alert you to the arrival of the lights – or stay in a wooden hut in the wilderness for the ultimate aurora experiencce. Nearby activities include cross country and downhill skiing, reindeer and husky safaris, and a trip down an amethyst mine.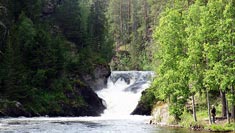 Oulanka National Park
Active aurora hunters will love Oulanka; its pine forests and river valleys offer picturesque snow shoeing and cross country skiing routes, as well as dog sledding through fairytale landscape to nearby Riisitunturi Forest. Rustic wooden cabins can also be used free of charge – or you can build your own quinzee, a traditional Finnish igloo made from hollowed-out snow rather than from ice blocks.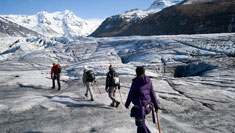 Skaftafell National Park, Iceland
This national park protects some of Iceland's most iconic landscapes: glaciers, the Svartifoss waterfall with its towering basalt column, and iceberg-filled lagoons. Watching the aurora borealis here adds even more magic to this fairytale scenery, with the vivid colours reflected in the ice and water, far from urban light pollution.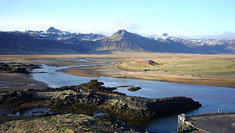 Snaefellsnes Peninsula, Iceland
This westerly peninsula is suitably remote – while still offering a glimpse into Icelandic life. Mooch through traditional fishing villages, take in Mount Kirkjufell, and take long, lazy drives along the wild coastline. Wildlife fans can take boat excursions out to look for orcas – accompanied by a photography guide. As the Arctic night falls, the guide will help you take stunning photos of the Northern Lights.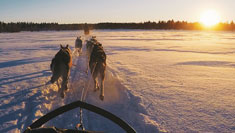 Swedish Lapland
The ancient Boreal forest of northern 
Sweden
is an ideal spot for aurora seekers. Base yourself in a quirky, eco treehouse, stepping out with a guide after nightfall to look for the lights. By day, mush huskies through the trees in the snowy months, hike or horseback ride, or hang out in your gorgeous rooms – designed by a leading Swedish architect. Don't forget to warm up after the Arctic chill with a traditional sauna.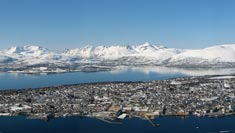 Tromsø & Lyngen Peninsula
Northern Lights and killer whales is a classic Arctic combination – and cruising in and out of the dramatic fjords of the Lyngen Peninsula is a pretty stunning way to enjoy both. The Lyngen Alps are remote and rugged – but easily reached from the city of Tromsø. Base yourself in a gorgeous mountain lodge, and spend your days ice fishing, dog sledding, meeting the Sami, and thawing out in the sauna.


Where to see the Northern Lights
---
Our Arctic experts recommend

Mikael Kangas, owner and guide for our supplier Aurora Retreat, shares his tips on where to see the Northern Lights:
"I would recommend northern Sweden and Finland. The inland climate is very good for viewing the lights because there's a clear sky, the weather is very stable, it's cold – and mostly when it's very cold, it's clear. I would say the weather is less reliable along the coast."
Juha-Pekka Tuominen on behalf of our supplier, Activities Abroad, on where to see the Northern Lights in Europe: "They say Lapland has some of the cleanest air in the world, so it's a great place to see the aurora. It is the last wilderness in Europe, but it's easily reached and easy to spend time there because you have all the facilities. We've studied it in Finland since the beginning of the 1800s, and our observatory has just celebrated its 100th anniversary."

David Phillips, astronomy expert with our supplier Explorers Astronomy Tours, suggests where to see the Northern Lights in Iceland:
"In Iceland, one thing people need to try and do is not just view the lights from places like Reykjavik, which are easy to get to. The northeast is generally a drier, less cloudy part of the country, so you're more likely to have clear skies. It is a different world; as soon as you arrive there it's colder, it's snowier, it's icier. It's really scenic, but it's much, much less visited. There are a few locally owned hotels and you'll see other tourists coming through, but not on anything like the scale that you'll get in western Iceland. It's a more personal experience."