Overland map & itineraries
---
Make the most of your time
In the main, whichever overland vacation route you choose, you'll be traveling mainly by purpose built truck, for stints from as short as four hours to as long as nine. You won't be on the move every day, and in some regions you'll hop on and off local trains and boats where possible too. Some trips do supplement road journeys that could take several days with short flights, and some factor in public transport. And there are some classic rail routes in there too – such as the Trans Siberian – which don't use overland vehicles at all. But in the main, you'll be driven from A to B very comfortably; the seats in the truck are very high, so you can take in all of the terrific terrain as you go, and they also fully recline if you feel like kicking back.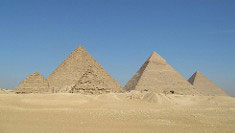 Cairo to Cape Town
"Africa is not a country" is never more evident than on an epic overland adventure – a Cairo to Cape Town overland tour is just the trick. Tick off big names such as the Pyramids and the Sahara, the Nile and the Rift Valley, gorilla tracking and the Okavango Delta. But above all, spend four months delving beneath the headlines in the least understood of all continents. This overland tour is life changing.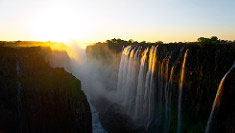 Cape Town to Vic Falls
This all encompassing trip combines jaw-dropping scenery, ancient and modern history, four different countries and many more cultures, deserts, coast and the immense Okavango Delta – plus some of the continent's best wildlife watching opportunities. It's definitely a trip suited to the more adventurous traveler; you cover around 5,000km of ground – a hugely satisfying African odyssey.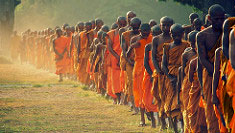 Indochina
Chaotic and crumbling, modern and ancient; an overland tour in Indochina fulfils childhood fantasies of what travel should be. Thailand is an exceptionally hospitable land of hidden beaches and hill tribes; Laos is its beguiling neighbour, enchanting and unspoiled. Vietnam's cities are mesmerising sprawls; and then there's Cambodia, home to the temples of Angkor Wat and the enchanting Khmer.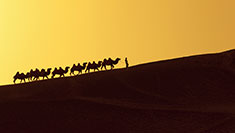 Silk Road
The Silk Road's spidering tributaries, once used by traders to peddle their wares to and from the East, can lead intrepid travelers to some of the most fascinating sites across Asia, and the route can be broken down into manageable chunks. Ancient archaeological sites; dazzling floodlit cities; heavily-scented bustling bazaars; and evocative swathes of desert - you can see them all.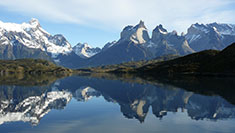 South America
It's easy to lump this continent together as one vast, Spanish-and-Portuguese-speaking mass, but an overland tour will prove you wrong. Chile's modern, European-style cities contrast with the inhospitable Atacama. Bolivia's harsh highlands are the realm of the Aymara – but warmth and wildlife await in the Amazon. Argentina and Brazil have Iguazu, and then there's Machu Picchu, and Patagonia…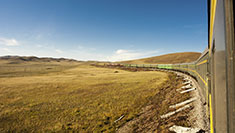 Trans-Siberian Railway
The jump on/jump off nature of an overland vacation on the Trans Siberian or the Trans Mongolian Railway allows you to experience the best of both worlds with constantly moving lake, forest and village scenes blending with insightful overnight stays in Mongolian ger camps and guesthouses and the beautiful Lake Baikal. You'll play cards and drink vodka with some really interesting people too.


SAMPLE OVERLAND JOURNEYS
---
South America: Andes, National Parks & Amazon (12 weeks)

South Africa: Cape Town ► Trawal ► Namibia: - Orange River ► Fish River Canyon ► Sossusvlei ► Swakopmund ► Spitzkoppe ► Brandberg ► Kamanjab ► Cheetah Park ► Etosha National Park ► Caprivi ► Botswana: Okavango Delta ► Maun - Chobe National Park ► Zimbabwe: - Victoria Falls

South America: Andes, National Parks & Amazon (12 weeks)

Brazil: Rio – Pantanal ► Iguazu Falls ► Uruguay: - Montevideo ► Argentina: - Buenos Aires ► Puerto Madryn ► Patagonia: Ushuaia ► Torres del Paine National Park ► Los Glaciares National Park ► Bariloche ► Chile: Andes – Lake District (Pucon) ► Santiago ► Argentina: Mendoza ► Salta ► Bolivia: Antiplano ► La Paz ► Peru: Lake Titicaca ► Cuzco ► Inca Trail ► Machu Picchu ► Colca Canyon ► Arequipa ► Andes ► Lima ► Ecuador: Rio Napo ► Amazon Jungle

Indochina overland (30 days)

Thailand: Bangkok ► Golden Triangle ► Laos: - Luang Prabang ► Van Vieng ► Vientiane ► Vietnam: Halong Bay ► Hanoi ► Hue ► Hoi An ► Saigon ► Mekong Delta ► Chau Doc ► Cambodia: Phnom Penh ► Siem Reap ► Angkor temple complex ► Siem Reap

Overland vacations travel advice
---
TIPS FROM OUR OVERLANDING FRIENDS
Is this trip for you?
---
Jess Millett, from our supplier, Tucan Travel, shares her advice on what sort of traveler is suited to a South America overland trip: "To make the most of an overland tour you need to be very flexible, quite patient, and up for a really good adventure. Due to the very nature of these tours, there's always a chance that something can go wrong – like a tyre blowing, or a break down – so you need to be able to shrug that off and make the most of it. An overland trip is ideal for solo travelers as it's a very sociable style of travel – you're mucking in together; you're cooking together; you're cleaning together, so there's a definite community spirit. You're almost guaranteed to make some really good friends and share some incredible memories."
Family advice
---
Jayne Harley, from our supplier, Sunway Safaris, shares her advice on traveling overland from Cape Town to Victoria Falls with kids: "We don't get a lot of children on this vacation, but families do travel with us and we welcome kids from 12-18 accompanied by a parent or guardian. It's an incredible adventure for the kids and one that's suited to families who have some experience traveling with their children. From 12, kids are old enough to appreciate facilities and environments that might be different to that which they're used to at home and they're so adaptable too – they just muck in and find it all part of an amazing adventure."
Overlanding in South America
---
Yamila Barba, a tour leader for our supplier Intrepid, shares her tips on what to expect from a Buenos Aires to Rio de Janeiro overland vacation: "I wouldn't recommend this trip for people who are not open minded enough to understand that things are very different to their country. Here, you have to have a lot of patience – your bus may be on time or sometimes not. You have to wait, you can go for a beer... or you get to the border and you don't know how long it will take to cross. People are used to Europe where you can go from one country into another without problems, so they need to get used to being in queues all the time. Not everybody is open to the queuing and waiting. Other people want to know exactly how long we will be waiting. Sometimes I can say roughly - but when we cross the border between Argentina and Brazil, we don't know. It could be one hour; it could be three."
Overland vacation travel advice
---
TIPS FROM OUR TRAVELLERS WHO HAVE TOURED OVERLAND
At Responsible Travel, we think the best people to advise our travelers are often... other travelers. They always return from our tours with packing tips, weather reports, ideas about what to do - and opinions about what not to.

We have selected some of the most useful Overland vacation travel tips that our guests have provided over the years to help you make the very most of your vacation - and the space inside your suitcase.
"Be prepared to live out of a suitcase and enjoy traveling. Not for people who just like to sit on a beach all day. If you like exploring and want to learn about different countries then a vacation like this gives you more than you can imagine." – Anne Hammersley

"We had a great time, and made 21 new friends, but it is quite intense being with other people for such a long time. Bring earplugs, an iPod, and a very very warm sleeping bag." – Caroline Eccles

"My advice would be to relax go with the flow - don't be afraid to try something new. Chill out for a while and watch the world go by you'll be amazed at some of the sights right in front of you." – David Conway

"If you're going to overland from Cape Town to Victoria Falls, take thermal underwear with you if you're going during Africa's winter. The temperature at night was sub zero and mornings and evenings were cold as well." – Sigrid Pach

"If you're traveling on the Trans-Siberian Railway, go with an open mind; chat to as many people as you can on the train! Take cards and make sure you buy some vodka before you get on as you won't have another chance. I think it is the people that make it, so chat to as many people as you can! Don't be scared of buying food on the platform... it is so worth it!" Heidi Hosgood