Rhineland-Palatinate travel guide
---
2 minute summary
To understand the Rhineland-Palatinate (aka Rheinland-Pfalz) region of Germany, look at Neustadt an der Weinstrasse. It is not only the 'capital' of Germany's 83km Wine Route, but also the birthplace of German democracy following the Hambacher Fest of 1832, which took place at the town's exquisitely elevated Hambach Castle. Surrounded by the Palatinate Forest, this town represents not only freedom of people, but also freedom to roam through its northern Haardt Mountains, sweet chestnut and pine forests as well as its wine trail. And with wine comes freedom of speech of different sorts, of course. This sense of freedom, feistiness and fun is echoed throughout the Rhineland-Palatinate. Along the Rhine, for example, which carves an elegant artery that is accessorised to the hilt by one magnificent castle after another, and vineyard after vineyard. Or the forest rich peaks, such as the Eifel Mountains, a voluptuously volcanic range, nowadays only exploding with hiking and biking trails.
Rhineland-Palatinate is...

known as the Romantic Region.
Castles and wine will do that.
But for a truly intense love affair, hike and
bike the mountains all around, too.

Rhineland-Palatinate isn't…

just elderly couples sipping wine and boat trips on the Rhine. Take a day mountain biking in the Palatinate Forest. From pensioners to pumping, in a heartbeat.
Food, shopping & people
---
DISCOVER RHINELAND-PALATINATE LIKE A LOCAL
Eating & drinking
---
Potato dumplings or knödel are very typical of this area, as is spit roast, or spiessbraten.
Döppekooche, a baked mass of grated potato, onion and meat is very traditional.
Zwiebelkuchen, or onion pie, is a Palatinate specialty.
Prolific sweet chestnut trees proffer plentiful roasted snacks from the market.
One of Germany's most celebrated beers is Bitburger in the Eifel. For a small, craft brewer, check out Mendig's Vulkan Brewery.
There has been a

beer purity law in Germany (or Reinheitsgebot ) for 500 years

, to ensure that only the best ingredients go into it – imagine half a millennium of goodness in your half litre.
People & language
---
German is, of course, the national language, and even though many Germans are proficient in English, do try out a few words now and again. Prost, or cheers, is always a good start.
"Hallo" = Hello

"Wie geht's?" = How are you?

"Mir geht's gut" = I'm fine

"Tschüss" = Bye

"Handy" (pronounced 'hendy') = mobile phone

"Wieviel kostet das, bitte?" = How much does this cost, please?

"Danke schön" = Thank you
Gifts & shopping
---
Treat someone special to a bottle of bubbly, known as Sekt, such as Mosel Spätlese
Traditional blue and white pottery is the trademark of the Westerwald region.
Both the regions of Eifel and Nahe Valley have, cleverly, branded and trademarked their local produce. So you can buy Eifel cosmetics, for example. Or SooNahe honey and jam. All local, all lovely.
The town of Idar-Oberstein is the place to go for gemstones and stunning jewellery.
Sweet chestnut honey is very, very yummy.

My partner is blind, and few places have catered for our needs as well as Rhineland-Palatinate. They are way ahead of the game in terms of accessible tourism.
How much does it cost?
---
Lunch in a small restaurant: £12-15 inc. drinks
Loaf of rye bread (Roggenbrot): £2-3
Hiring a bike: £8/day Electric bikes: £20/day
Half litre of local beer in pub: £1.50-2.50
Castle entrance: £6-8 Family ticket around £12

Rhineland-Palatinate daily rail pass - £18/day
(2nd person only pays £4 and under 15's go free)
A brief history of Rhineland-Palatinate
---
When we talk about history in Rhineland-Palatinate, it is, in many ways, more tasteful to mention wine rather than the war. Because to get a flavour of the history of this region, you can just start wine tasting. It is no coincidence that Rhineland-Palatinate is the largest wine producing region in Germany, as the tradition goes back as far as the Romans, who wanted to find a way of supplying their garrisons with vital supplies. Ambrosial ones rather than arms, that is. It was cheaper and easier for them to produce wine in this region than to transport it all the way up from Rome, across mountains and inaccessible byways, and then ship it up the Rhine. The stunning city of Trier was thus founded in 16 BC, with a vibrant viticulture scene happening by the 4th century.
Read more ▼
Responsible Travel would like to thank the Rhineland-Palatinate tourist board for their sponsorship of this guide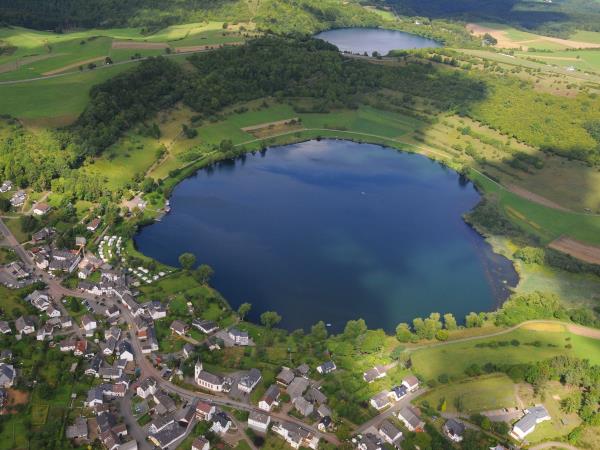 Combine Hiking and delicious regional dishes in the Eifel
From
€

329
5 Days
ex flights