Best time to visit Rhineland-Palatinate
---
temperature & rainfall
When to visit Rhineland-Palatinate
---
A month by month guide
March brings the almond blossoms out in the south, especially along the Wine Route, with the first wine festival happening as early as April.
Similarly, around April and May, you will start to see market stalls burgeoning with local produce, such as fruit, asparagus, vegetables, wine and spirits.
The driest months are, strangely, February and March, with the highest precipitation happening in May and June. But it is still slight, so not a big worry.
The Rhine in Flames or 'Rhein in Flammen' Festival takes place between May and September, and is a wonderful way to see the region.
Christmas markets, a specialty of the region, run through November, December and some to celebrate New Year in January.

May is a great month to enjoy the Mosel, with the Happy Mosel event shutting down all the roads along the river to motorised traffic.

Bad Durkheim's famous Wurst Markt, with equal amounts of wine as wurst, it has to be said, is every September.
Responsible Travel recommends
---
WHAT HAPPENS WHEN IN RHINELAND-PALATINATE
Kevin Kalfels from Rhineland-Palatinate Tourist Board shares his best time to visit Rhineland-Palatinate:
"On certain days throughout the year, the roads along the main rivers close to cars, and are filled with cyclists, walkers, inline skaters and so on. They are wonderful local events, not aimed so much at tourists, but more for local communities to enjoy. Local food producers come out to sell their goods, and there is a great atmosphere. The first one is
Happy Mosel
which takes place in May and the other one is
Tal Total
on the Rhine, with the roads between Koblenz and Bingen , and Lahnstein to Rüdesheim converted into a freewheeling festival in June."
Festivals & events
---
OUR CULTURAL PICK FROM THE RHINELAND-PALATINATE CALENDAR
Did you know about...?
---
The Rhine in Flames or Rhein in Flammen Festival
This annual celebration takes place at five key points along the Rhine. Koblenz is one of the biggest parties, around mid August every year, with fireworks and music and trips on boats, with a choice of 70, and fireworks on all sides of the river. You can take it all in on a boat journey lasting for three or four hours from Koblenz to Speyer. For more information, see
rhein-in-flammen.com
Responsible Travel would like to thank the Rhineland-Palatinate tourist board for their sponsorship of this guide
Photo credits: [Cochem castle, almond blossom, cycling, and fireworks: Rhineland-Palatinate Tourist Board]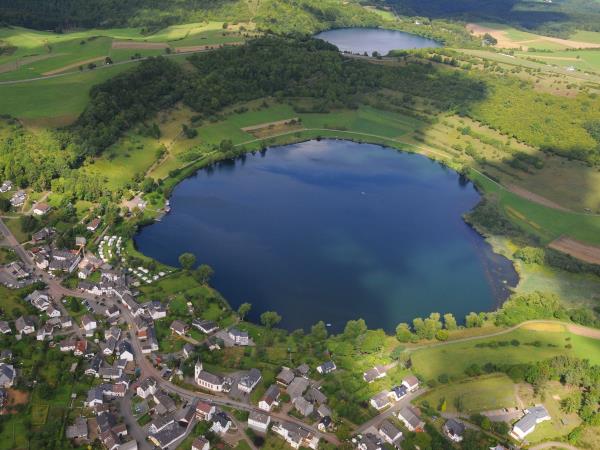 Combine Hiking and delicious regional dishes in the Eifel
From
€

329
5 Days
ex flights