Hiking & Biking
---
Tracks & trails
Hiking trails
---
The Rhineland-Palatinate has about as many hiking trails as it does grapes, it would seem, and the joy of walking is taken almost as seriously as the joy of winegrowing here. There are
seven long distance walking trails
, the most iconic being the mountainous
Saar-Hunsrück-Steig
(410km) and
Eifelsteig
(313km) through both of the region's Hunsrück-Hochwald and Eifel National Parks respectively. There is a superb infrastructure of guesthouses and hostels all along them, where you can take off your boots and then fill your boots. The Saar-Hunsruck-Steig has a melodious mélange of uplands and lowlands, taking in the Hunsrück mountain range with its peak, Erbeskopf, at 816m. As well as the vineyards and riverbanks of the Saar, Mosel and Nahe rivers. The Eifelsteig is rockier and wilder, with volcanic landscapes dipping down into glistening lakes, and then back up again to peaks such as Hohe Acht, the highest point in the park at 747m. The Eifel National Park also has impressive accessible tourism facilities, with guided tours that are signed, sensory and on carefully surfaced trails.
Every town seems to have hiking trails going in, out and around it, and nearly always with a magnificent castle or monastery to stop at en route. You can discover lots of these en masse, along the
Rheinsteig
, which stretches for 320km through the state and beyond, and following hilly tracks overlooking the Rhine, well away from tourist traffic. Or check out treats of trails around the Lahn Valley, and head off to enjoy a well earned thermal spas in one of several spa towns like Bad Ems afterwards.
To discover all the circuits going in and around towns, check out the invaluable
Tour Planner website
.
Cycling trails
---
From road touring to mountain biking, there is no shortage of cycling highs and lows in the Rhineland-Palatinate region. For highs, head to the Eifel region where many of the hiking trails double up as cycling trails, with serious mountain bikers given their challenging places full of grinders and gnarls. Mountain bikers rule the roost at the Palatinate MTB Park, however, with over 300km of trails to take on in this red sandstone, state of the art park. Or take on the likes of the Hunsrück-Radweg, with 155km of cycling trails through these lowlands that are never short of uplifting moments.
For lows, following the Rhine Cycle Path which is 322km in total through other German regions as well, but you can take on the Rhineland-Palatinate section, heading north along the left bank, through beautiful towns such as Speyer, Worms, Bingen and Koblenz. With train stations everywhere for ease of access. You can also cycle the length of the
German Weinstrasse
, or Wine Route, following mostly off road paths. Cycle here in autumn, not only to catch the leaves changing colour, but also to catch the wine harvest festivals.
For flatter cycling routes, the Rhineland-Palatinate also has several converted railway lines, popular with families, as young ones can safely let rip. For example, the Glan-Blies Cycle Route which takes you all the way into France, but you can do sections of it and combine it with a train trip back to your starting point.
Similar to the walking trails, check out longer cycling trails into the mountains, or shorter ones that circumnavigate towns, through woodland, taking in castles, vineyards or monasteries en route, detailed on the invaluable
Gastlandschaften
website.
As cycling is so popular in Germany, there is never a shortage of place to rent a bike, accommodations will arrange luggage transfers for you, and the Rhineland-Palatinate region is also buzzing with the silent whirr of electric bikes, or E-Bikes, which will help you enjoy the hills, with plenty of charging stations en route.
Responsible Travel would like to thank the Rhineland-Palatinate tourist board for their sponsorship of this guide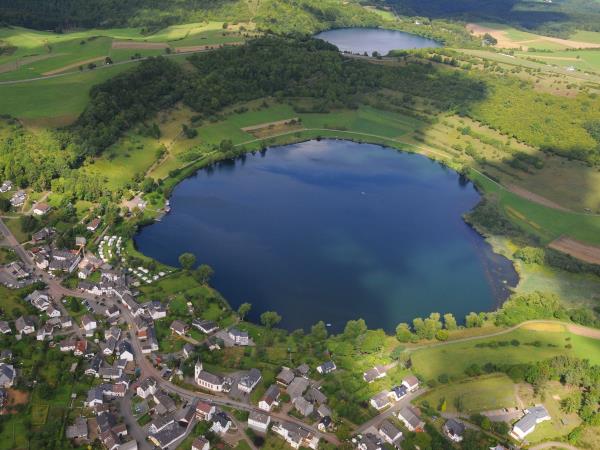 Combine Hiking and delicious regional dishes in the Eifel
From
€

329
5 Days
ex flights