Rhineland-Palatinate
---
Map & highlights
One of 16 German states, Rhineland-Palatinate is located in the west, tucked away in its own pretty pocket between the French, Belgian and Luxembourg borders. The River Rhine dances its way through the state from south to north, creating an omnipresent, castle-bedecked, inland waterway with merited UNESCO World Heritage status. The region's River Mosel, which takes off west into Luxembourg and France, nurtures a veritable bevy of world famous vineyards en route. Vineyards that led to trading routes as far back as Roman times, as well as a barrel load of backtrails, now perfect hiking and cycling routes with stop offs at numerous castles en route.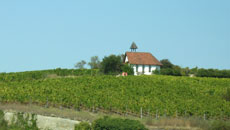 Bad Dürkheim
Something delightfully incongruous about this sleepy spa town hosting Germany's biggest annual wine festival in September. Known as Wurstmarkt, it completely takes over the town. Sobering up in the thermal spa must be the way to go or, at other times of the year, just easing your muscles after a day of hiking in the nearby Palatinate Forest, or cycling along a section of the Weinstrasse is not 'bad' at all.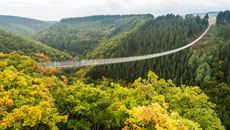 Hunsrück-Hochwald National Park
A new national park (since 2015), it's dominated by the Hunsrück mountain range with its peak, Erbeskopf, at 816m. Navigate it on the Saar-Hunsrück Steig, a long distance walking trail that stretches beyond the park, taking a worthwhile diversion to the Geierlay, the longest rope bridge in Germany, striding a 360m wide forested canyon spread out 100m below. Or bike along the Hünsruck Cycle Route.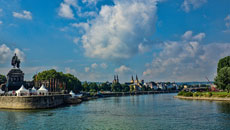 Koblenz
Known for its 'German Corner' because it's at the confluence of the Rhine and Mosel. Apart from pretty spectacular views, especially from their pretty nifty cable car, it's also a confluence of cultural events. Such as outdoor concerts and fireworks, including the 'Rhein in Flammen' annual firework celebrations. Ehrenbreitstein Fortress is a must visit all year round, but the Christmas market here is as magical as it gets.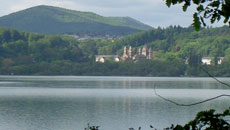 Laach Lake
This giant watering hole is a volcanic caldera, or maar, about 2km in diameter, with the Eifel mountain range as backdrop, a volcanic region millennia ago. The only explosions you will hear nowadays are those of laughter as people revel in the various water activities. There is more of a hush around the magnificent Maria Laach Benedictine Monastery, however; a masterpiece of Romanesque architecture.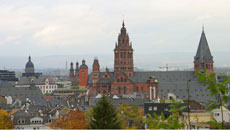 Mainz
The regional capital on the confluence of the Rhine and the Main, a river cruise passing castle after castle reveals why this region is 'Romantic' Germany. The city has many places of religious importance; as well as St. Martin's Cathedral, a must see is the collection of Marc Chagall's stained glass windows in St. Stephan's Church. The Jewish artist created these (now) icons between 1978-85 as an act of reconciliation.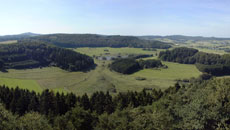 Mayen-Koblenz Volcano Park
A widespread geo park that captures highlights of the volcanic activity this region is well known for – albeit thousands of years ago. You can see the world's tallest cold water geyser in Andernach am Rhein; go hiking on ancient paths formed by lava flows, with views out over the Eifel Mountains volcanic peaks; and even see inside the dormant Eppelsberg volcano. Check out the main museum at Mendig.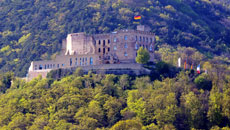 Neustadt an der Weinstrasse
The birthplace of both German democracy and the region's Wine Route. Which is quite a cocktail. Its towering Hambach Castle was where the people stood up against a repressive regime in 1832, and since then has represented German democracy. Surrounded by Palatinate Forest nearby Haardt Mountains, it is also a place to celebrate the region's widespread network of walking and cycling trails.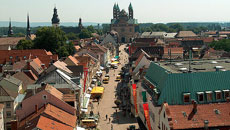 Speyer
In keeping with this region's ability to merge medieval with modern, this pretty old market town, with its Romanesque cathedral holding court, (its foundation stone was laid in 1030 by a Roman Emperor), is also home to Europe's largest space flight exhibition. Check out the Technik Museum, with its space shuttles, submarines and jumbo jet. Then step outside again onto the timeless banks of the Rhine.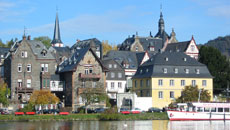 Traben-Trarbach
It's hard to know where to start with the plethora of pretty towns along the River Mosel but this is a goodie. It may be a small town but it has some of the biggest views, enveloped by woodland and vineyards, creating valleys that dip down into the river in all directions. Architectural beauty matches the town's natural gifts with 'Jugendstil 'and 'Belle Epoque' treats on many a street corner.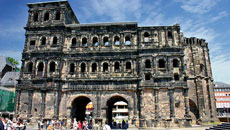 Trier
Sometimes described as a mini Rome, the oldest city in Germany has some of the finest Roman remains in Northern Europe. Hardly surprising, given that it was capital of the Western Roman Empire – a genuine case of 'who knew?' Beautifully preserved on the banks of the Mosel, mix young and old with its cool, student vibe, as well as a contemporary art scene such as Illuminale Festival in September.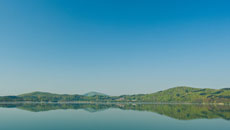 Volcanic Eifel region
If woodland is your thing, the Eifel beech forests will lift your heart. As will the springtime prolific and oh-so-pretty wild narcissi. Over 100km2 of forested volcanic mountains, with Hohe Acht (747m) the highest, interspersed with lakes, such as Laacher See. Long distance trails include Eifelsteig, the 'Wilderness Trail', which takes four days to cover with B&Bs en route. Excellent
accessible tourism
facilities, too.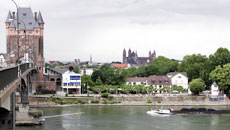 Worms
One of Germany's oldest cities and it's called Worms. But you'll forget any nasty connotations as soon as you cross its elegant bridge. With a Romanesque cathedral, city walls and statue of Martin Luther, prosecuted here for his beliefs. Also home to Germany's oldest 11th century Synagogue, lovingly reconstructed after being destroyed during Kristallnacht. The beautiful Jewish cemetery is also a place of pilgrimage.
Travel times
---
Frankfurt Hahn airport – Mainz: 1hr 10 mins by bus
Koblenz – Worms: 1hr 57 mins by train
Trier – Koblenz: 1hr 20 mins by car
Mainz - Hunsrück-Hochwald National Park: 1hr 20 mins by car
German Wine Trail, or Radweg Deutsche Weinstrasse: 3-4 days by bike
Train travel
The network following the Rhine and the Mosel, is superb. With the great value Rheinland-Pfalz ticket, hop on and hop off, hike to a castle, take in myriad views and medieval history and hike back down to the train again. Or just counting crazily beautiful castles from the train is fun in itself. And if it's misty you get to sing 'the fog on the Rhine is all mine all mine'. Rude not to.
Responsible Travel would like to thank the Rhineland-Palatinate tourist board for their sponsorship of this guide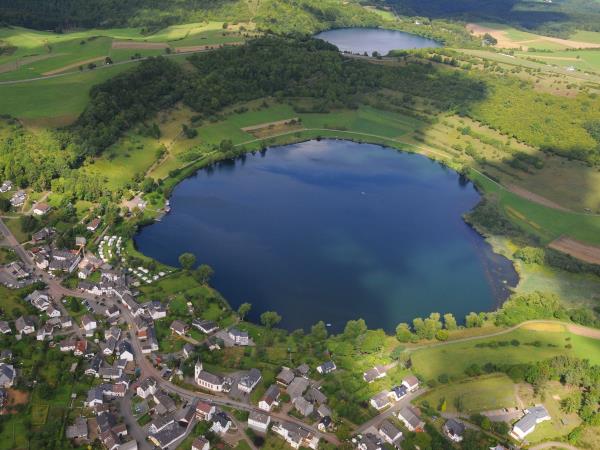 Combine Hiking and delicious regional dishes in the Eifel
From
€

329
5 Days
ex flights