Rhineland-Palatinate travel tips
---
ADVICE FROM OUR FRIENDS IN RHINELAND-PALATINATE
Kevin Kalfels from Rhineland-Palatinate Tourist Board, Germany, shares his Rhineland-Palatinate travel tips:
When to visit
---
"In spring, which many people don't know about, there is the almond blossom season down in the Palatinate area, when everything is pink and blooming. If you can time your visit with a Wine Festival, you really will get a sense of local culture. As well as local produce and local wine of course."
"Winter is also lovely for Christmas markets, but also winter hiking, because it is not freezing cold. Maybe a little snow in the uplands, but you can still hike perfectly."
"Go early in the morning or late in the afternoon to the famous castles or palaces in summer, as they do get pretty busy".
Advice on where to go
---
"Don't miss the cable car up to Ehrenbreitstein Fortress in Koblenz, and if you can, get in the one carriage, number 17, where the bottom is made of glass. I think it is super awesome to go up over the Rhine and then look down at it from that glass floor."
Getting around
---
"The Rhineland-Palatinate rail ticket is a great deal, at only €24 per day for unlimited travel throughout the region. But up to four other people traveling with you only pay €5 and children under 15 go free."
"It is worth remembering that Rhineland-Palatinate is not that big. You can easily take the train from south to north in five hours. But it is good to take some time in each place. Because if you take a train to one of the castles, for example, you might have to hike up the hill from the station to see it. Or take a bus. So, things take time. I often see people rushing in from one place to the other, but I really advise you to just take some more time in each place."
"The Burgen Bus is a great service that brings you from one castle to another. It only operates in the summer time, but it is a good option if you don't want to hike too far. It picks you up at the station, does a circuit of the castles and then drops you at the station again."
Accessible tourism
---
"Accessibility is really strong here, as we have our own unique website, with barrier free things to do and see. Because when I think about responsible tourism, I always like to include accessibility too. Not only for people in wheelchairs but for tourists with all sorts of accessibility issues. Unfortunately, not all the old castles were built to cater for people with special needs, and we are aware of that. In the Eifel National Park, for example, there is a totally barrier free walking trail, not only stroller and wheelchair friendly, but with signed guided walks, sensory trails and so on."
Health & safety
---
TRAVEL SAFELY IN RHINELAND-PALITINATE
Health
---
Generally, Germany is a picture of health: the tap water is safe to drink, and there are no nasty diseases lurking about. You don't need vaccinations to visit, although the WHO does recommend that travelers to any destination be covered for diphtheria, tetanus, measles, mumps, rubella and polio.
For EU citizens, a free European Health Insurance Card (EHIC) will ensure reduced-cost state-provided healthcare cover for any medical treatment that you may need in Germany; each family member will need a separate card. Download an application form here. But always take out comprehensive travel insurance as well.
Don't mix 'wandern' and 'wine' – as well as being less sure on your feet, you will also be more prone to dehydration and sunburn.
Always wear sun cream when cycling and hiking. Even when there is cloud cover. And take plenty of water, too.
Pharmacies are called "Apotheke" and are marked by a big, red "A" symbol. As medicine is often expensive, you can ask the pharmacist for "Generika" (generic drugs), which are brand free and a lot cheaper.
Be wary of ticks when hiking as they carry Lyme disease. Make sure you carry tweezers so that you can remove them and be sure to inspect your bodies carefully at the end of the day. Always apply a deterrent (a natural one is best for children such as lemon eucalyptus) and then sun cream.

Safety
---
The Wine Route is superb, but use the trains when possible, walk, or take a river boat – just don't risk drink driving if you are sampling the goodies along the way. In Germany the European blood alcohol limit of 0.5 mg per ml stands, unless you are involved in an accident, in which case it drops to 0.3mg. If you're in a fatal accident in Germany and over the limit, you could serve five years. So, best rule of thumb: don't drink at all when driving.
Several parts of the Eifel National Park are completely closed to the public due to the fact that there are still some WW2 minefields. There is no device available to detect them at present, and so always obey the signs, and stay away from mines.
On some one way streets, cyclists are allowed to travel in both directions, so keep an eye out.
Always wear your helmet cycling.
Take care driving on the motorways, as Germans do like to put the foot down, and flash their lights if you are not going fast enough. Don't feel under pressure to do a Top Gear.
Responsible Travel would like to thank the Rhineland-Palatinate tourist board for their sponsorship of this guide
Photo credits: [Christmas Market, Cable Car: Rhineland-Palatinate Tourist Board]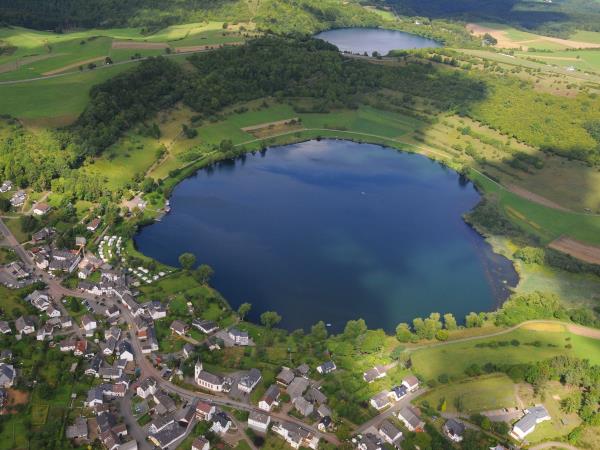 Combine Hiking and delicious regional dishes in the Eifel
From
€

329
5 Days
ex flights