Things to do in Rhineland-Palatinate
---
Our top activities in Rhineland-Palatinate
Drink, drink, drink!
---
Out of Germany's 13 wine growing areas, six of them are in Rhineland-Palatinate. Places like the Ahr Valley red wine region or Rheinhessen and Mainz, known as Great Wine Capitals, are a sommelier's seventh heaven. Best way to savour it all is on the
Weinstrasse
or Wine Route, which you can explore by car, hiking or bike.
Cornucopia of castles
---
If you could build a scale model of the Rhineland-Palatinate, it would look like a children's playground, with castle after castle perched on hills, overlooking rivers and lakes for sailing on or swimming in, and enveloped by mountains to run wild in. When you take the train or a boat trip along the Rhine, for example it is just one sumptuous schloss after another. There are, in fact, over 500 of them, many accessible by train. Such as Cochem on the Mosel or Marksburg on the Rhine, the former particularly magical in winter when the Christmas market is on. In the case of Eltz Castle which is more remote, and not on the river, you can still get the train, but then hike along mountain paths for an hour to get there. They all offer English guided tours, as well as children's tours and great family prices. You can even sleep in this playground, with family and youth hostels on site at Ehrenbreitstein Fortress in Koblenz and Stahleck Castle in Bacharach.
Light up your
winter
---
As if the capacious castles dotted along the Rhine aren't enough in terms of feel good fantasia, the proliferation of Christmas markets just takes the kitsch factor off the scale. In Traben-Trarbach, there is a unique underground one in the city wine cellars, for example. Koblenz is also stunning, and some of the castles also have markets, such as in Cochem, which adds a medieval theme to it all.
Wanderlust
---
You will don your Meindl or Hanwag boots with pride in the Rhineland-Palatinate, with hundreds of well marked hiking routes through uplands and lowlands, river valleys and mountain gorges at your beck and call. You can take on the mountainous, long distance trails
Saar-Hunsrück-Steig
(410km) or the
Eifelsteig
(313km) through both of the region's national parks. Or mellow out along the Rhine Valley, following this meandering UNESCO World Heritage Site on the
Rheinsteig
, which stretches for 320km through the state towards Bonn in one direction and Wiesbaden in the other.
As walking is very much part of German culture, there is a superb infrastructure around hiking trails, with vacation companies that will transport your bags from one accommodation to the next, and also a trail for every day of the year, it would seem. You can even hike the length of the
Deutsche Weinstrasse
, or German Wine Route, stopping at castle inns and wineries en route to rest your legs, and oil the engine.
Responsible Travel would like to thank the Rhineland-Palatinate tourist board for their sponsorship of this guide
Photo credits:
[Rhineland-Palatinate vineyard:
Wolfgang Staudt
] [Winter in Speyer:
dierk schaefer
] [Castles, Wanderlust: Rhineland-Palatinate Tourist Board]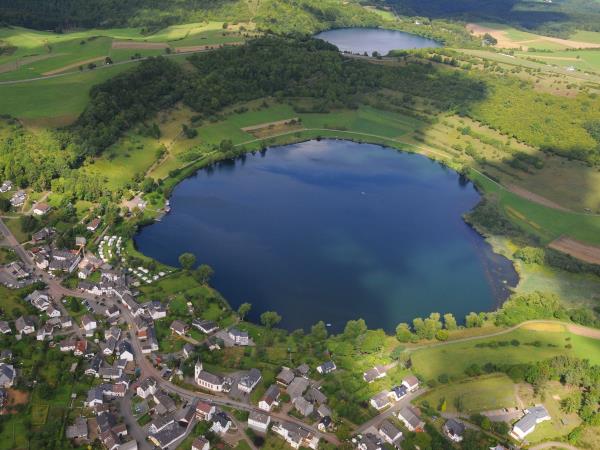 Combine Hiking and delicious regional dishes in the Eifel
From
€

329
5 Days
ex flights