Traveling in Rhineland-Palatinate with kids
---
What does responsible travel recommend?
Germany is totally underrated as a place to go on a family vacation, and the Rhineland-Palatine even more so. As well as feeling as if you are traveling through a story book landscape of sometimes eerie, sometimes exquisite castles, propped on hills like delicate Lego constructions, traveling with kids in the Rhineland-Palatinate is just so easy. The rail network is second to none, there are cycling routes to keep everyone from toddlers to teens, parents to grandparents happy or challenged, depending on your mindset. With a plethora of businesses to organize luggage transfers, and a hearty meal, accompanied by copious wine, waiting for you. This isn't just romantic Germany. This is go feral and have fun Germany.
Activities for families in
Rhineland-Palatinate
---
WHAT TO DO IN Rhineland-Palatinate WITH KIDS
Dive into Deutschland
Eifel is a voluptuously volcanic region which, although dormant, has left the gift of the Maar – German for 'volcanic lake'. Just what you need after a day of cycling or hiking in the hills – a turquoise treat as you cross that final hump. Very untouristy, they are
hillside havens
and will often feel like your own secret, swimming spot.
Volcanic velo-city
Watch your little ones enjoy the freedom of the Eifel volcanic mountain range on a bike, as this region is totally switched on to family cycling. Depending on ages and abilities, you can take on the converted railway lines, such as through the Mayen- Koblenz Volcano Park, or take teens on more challenging mountain biking routes such as Hochspeyer, in the Palatinate Forest. For details of all routes see the Gastlandschaften website.
Wander-wurst
Given that this is the land of real hotdogs, those hollow legs will always be filled. From knödel for carb craving teens, to market stalls brimming with plums and peaches for healthier options. And then there is always the obligatory Kaffee und Kuchen, of course. Which is practically the law in Germany.
Tips for families
---
RESPONSIBLE TRAVEL ASKS THE EXPERTS
Kevin Kafels from Rhineland-Palatinate Tourist Board knows all about how to enjoy the Rhineland-Palatinate as a family. He spent all his childhood here:
"Go cycling with your family here, it is so popular and there are lots of different trails, and bikes to hire along them. There are also companies that will take your luggage from one hotel to the next for you. We have great railway lines that are closed off and have been turned into cycling trails, such as through the volcanic Eifel region."

"Some castles house youth hostels. My favorite in that way is the Fortress Ehrenbreitstein overlooking Koblenz and the "German Corner", where the Rhine meets the Mosel. You can also take the cable car here of course too, which is great fun."

"Take the train all along the Rhine, where you have one castle after another, so just sitting on the train and looking at them all is just stunning. A good journey to see as many as possible, take a three-day trip, starting down south in Speyer and then go up to Mainz, the state capital, all the way up to Koblenz, where there is a huge density of castles. There is just one after the other. You can do all that by train and children under fifteen go free with the Rhineland-Palatinate rail ticket."
Responsible Travel would like to thank the Rhineland-Palatinate tourist board for their sponsorship of this guide
Photo credits:
[Kaffee und Kuchen:
Jessica Spengler
] [Train along the Rhine:
Andrew Bone
] [All other images: Rhineland-Palatinate Tourist Board]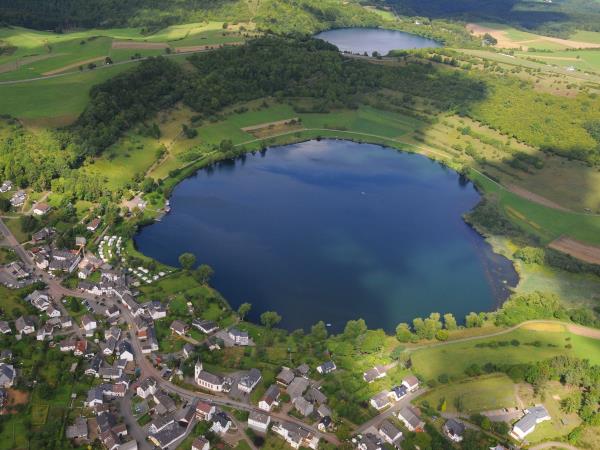 Combine Hiking and delicious regional dishes in the Eifel
From
€

329
5 Days
ex flights