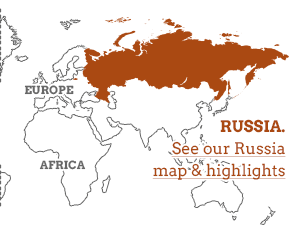 We strongly condemn the unjustified invasion of Ukraine by Russia. Our guide to travel in Russia remains in the hope that travel is possible in the future and the local Russian people, who do not support this act of aggression, benefit. The same people who are doing so much to conserve the vast tracks of nature in this huge country which, by the way, doesn't need to grow any more!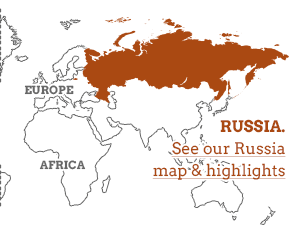 The largest country in the world, with 11 different time zones, Russia is hard to sum up in a single sentence!

Of course, you're not going to cover all of Russia in a single trip, but you can experience plenty of its highlights. Stick around western Russia for its celebrated cities, art and architecture, babushkas and the Bolshoi, and the Russian fairytale towns of the Golden Ring. Or leave Europe behind, riding the Trans Siberian Railway or sailing up to Russia's remote eastern shores, to discover Siberian tigers and supersized bears, indigenous people and the world's oldest lake. A trip here is like a bottle of local vodka – consumed responsibly, it will leave you warm and buzzing, with no headache the next day!

Find out more in our Russia travel guide…
Russia is...
more than just Moscow and St Petersburg. Escape those celebrated cities for friendly people, pretty villages and the wild Far East.
Russia isn't...
just a muscle-flexing world power. Behind the politics there is culture, art, architecture and surprisingly good cuisine!
WHAT WE RATE & WHAT WE DON'T
Russian cuisine
When Russians first pushed east across the Urals, they were a bunch of porridge-eaters, but the Asias introduced them to pelmeni – dumplings filled with fish or meat – now a tasty staple. Favourites from former Soviet states are also available, or tuck into exciting regional cuisine, from Siberian to Bashkir. In Moscow and St Petersburg, caviar bars exist alongside burger joints and surfer-dude coffee shops.
Lake Baikal
OK, so the lake itself is firmly on the map, but most visitors get off the Trans Siberian at Irkutsk, head to touristy lakeside village Listvyanka, paddle and leave. Do more! Learn about the lake at Baikal Museum, hike the Great Baikal Trail and if you have time, explore the sandy beaches and fascinating Buryat culture of Ulan Ude, with its large Buddhist population, on Baikal's eastern side.
Siberian tigers
The whales, walruses and bears of Kamchatka and Chukotka are a thrilling sight, but Russia is home to an even rarer creature: the Siberian tiger. Tiger safaris with an expert naturalist guide are a unique chance to track and spot one, and in addition you may also see wild dogs, Asian black bear, elk, Siberian deer, wolves and, if you're exceptionally lucky, the elusive Amur leopard.
Russian hospitality
Putin's macho posturing and a Cold War hangover have coloured many visitors' view of Russian people and the welcome they offer. But rather than grumpy and gruff, most Russians are warmly hospitable and highly educated. Dinner with a Muscovite family, a homestay with Buryat people near Lake Baikal and meeting the indigenous residents of far-flung Chukotka will reveal the human side to this geographical giant.
Wrangel island
A UNESCO World Heritage site, Wrangel Island is a natural paradise, home to oodles of polar bears, as well as Pacific walruses, Arctic foxes, snowy owls, snow geese, musk ox, reindeer and more. In addition, the island is believed to have been the last home of the woolly mammoth and mammoth tusks and bones are regularly unearthed in the riverbeds and interior of the island.
European Russia
That's to say, west of Yekaterinburg, home to the walled kremlins, palaces and churches topped with cupcake-icing roofs that most of us associate with Russia. Moscow and St Petersburg are the can't-miss cities, home to huge amounts of art, history and extraordinary architecture alongside a creative cultural scene that's ever-evolving. From here, visit idyllic towns fringed by green fields, such as Novgorod and Suzdal.
Trans Siberian Railway
The world's longest train line, the Trans Siberian railway has connected Moscow with Vladivostok since 1916. Branch lines bend into Mongolia and China, and stop-offs at key spots such as Lake Baikal break the journey. More than just a means of transport, the Trans Siberian is a community experience – long hours traveling promote conversation, card games and tea with fellow passengers, as the Russian landscape rolls past.
Kamchatka cruises
Remote and hard to reach, spectacular Kamchatka is best accessed on a small cruise ship expedition. Hop into a Zodiac to explore the dramatic coast, islands, fjords and wide river mouths in search of bears, walruses, puffins and the majestic Steller's sea eagle. Then disembark to hike the extraordinary landscape, with its 300 volcanoes, thermal springs, fish-filled rivers and colourful tundra.
Petropavlovsk-Kamchatsky
Entirely at odds with its spellbinding natural setting, Petropavlovsk in Kamchatka is not a pretty city, and it fails to even remotely match up to the stupendous scenery of the wilderness around it. Basic, Soviet-style accommodation is expensive, here, too. Treat it simply as the gateway to Russia's most spectacular scenery, and escape ASAP.
Summer
Summer isn't the only time to visit Russia – winter is beautiful here and you'll see a whole other side to the country that peak season travelers miss. Snuggle up on the Trans Siberian, chatting to locals over hot tea as the snowy landscape unfolds; ice-walk on Lake Baikal; enjoy a traditional 'banya' sauna and take a medicinal nip of vodka, too, to keep out the cold.
Sticking to the Metro
The super-efficient Metro and its beautiful stations are definitely worth exploring, but walking is fun and you'll see more on foot. Explore beyond Red Square, taking in Gorky Park, the historical Kitay Gorod neighbourhood and the Boulevard Ring, stopping at cafes as you go. Don't consider a taxi, though. Moscow's roads are so clogged that wealthy Russians hire fake ambulances to blue-light their way through the jams!
Cruising to St Petersburg
According to the Russian migration authorities, 65,700 British nationals visited St Petersburg in 2015 on foreign cruise ships. At Responsible Travel, we are outspoken about the economic and environmental damage caused by these enormous ships –
read more here
. Try a responsible small ship cruise in the Russian Far East instead, or choose an overland trip to St Petersburg and beyond, for a richer taste of Russia.
Eating & drinking in Russia
It's pancake day every day in Russia, with blini served with various toppings, including classic smoked salmon and caviar. Syrniki, are a denser ricotta pancake, eaten for breakfast or dessert.

Moscow's burgeoning restaurant scene showcases the cuisine of former Soviet countries – try Uzbek plov or khachapuri, a cheesy bread from Georgia.

There are hundreds of different vodkas, from cheap throat-strippers to classy varieties flavoured with lemon, pepper or caraway. Never add a mixer and don't sip it – vodka should be knocked back in one! Kvass is a healthy alternative; this fermented drink is made from stale bread and has a tangy, earthy taste that quenches thirst and delivers a gut-pleasing dose of probiotics, too.

In winter, the icicles hanging from gutters in Moscow are so big that the pavements below are cordoned off – if the icicles fell on your head they'd kill you!

If you'd like to chat about Russia or need help finding a vacation to suit you we're very happy to help.

People & language
Russian is the sole official language throughout Russia, but 35 regional ones exist, including Tatar and Chechen. It's a Slavic language, which over centuries has acquired words from the languages of neighbours and invaders, from Old Norse to Mongol and French. Although some English signs exist in major cities, it's helpful to learn the Cyrillic alphabet or get a translation app, for navigating further afield.

Dobroe utro – good morning
Zdravstvuyte – hello
Spasibo – thank you
Do svidaniya – goodbye
Gifts & shopping
Mined on Russia's Baltic coasts, amber is much loved by Russian artisans. It's used mostly to make jewellery and ranges in colour from pale honey to almost black.

Red caviar from the far east of Russia comes from salmon and is a beautiful jewel-like delicacy that's nutritious, too.

If Matryoshka dolls feel a bit cheesy, a Zhostovo hammered tray is an equally colourful but less-stereotypical souvenir. They are typically decorated with vibrant fruit and flowers, painted onto a black background.

Keep your toes warm even when it's -40°C in a pair of valenki boots. Made from felted wool, they were worn by the nomads of the Great Steppe more than a thousand years ago.

The Hermitage Museum in St Petersburg has almost 22km of marbled corridors and is home to around 70 cats, which protect its treasures from nibbling rodents.

How much does it cost?
Single journey on Moscow Metro: 65p

Set lunch in Moscow restaurant: £3-£5

Entrance to Hermitage museum: £9

Sapsan express train from Moscow-St Petersburg: approx. £70 one way

Half litre bottle of vodka: £2.50
A BRIEF HISTORY OF RUSSIA
The genesis of this giant country was in the 9th century, when Kievan Rus' was founded, the first major East Slavic state. It soon adopted Orthodox Christianity as its official religion and Kiev emerged as Eastern Europe's chief political and cultural center – until the Mongols came along, that is! From 1237-1240, they devastated many cities and ended Kiev's power. These Mongol invaders became known as Tatars and ruled until 1480, by which time the Grand Princes of Moscow had grown powerful. Ivan the IV (or the Terrible, as he's better known) became the first Tsar in 1547, unleashing a reign of terror against the aristocracy, centralising the administration and sending Cossacks to conquer Siberia for Russia.
Read more