Things to see & do in
St Petersburg, Russia
In 1703, Tsar Peter the Great had a vision of Russia's greatest city, one that would drag 'old Russia' into the present day. He set about building a place that would outshine the beauty of the most beautiful cities in the west. The outcome was an antidote to Moscow, inspired by western thinking, politics and culture. Pushkin described St Petersburg as a 'window into Europe', but future revolts and bloodshed, alongside the many that died in its construction, would also lead to it being called the city built on bones.

For nearly 200 years, St Petersburg was the capital of Imperial Russia, home of Tsar Nicolas II and, later, the cradle of the Russian revolution. The government only returned to Moscow in 1918, following the fall of the tsars. However, as the home of the Hermitage, one of the largest art museums in the world, and over 50 theatres, it's still considered by many to be Russia's cultural capital. It's a city that has stirred Russia's greatest writers, and where the first seeds of democracy sprouted.
Highlights of St Petersburg
Hermitage Museum & Winter Palace
Like an emerald city, the vast estate of the Hermitage Museum is instantly recognisable from across the Neva River. The second largest museum in the world, its vast galleries include masterpieces by Leonardo da Vinci and Rembrandt, modern treasures by Matisse, Scythian gold, ceremonial weapons and an incredible mechanical peacock clock. You could spend an entire day perusing the collection, displayed across 360 rooms and five interconnecting buildings. The most impressive and best known of these buildings is the Winter Palace, the official residence of the Russian Tsars – until the storming of the Red Army in 1917 and the dawn of Soviet Russia. The month-long looting of the palace wine cellars following the raid was known afterwards as 'the greatest hangover in history'.
Exploring the city on foot
In this 'Venice of the North', founded on 42 islands, every bridge and alleyway has featured on the pages of one of its resident writers, from Dostoyevsky to Tolstoy. History is immortalised on every corner. Even the apartment blocks, still existing as original Soviet communal flats, provide a unique opportunity to experience a part of St Peterburg's living past. Along your walk, stop off at the Peter and Paul Fortress, the foundations of the city, view the intricate Easter eggs at the Fabergé Museum and visit St Isaac's cathedral and the dazzling Church of the Saviour of the Spilled Blood.
Peterhof Palace
Affectionately called his 'Seaside Paradise', Peterhof Palace was built by Peter the Great 32km west of St Petersburg, near his naval base at Kronshtadt. Inspired by a recent visit to the French royal court, Peter wanted something that would rival the most beautiful of all European palaces: Versailles. The centerpiece of this ostentatious palace is the Grande Cascade, where 64 jets and fountains cascade into a pool amid golden statues of lions, gods and frogs. Badly damaged during World War II, the palace has since been lovingly restored, right down to its trick fountains, hidden to surprise unsuspecting guests.
Catherine Palace
At the request of Peter the Great's second wife, Catherine, a royal summer residence was built just south of St Petersburg, in the town of Pushkin. Catherine's daughter, the Empress Elizabeth, perhaps encumbered by her mother's outdated tastes, later hired Italian architect Bartolomeo Rastrelli to appropriately redesign most of the palace. The resulting flamboyant, 325m, gilded Rococo façade hides a stupefying series of gemstone-lined rooms, the pinnacle of which is the legendary Amber Room. The priceless original amber was stripped out by German soldiers during World War II, along with much of the interior, never to be seen again. At an unimaginable expense, the entire palace has since been fully rebuilt, right down to the last amber tile. Visitors are greeted with firm instructions to wear tapochki, cloth slippers, over their shoes at all times.
Russian Tea Culture
The traditional centerpiece of the Russian table is the samovar. This 300-year-old urn is an indispensible part of Russia's culture – early miniature ones were even made as the original travel kettle. Tea is always accompanied by something to eat, often gingerbread or wafers, but most commonly baranki. A popular teatime snack since the time of Peter the Great, these doughy bread rings were typically baked and threaded together like a necklace with string. The smaller version, sushki, is dried after baking. Enjoy after a thorough dunking in your tea.
Our top Russia Vacation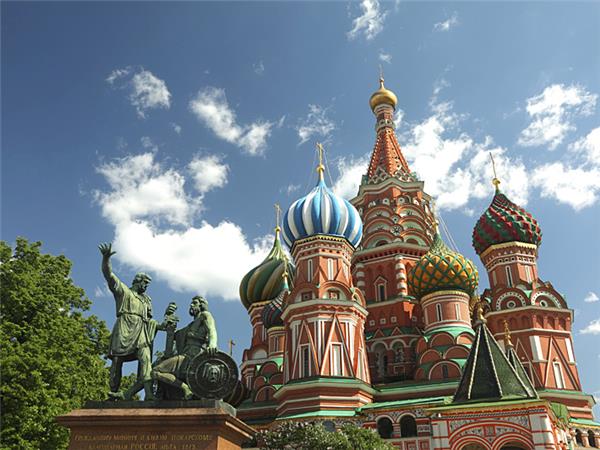 Fascinating history and architecture
From
US $

1949

to

US $

2079
8 days
ex flights
Small group travel:
2022: 19 Mar, 26 Mar, 2 Apr, 9 Apr, 16 Apr, 23 Apr, 14 May, 21 May, 11 Jun, 18 Jun, 2 Jul, 9 Jul, 16 Jul, 23 Jul, 30 Jul, 6 Aug, 13 Aug, 20 Aug, 10 Sep, 17 Sep, 24 Sep, 1 Oct, 8 Oct, 15 Oct
If you'd like to chat about Russia or need help finding a vacation to suit you we're very happy to help.

To really see how St Petersburg differs to other Russian cities, it's best explored alongside Moscow and Novgorod. Our small group tours of western Russia allow you to spend two or three days in the city, as part of an eight or nine day vacation. Alternatively, you can discover St Petersburg as part of a
Trans Siberian
or
Trans Mongolian Express
tour, which can be tailor made to meet your requirements and usually lasts 18-19 days.
Unlike eastern Russia, notorious for its long and very cold winters, western Russia enjoys a less extreme, continental climate. St Petersburg is milder than Moscow, although prone to unpredictable weather throughout spring and summer. Trips usually run from
March
to
October
, while the best time to go to Peterhof Palace is from late
May
until
October
, when the spectacular palace fountains are in action. Winter clings to St Petersburg until
March
, when temperatures finally rise above freezing and Neva Bay begins to thaw. You'll be in for a treat if you visit St Petersburg over the Christmas vacations, when gleaming palaces are dusted with snow and frozen rivers transform into al fresco ice rinks.