Things to see & do in Samoa

The first Polynesian nation to gain its independence after European colonisation, Samoa holds fast to its ancient traditions and is rightly proud of its community spirit and family values.

Despite its intense natural beauty, tourism has been slow to take root in Samoa. Since almost all land is communally owned, big name hotel chains haven't got much of a look-in; and although 'Upolu has a few fancy resorts, the islands feel unspoilt – and all the better for it. The government has ensured that a good chunk of tourism revenue goes directly to the villages, and has encouraged the set up of locally owned guesthouses, based on traditional Samoan architecture. Many of the country's best beaches are dotted with these simple, semi-open air fales, which allow you to experience Samoan life (or fa'a Samoa ) the simple way.

So if you want a swim up cocktail bar, banging nightlife and waterside beauty treatments, you won't find them here. If you want the low-key version of a South Seas paradise – wild jungles, iridescent seas, swimming under waterfalls, long chats with friendly locals – Samoa could be just the ticket.
Samoa consists of nine islands but the busiest is Upolu, where the capital, Apia, is located and where most of the population lives. As well as the obligatory white sandy beaches, Samoa is blessed with a lush, green and mountainous interior. The country's tropical climate and rich soil mean that rainforests, mangrove swamps and marshes have thrived here, and all are brimming with native wildlife and plants, such as seabirds, flying foxes and all manner of lizards. Upolu, where many visitors spend the bulk of their time, is lined with pristine sands backed by black rocks and soaring coconut palms. It's also home to the forested O Le Pupu-Pue National Park, one country's main attractions and a hit with hikers, bird lovers and beachgoers.
Geographically and culturally, Samoa lies at the heart of Polynesia. In spite of various outside influences over the years, it remains one of the most traditional societies in the region, and clings firmly to Fa'a Samoa (the Samoan Way) – where the matai (chiefs), aiga (extended family), the church and respect for elders are paramount. Christianity has been embraced by Samoans, and Sundays are spent with family and at church. The majority of Samoans still live in villages featuring fales (simple thatched huts), most of which are open to the elements.

The tatau (tattoo) is still a rite of passage for many Samoan men; patterns represent Samoa's cultural heritage and are a sign of spiritual maturity and dedication to Fa'a Samoa. Master tattooists called tufuga ta tatau often imprint tattoos in the traditional way – with tools handmade from bone, tusk, shark teeth, shell and wood.
Our top trip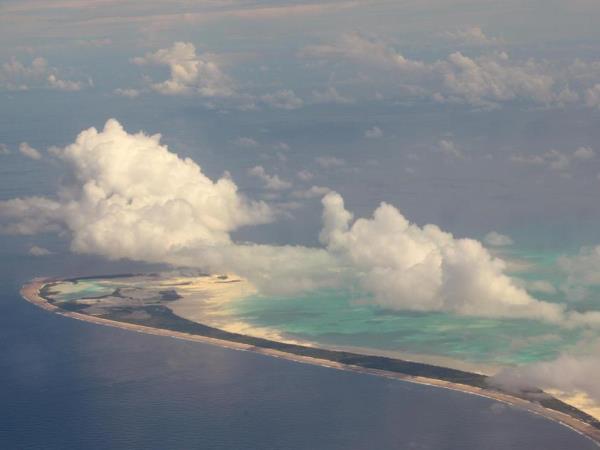 Discover some of the world's smallest nations
From
£

17595
27 days
ex flights
Small group travel:
2024: 20 Jun, 26 Sep
2025: 19 Jun, 25 Sep
If you'd like to chat about Samoa or need help finding a vacation to suit you we're very happy to help.

Discover the history
Much of Apia looks as it did when Robert Louis Stevenson settled here in 1889, and you can learn more about his life in Samoa at the Robert Louis Stevenson Museum, set on spectacular grounds in the hills to the south of Apia. Other historical sights worth checking out include Parliament House, the Independence Monument, Mulinu'u Peninsula, where the chieftain families of Samoa are buried, and the Moamoa Cathedral, which has an impressive stained glass window and is one of the oldest churches in Samoa.
Go walking
Hiking is big news on Samoa, and all routes are spectacular and varied. Even in just a couple of hours you could come across volcanic crater lakes, sea cliffs and beaches; and you'll usually find a waterfall or two in which to cool off. The best hiking in the country is found in the coastal rainforest of O Le Pupu-Pue National Park, where walks navigate thick rainforest, the Togitogiga Falls, and head inland to Peapea Cave, an old lava tube.
Cycle Samoa
Travel by bicycle is a fantastic way to explore the country, providing a more in depth and intimate view of the Samoan landscape and village life. Cycle tours concentrate on the islands of Upolu and Savai'I, whose roads are generally well sealed and traffic free, and so are great for both beginner and experienced cyclists.
Meet the Samoans
Welcoming visitors is second nature to Samoans, so village visits and home stays are firmly part of most itineraries. You could find yourself spending time with the chief of a local village; chatting with workers on an organic cocoa plantation; or staying with a family on an organic farm, foraging for ingredients and cooking traditional Samoan food using age-old cooking methods.
Diving, swimming & snorkelling
Of course there's plenty of snorkelling, swimming and diving to be had in Samoa's turquoise seas, but you can get your underwater pleasures inland, too. To Sua Trench is one of the most magical natural swimming pools in the world, while Togitogiga Waterfall, within Le Pupu-Pu'e National Park, has a beautiful swimming hole at the foot of its thundering waters; stay here into the evening and you can watch the sun set over volcanic rock pools.