Monkey around at Bako
There's a lot of hype about Sarawak's exotic wildlife and it doesn't disappoint. Better still, a lot of the State's land is protected, making it one of the best places to see wildlife in a natural setting.
Long-limbed orangutans are a huge draw to people visiting Borneo and Malaysia, but sightings of them swinging around their natural habitat are rare. It's proboscis monkeys – a species only found on Borneo – that are the star of Sarawak's show and are perpetual crowd pleasers, regularly seen along the wild shoreline of mangrove swamp at Bako National Park. The chance of spotting the more elusive clouded leopards, tiny tarsiers, slow lorises, and sun bears will keep wildlife fans on their toes day after day, and wildlife is most active at dawn and dusk, so overnight trips give you the chance to spot flying lemurs and pangolins.
A walk in the park
Nobody does national parks quite like Sarawak. The state plays host to a whopping 30 national parks, four wildlife sanctuaries and ten nature reserves – oh, and a rainforest the same size as Austria.

Gunung Gading sprawls across four jungle-clad mountain peaks with a dense primary rainforest that's traversed by crystalline streams and tumbling waterfalls and is one of the best places in the whole of Asia in which to spot the giant Rafflesia plant. Bako is Sarawak's oldest national park and a wildlife-lovers dream packed full of pendulum-faced proboscis monkeys, monitor lizards, otters, bearded pigs and long-tailed macaques. And the Gunung Mulu, a park that became a UNESCO Site in 2000, in recognition of its natural diversity, beauty and geology, is famed for its extraordinary caves – the monumental limestone karsts are striking, with deep gorges and blade-like peaks.
Live like a local
Nicki Hollamby, from our supplier Audley Travel, shares her favourite thing to do in Sarawak:
"We stayed with a small Iban community in their longhouse, which had 12 families under one roof. We spent the evening with them, cooking and eating and slept in the communal area of the longhouse, on a mattress under a mosquito net. We got up the next morning when at 5am with the tribe and their chickens to see how they cook and learn how they used to hunt. Considering it is set up for tourists, it's really good, they laugh and joke and you get your hands dirty – I loved it."
Our top Sarawak Vacation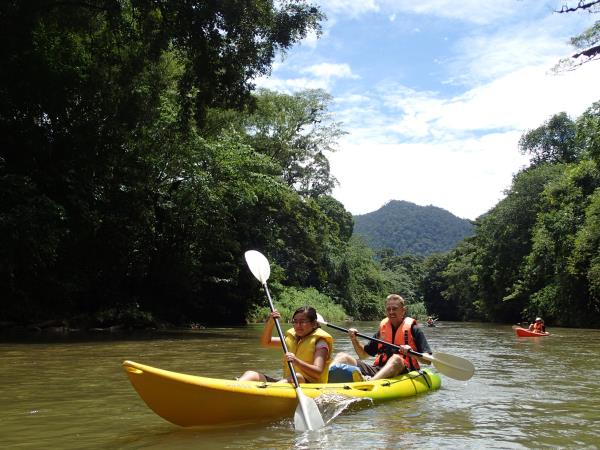 An action-packed vacation got the whole family to enjoy!
From
£

995
9 days
ex flights
Tailor made:
Everything is tweak-able, giving you the freedom to build a unique and personal trip for your chosen date. Upgrade your accommodation for all - or just part - of your trip, slow down the pace with few extra nights here and there or add a few more active adventures along the way.
If you'd like to chat about Sarawak or need help finding a vacation to suit you we're very happy to help.


The jewel in Sarawak's natural crown, Mulu National Park is a lively verdant mass of green against limestone precipices and rugged mountains

Tarzan or Jane?
The jungle – an almost mythical expanse of nature so dense that even the trees lose track of whose vibrant green leaves belong to who and in which man is most definitely bottom of the pecking order – is alive and kicking in Sarawak. Hikers can explore the trails across the four jungle clad peaks of Gunung Gading NP. Or there are sixteen trails in Bako NP which should keep any hiker happy as will Telok Limau, a seven-hour rainforest trek which takes you right into the hot and steamy heart of it all. You can also cycle through the Sarawakian jungle covered mountains, ancient trails and back roads of the Penrissen Highlands. Or swap saddle for paddle for the ultimate jungle experience, canoeing the Sarawak River under the trusty guidance of an indigenous Bidayuh expert.
Orangutan conservation
If you are interested in volunteering with orangutan conservation organisations, Sarawak has several on offer. But be warned. This is far from a world of cuddly conservation. Touching orangutans is not allowed, due to their vulnerability to human disease. But there are many other ways to help, cleaning cages of rescued orangutans, planting fruit trees to re-establish all important habitats, building structures for them to swing on and helping with ongoing conservation education programmes within local communities. Such volunteering trips take place at the Matang Wildlife Centre in Kubah NP, and Semenggoh Orangutan Centre.Find out more about
orangutan conservation in Sarawak
.

It wasn't the festive season when we spotted the gorgeous Christmas frigatebird in Sarawak. but spotting it along the Kuching coast certainly made for a happy vacation.

Birdwatching
The beauty and ecological importance of birds has long been recognised in Sarawak, as the indigenous Iban people have always worshipped the bird-god Sengalang Burong. And this is why you will often see exquisite carvings of them when you are here. The real things are beyond exquisite too, however, with a bonanza of birdlife here, as celebrated in the state's 22 designated Important Bird Areas.

Responsible Travel would like to thank the Sarawak tourist board for their sponsorship of this guide