Sea Kayaking - Activities
---
Our top activities - what complements sea kayaking
Catch cod from a kayak

If sea kayaking isn't wonderful enough, fishing for your lunch, throwing it in the cool box and then paddling to a remote island to cook it up, with a bit of foraged seaweed as seasoning, is verging on just downright showing off. Many sea kayaking companies offer angling as an extra, so seek and you will find.
Hiking
Some sea kayaking guides combine a paddle with a bit of land exploration, such as in Ireland where you kayak to inaccessible shores, hike the hills and forage for coastline food as you go. Or in Croatia, where there are so many surprisingly verdant islands, you always want to have your hiking boots in your dry bag.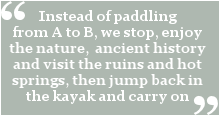 Wild camping
Leaving the coast in a sea kayak with tents, food and water packed into the storage holes, is a sure way to escape the monotony of daily life. And this is what rocks a real sea kayaker's boat. Paddle, make camp, make fire, make food, have a beer and a laugh. What's not to love?

Coasteering
Pembrokeshire is one of our favourite places to have a sea kayaking vacation, but they often throw coasteering into the mix too. Decked from head to toe in Neoprene, plus helmets and buoyancy aids, coasteering is, basically, all about chucking yourself into deep water from rocky heights. No ropes, just scrambling up rock faces, with the supervision of qualified instructors, and then jump. And swim. Climb up somewhere else, jump in again, and swim. Or, as one instructor put it, "all those things your mother wouldn't let you do in the sea when you were a child".
A good coasteering operator also helps you discover marine life as you traverse the tide line. Forage for seaweed, lose your fear of jellyfish by learning how to hold one properly and learn about limpets and urchins. You don't have to do the jumps when you go coasteering and a good guide will not pressurise you into any jumping. It's just about being in the sea and clambering into secret, rocky places you wouldn't otherwise be able to explore. Coasteering is childs play, for all ages.