Top self drive safari destinations
---
Make the most of your time
South Africa, rather than East Africa, is typically the place to go for a self drive safari. An organised trip allows you to explore at a pace that suits, and includes detailed maps and route descriptions, with journey times and petrol stations marked. South Africa's reliable road system makes self driving a fun family vacation, whilst also feeling like an adventure. Namibia has good Tarmac roads, which are straight and traffic free, but 4x4s are usually recommended if you're doing game drives. Drive times are often around four hours, with Windhoek to Sossusvlei and Sosssuvlei to Swakopmund longer, at five to six hours. Relax and enjoy the journey, but build in some driving-free days, too.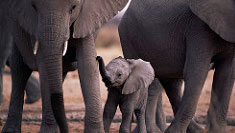 Etosha National Park
Etosha, in northern Namibia, translates as 'Great White Place', thanks to the enormous Etosha Pan, a salt-crusted, dry lake bed that dominates the national park. It's the place to go for the ultimate self drive safari, too, as you can simply park up near a waterhole and wait for the lions, elephants and rhinos to appear – no need for an organised game drive.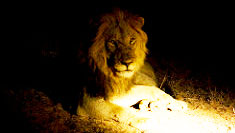 Game drives
No self drive safari is complete without, well, a safari. This usually means leaving your vehicle and hopping into a 4x4, with an expert guide. South Africa and KwaZulu Natal boast the Big Five, with family-friendly private game reserves such as Kwandwe and Phinda offering night drives and bush walks. In Etosha, Namibia, drive yourself to a waterhole and wait to see who appears!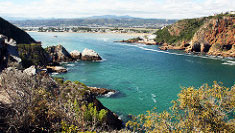 Garden route
Stretching from Mossel Bay to Storms River, South Africa's Garden Route is less than 300km long, but packs such a mix of wildlife, beaches, lakes, mountains and outdoor fun in that it regularly features on self drive safari itineraries. Leave the car to hike to Storms River Mouth, a dramatic canyon, spot dolphins and whales in Plettenberg Bay or cross the Knysna Lagoon to the Featherbed Nature Reserve.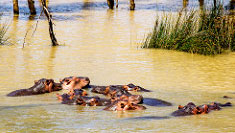 Kwazulu Natal
The rich cultural and wildlife pickings of KZN include the battlefields of the Anglo-Zulu Wars and the Midlands under the Drakensberg, home to artists, brewers, cheese and chocolate makers. Enjoy birding and the Big Five at Hluhluwe-iMfolozi Park while the iSimangaliso Wetlands teem with flamingoes, hippos and elephants. Offshore, there is year-round dolphin watching plus whales migrating Jun-Jul and Sep-Oct.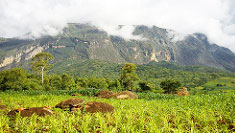 Malawi
Friendly Malawi makes a great destination for self drive safaris, its small size keeping drive times down. Explore the tea plantations in the Mulanje Mountains of the southeast, with its colonial estates and rolling hills, then spot hippos, crocs and amazing birdlife at Liwonde National Park. Don't miss Lake Malawi, which offers excellent freshwater snorkelling and diving.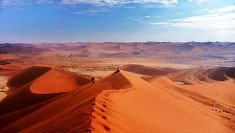 Namib desert
Most self drive vacations in Namibia take in the Namib Desert, where you can trek up the massive dunes at Sossusvlei, as high as a 70-storey skyscraper and constantly changing shape. Visit the dramatic Sesriem Canyon and the ghost town of Kolmanskop, built in the diamond rush of the early 1900s and now drowning in sand.


Self drive safari travel advice
---
TIPS FROM OUR FRIENDS

Simon Mills, from our expert African safari supplier Native Escapes, has advice on where to go on a self drive safari and more…
Tips on where to go
---
"Personally, I think Namibia is superb for this. Etosha National Park is just set up for it. It is very dry most of the year, so self drivers just need to head to a succession of waterholes – and if they wait, and have patience, animals will come. Driving in Namibia is a good experience. Driving is on the left, like the UK, but given the number of gravel roads, we'd always recommend driving in a 4x4 for clearance and safety. There is also a 40km/h speed limit in the park, too."
Why choose a self drive safari?
---
"Freedom. You can dictate your own pace, you can remain watching animals for as long as you want to (as long as you are out of the parks or in camp or at your lodge by sunset) and you can go where you want to. The thrill of finding animals or waiting patiently and then they appear is lovely."
Who is best suited to a self drive safari?
---
"To be honest, anyone who is happy to drive. We have had a good number of families, young couples and couples that are 55+ too – all of whom have really enjoyed self driving in Namibia."
Tips from our travelers on
---
ADVICE FROM THOSE WHO HAVE BEEN THERE
At Responsible Travel, we think the best people to advise our travelers are often... other travelers. They always return from our tours with packing tips, weather reports, ideas about what to do – and opinions about what not to.

We have selected some of the most useful self drive safari travel tips that our guests have provided over the years to help you make the very most of your vacation – and the space inside your suitcase.
"We appreciated the freedom afforded by an individual itinerary and self drive as opposed to a tour, but with the security of having all the accommodation booked in advance, and advice and suggestions as to where to go. It was difficult deciding just what we wanted to see and do so research beforehand is very helpful." – Barbara Sykes in South Africa

"The vacation will be planned entirely around your likes and preferences, so think carefully about what you want to get out of your trip. Then take advice from the experts at the vacation providers, they really do know the country and will know what's feasible/best within your timescales and budget." – Philippa Roll in South Africa

"Don't try to see too much, make the most of the road trips and enjoy the journey, the scenery along the way is part of the vacation and discovering small villages and what they have to offer is sometimes a joy. Choose your destinations carefully and spend more time in each location." – Liz Treadway in Namibia

"Drives are quite long so two drivers I think are essential. Take the guided safaris at the lodges but Etosha is very easy to do independently. Plenty of music for the long drives. If you go to Okonjima make sure you have time for a morning and an afternoon game drive. They do separate drives to look for leopards and cheetahs." – Jean Shepherd in Namibia

"Be prepared for sudden changes in the weather! It can be very wet and very windy at times. Don't bother packing shampoo, conditioner, body wash or cream. These are all supplied by guest houses and are made from fantastic local products. Don't worry about formal clothes. Everyone is very casual even in expensive restaurants." – John Barker in South Africa

"Take lots of small change for tips and car parking. Talk to the locals. We met very nice people in Knysna forest and heard their thoughts on things. One also recommended somewhere to eat. It was a local market run for the school to raise money for them." – Sue Beckingham in South Africa