Where to see wildlife on a short break
---
Make the most of your time
Europe is hopping with birds and beasts, meaning a short break vacation spent wolf tracking or bear watching is a glorious possibility. Take a quick flight and then an organised trip will transfer you from airport to wilderness – often a surprisingly small distance! Fly to Stockholm, for example, and you're two hours' drive from forests roamed by wolves and moose, while in Poland, European bison live four hours from Warsaw. Some animals demand domestic flights to reach them – the whales of northern Norway, for instance – but once here, guided hikes, canoeing trips and expert tracking tell the full wildlife story.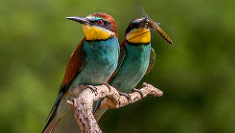 Birds in Hungary
A twitcher's paradise, Hungary boasts spectacular birdlife. The deciduous forest and areas of scrubland in Bukk National Park are home to numerous species, including woodpeckers, eagles, warblers and flycatchers. Nearby Hortobagy National Park, meanwhile, is one of Europe's best bird watching locations, with wetland birds numerous and easily viewable; you might spy a red footed falcon or great bustard, too.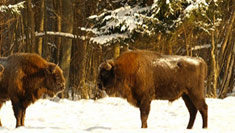 Bison in Poland
Some 800 European bison roam Poland's Białowieża Forest. This is the remaining chunk of the huge primeval forest that once covered Europe and is now, sadly, threatened by
logging
. Safari style trips seek the bison out, encountering wild boar, pine martens, moose, beavers and rare birds, too. If you're lucky, spot signs of wolves and lynx. Poland's Carpathian Mountains are also a good place for wolf tracking.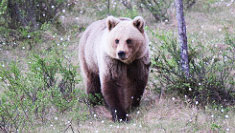 Brown bears in Finland
The wilderness of Eastern Finland, close to the Russian border, is bear country. During July and August it bursts into life; its population of brown bears emerging to hunt and forage, alongside wolves, wolverines and beavers. On a short break learn about their habitat through hikes and talks, and spend a night in a hide, taking advantage of the long hours of daylight to spot the bears.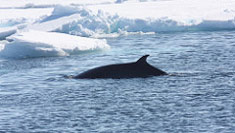 Whales in Norway
The Gulf Stream warms the waters around northern Norway, making them a nutrient rich feeding ground for whales. In spring, spot orcas from land hunting in the fjords of the Lofoten peninsula or take a boat trip to see sperm whales from May until September. From November to January, combine whale watching in the fjords northwest of Tromsø with spotting the Northern Lights.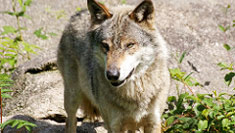 Wolves in France
The French Alps are home to a small population of wolves, which loped over from Italy in the 1990s. On a short break, learn how to track these elusive animals, walking off piste through wild and relatively untouched terrain, spotting their prints and the tracks of the chamois, mouflon and wild boar they hunt. You may be lucky and spot a lynx, too.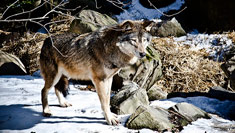 Wolves & moose in Sweden
Drive two hours from Stockholm and you can be in forest that's home to a huge range of wildlife. During summer, guided hikes and canoe trips bring you close to moose, beavers, foxes, deer and red squirrels. In winter, track wolves here, or head to Swedish Lapland during January and February, home to the largest moose in Europe!


Short break wildlife vacations travel advice
---
Tips from our wildlife expert friends

Marcus Eldh from our supplier Wild Sweden gives the lowdown on spotting wildlife on a short break:
Advice on tracking wolves in Sweden
---
"It is not a hard trip since we sleep at a nice guesthouse, and this is central Sweden, not Lapland so the winter conditions are not usually too difficult. But we always advise to bring proper winter clothing and dress in layers. We provide hot drinks in thermoses and sauna in the evenings."
How and where to see wildlife in Sweden tips
---
"We focus entirely on wildlife tours to see animals like moose, beavers, wolves and bears. We always go quietly – hiking, small boats with electric engine, canoeing, photo hides. We take people to the right place at the right time to spot wildlife in their natural habitat, in a good way with great respect for the animals. Also, you don't have to travel to the north of Sweden to spot wildlife and nice nature. For example, the best moose area is Bergslagen just two hours from Stockholm, where there is also good numbers of wolves and beavers."
Winter temperatures when wolf tracking in the Alps
---
Sally Guillaume from our supplier Undiscovered Mountains, gives this insight into winter weather in the Alps: "The temperatures where we wolf track in the Alps can get as low as -12°C (I've only had this cold once) and high as 15°C in January. I would say on average -4°C to 10°C in winter. It really depends on the day. Suffice to say you need to be prepared for the cold, but in layers so you can strip off when it gets warm! Also worth mentioning that the cold is a very dry cold so doesn't get into your bones in the same way as it does in damp climates. The refuges we stay in are also heated with wood burners and can get quite hot."
Short break wildlife vacations travel advice
---
Tips From Our Travelers
At Responsible Travel, we think the best people to advise our travelers are often... other travelers. They always return from our tours with packing tips, weather reports, ideas about what to do – and opinions about what not to.

We have selected some of the most useful short break wildlife vacation tips that our guests have provided over the years to help you make the very most of your vacation – and the space inside your suitcase.
"Go for it and make sure you pack some sun tan lotion and sunglasses." - Joyce Varley bird watching in Hungary

"Be willing to be sociable and make the most of the opportunities to see the wildlife, even if it means getting up very early. Be respectful of the rules and the rest of the group and follow the clothing rules (as some of our group did not do!)" – Sarah Bascombe on a bison safari in Poland

"This was a fairly 'full on' trip. You need good walking boots and wet weather gear. Be prepared to 'rough it' a little bit when camping and in the bear hides. Many of the animals you're looking for are nocturnal so a number of the activities started at about 5.00pm continuing well into the early hours. Remember June is 24 hours daylight in mid Sweden." – Shelia Jukes on a wolves, moose and beavers vacation in Sweden

"The best thing was hearing the wolves howl but the walk through the woods looking for signs of wolf and moose activity was also magical. Standing in the woods silently, in the dark waiting for the howl is an intense experience. Go determined to enjoy all parts of being in the outdoors with wildlife experts. Hearing or seeing wolves should be an extra bonus if it happens." – David Green in Sweden

"Travel light with lots of windproof layers! On the trip, it was cold as expected so I had all the warm layers but I was most thankful for the windproof outer trousers and coat. I was a solo traveler and everyone on board was very friendly – just book it and go!" – Claudia Philps on a northern lights and whale watching trip to Norway

"Be open to whatever the experience brings. We had quite stormy weather which added to the dramatic environment. Unfortunately we did not see the Northern Lights but the trip was still very eventful. Don't spend too much time trying to get the perfect photo because you will rarely be facing the right direction and you miss the spontaneity of the situation." – Lucy Chard on a Northern Lights and whale watching trip to Norway