SLOVENIA FAMILY HOLIDAYS GUIDE
---
2 MINUTE SUMMARY
Slovenia may be small but therein lies its appeal, with shorter distances on the road allowing for more time spent white water rafting on the Soca River, pedalling around the Brda vineyards or splashing about on lakes Bled or Bohinj. Small group vacations are a great idea for families who like to share experiences and make new friends, with likeminded people and children of a similar age, ensuring Slovenia family vacations are something that everyone can enjoy, on their own level. Centre based vacations in the capital, Ljubljana, for example, let you get orientated and feel like you're coming home at the end of each day as well as cutting out the self driving and the crowds that cling to the coast during the summer. Finally, thanks to Slovenia's proximity to Italy and Austria, food is flavoursome and familiar with pizza and pasta combining with schnitzels and strudels to sate teens after awesomely active days spent outdoors.
Find out more in our Slovenia family vacations travel guide.
SLOVENIA FAMILY HOLIDAYS MAP & HIGHLIGHTS
---
MAKE THE MOST OF YOUR TIME
Slovenia is relatively small with Ljubljana, the capital, conveniently located in the center. Lake Bled is under an hour's drive northwest of Ljubljana whereupon Lake Bohinj is just 30mins southwest. Getting into the Julian Alps – featuring the Soca River and Mount Triglav – is no problem with the town of Tolmin, to the south of the Julian Alps and close to the Italian border, pretty much untouched by tourism. Another border town, Nova Gorica, is just 45 minutes south of Tolmin from here Skocjan Caves are about the same distance to the southeast; Piran, on the coast, is a further 45mins south; and Ljubljana is under an hour's drive northeast from Skocjan Caves.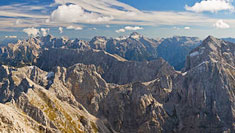 Julian Alps
Although the Julian Alps straddle Italy and Slovenia, the highest peak, Mt Triglav (2,864m), is on the Slovenian side, with the Sava River, Boka Waterfall, and Jasna and Bohinj Lakes, found within Triglav National Park. Elsewhere, rafting on the Soca River, high ropes near Lake Bled and the alpine town of Kranjska Gora add thrills for families, whilst Vrsic Pass (1,611m) provides a unique bird's eye perspective.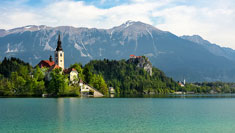 Lake Bled
The lakeside town of Bled has long been a draw for families visiting Slovenia, with a medieval castle and signature cremeschnitte (custard cream pastry) certain to get the thumbs up. Come for the cake and stay for the lake as Lake Bled is ideal for families looking to hike or horse ride around the water's edge or take a traditional flat bottomed boat to climb the 99 church steps on the lake's island.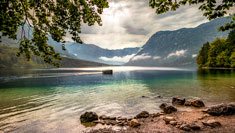 Lake Bohinj
As Slovenia's largest permanent glacial lake, Bohinj is a real must for families with plenty of opportunities to brave the crystal clear waters, paddle out by kayak or boat, or follow the surrounding forest trail leading to Slap Slavic Waterfall. Bohinj is less crowded than Bled and features farming villages to the northeast, as well as a cable car up Mount Vogel to 1,500m.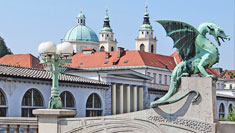 Ljubljana
Far from being 'yet another' European capital city, Ljubljana is also regarded as one of the friendliest, with a well preserved medieval old town, including castle and cathedral, just 40 minutes from the rivers, lakes and mountain peaks of Triglav National Park. The nearby Atlantis Water Park allows kids to let off steam; parents may want to do likewise within one of Ljubljana's spa and massage centers.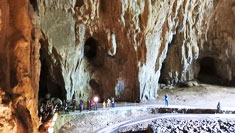 Skocjan Caves
This UNESCO World Heritage Site in southwest Slovenia is one of the world's most important cave systems with limestone formations, subterranean canyons and impressive stalactites all to be found on a guided journey underground. As you're close to the coast, the salt pans within Sečovlje Natural Park are worth a visit as is the pretty red roofed town of Piran, one of the Adriatic's lesser known jewels.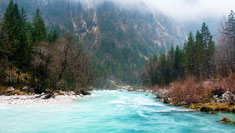 Soca River
Cross the Vrsic Pass and descend into the valleys of the Julian Alps where you'll discover the emerald green Soca River which sings out for white water rafting, canyoning – in Susec and Fratarca – and disappearing into ice clear waterfalls and alpine pools. Overnight stays in Kobarid, within the Upper Soca Valley, are recommended, especially with a copy of Hemingway's A Farewell to Arms.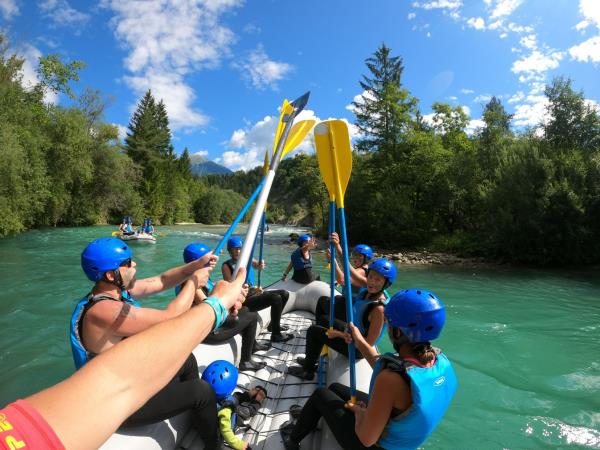 Action packed family adventure in majestic Slovenia
From
£

1595
8 Days
ex flights