Where to go on a small group cycling vacation
---
CYCLING MAP & HIGHLIGHTS
You'd be surprised at the variety of locations where a small group cycling vacation really works and if you can picture yourself cycling amongst lemon groves whilst overlooking the Bay of Naples or pedalling past Atlantic high rollers in California then why stop there? India, Cuba, Sri Lanka, South Africa. The list goes on and on. As you're following an experienced guide and have a team of mechanics and medical staff on board the accompanying support vehicle there's nowhere in the world that's off limits. A small group cycling tour lets you go further than you've ever dreamed possible so all that's left to do is get pedalling.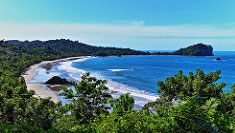 Costa Rica
Combining wildlife and scenery in Costa Rica is what a small group cycling vacation is all about and if you can add a healthy dose of Pacific and Caribbean coastlines then who knows how many tropical tracks you'll tackle. Swapping your saddle for hiking boots in Manuel Antonio or Tortuguero National Parks is a fab idea, although cycling the Coastal Highway, en-route to the Osa Peninsula, certainly takes some beating.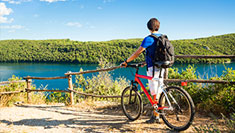 Croatia
The islands along the Adriatic make for some incredible backdrops whilst undertaking a small group cycling vacation in Croatia although, head just an hour or so inland and you'll discover routes via lakes, mountains and wide open pine forest trails. From Split to Dubrovnik, take advantage of tarmac roads and hard gravel tracks with a few challenging hills to make the most of the views.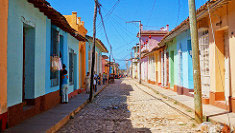 Cuba
There's something oh so cool about small group cycling vacations in Cuba and if you're longing to pass a 57 Chevy on the back streets of Havana or tackle an awesome ascent within the Sierra Maestra Mountains then this is definitely the place to kick up your heels. Cycle through lush green tobacco plantations or the sumptuous shades of the Caribbean as you discover Cuba's colourful history on two wheels.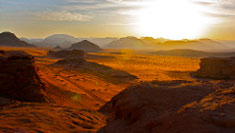 Jordan
Freewheeling down to the Dead Sea and camping overnight in Wadi Rum makes small group cycling vacations in Jordan pretty darn special. An accompanying support vehicle lets you dip out of arduous ascents as you cycle over good quality asphalt roads, through olive groves and remote villages, en-route to Roman ruins at Jerash, mosaics at Madaba and the ancient sandstone carvings of Petra.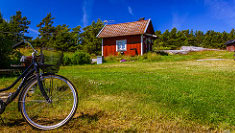 Sweden
Sweden is totally bike friendly and has excellent cycle links across the country as well as through the capital city of Stockholm and nearby Tyresta National Park. Getting away from it all is easy and cyclists will be treated to a scenic odyssey of lakes, forests and castle topped hillsides as well as a Baltic coast aligned with seaside villages, such as Mariefred and Trosa, and literally thousands of offshore islands.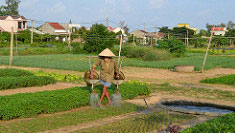 Vietnam
Small group cycling vacations in Vietnam provide a taste of local life and although you may not be carrying a bamboo crate of vegetables on your back you will get to experience some of the country's quintessential rural scenes. The physical nature of Vietnam means you never have to stray too far from the beach; with jungles, heritage sites and remote paddy fields adding to an exciting variety of scenery.


Small group cycling vacation activities
---
WHAT TO DO AND WHAT NOT TO
Things to do on a small group cycling vacation...
---
Manage your own expectations. Cycling, no matter where you are, is an active sport and as such you'll need to be aware of your own fitness levels before deciding upon a small group cycling tour that suits you. The heat, the gradients and the distances can all play their part, and knowing when to duck out of an ascent in favour of a lift in the support vehicle can make all the difference when it comes to overall enjoyment.

Listen to your guide. One of the benefits of being part of a group is that you'll be cycling with guides that know the area and know the risks associated with cycling. Listening to advice is crucial for getting the most from a tour and if you're hoping to get a deeper understanding of Jordan or learn about Costa Rica's natural world, then listen to your guide as they can offer a whole lot more than just a puncture repair kit.

Consider an extra couple of days. Cycling in Asia, South America or continental Europe, presents a unique blend of experiences and scenery to compliment the challenges associated with a small group cycling vacation. Although it's possible to soak up the sunshine and the views whilst cycling, sometimes it pays to tag a couple of extra days onto a tour just so you can give your limbs a rest or explore a bit more thoroughly.

Things not to do on a small group cycling vacation...
---
Get your race face on. When taking part in a small group cycling vacation you're not only responsible for your own enjoyment but you need to take into consideration the best efforts of others. Sometimes a group leader will make provisions for fitness levels and experience however, this sort of tour is not a race so try to keep your bottom in the saddle and make the most of the scenery rather than simply hurtling downhill.

Do too much. It can be difficult feeling like you have to keep up with the pack or cycle distances that you're simply not comfortable with. The key to a successful cycling vacation is not to do too much on day one or two. Talk to your guide and work up to ascents over the course of week. This is a team effort and you won't be expected to take on more than your mind and body will allow so please don't feel like you have to.

Forget to smile. Going on a cycling vacation should be just that, a vacation, and if you want to jump off your bike and hit the beach or go and explore a historic castle on foot then make sure you pick a tour that allows for plenty of free time or optional days off. Yes, cycling can be a challenge but don't forfeit your vacation time in favour of slogging it out rather than taking a few blissful moments to simply sit and stare.

Small group cycling vacations travel advice
---
TIPS FROM OUR CYCLING EXPERTS
Andrew Ross, Cycling Programme Manager for our tour supplier Exodus, shares his experiences of small group cycling vacations below:
"Don't be put off by some of the distances; it's important to remember that on many of the trips you will have the whole day to cover this. It is never a case of setting off to tackle a ride without regular stops along the way. Within a group of 16 cyclists you will always find someone of a similar pace to ride with. The group dynamic is great and an excellent atmosphere builds during the trip."
"I was leading a great trip from Saigon to Hanoi in Vietnam and encouraged the whole group to ride into Hanoi at the end of the trip wearing t-shirts featuring the iconic Vietnamese flag. It was many years ago, before it was such a popular destination and the positive reaction that we got from people there was a very special memory. By the time we reached our hotel, the group of 18 clients had swelled to over 100 cyclists as so many fascinated locals attached themselves to us! Just throw yourself into the experience and embrace yourself in the rich local culture. Make a point of stopping to meet locals en route, as riding a bike is a unique way of meeting people from outside of the larger cities and tourist hotspots."
"The main difference between a small group cycling vacation and a self-guided version is the tour leader who cycles with the group. They play a huge role in the success of the trip and the experience of the clients. They take the navigation off your hands; ensure that you are riding the most scenic routes as well as providing invaluable information and background about the region you are cycling through and specific sites that you see en route."
"To ensure comfort, take your own saddle off your bike at home. The local leader or mechanic will help you fit this to the local bike in the country."
Small group cycling vacations travel advice
---
TIPS FROM OUR TRAVELLERS
At Responsible Travel, we think the best people to advise our travelers are often... other travelers. They always return from our tours with packing tips, weather reports, ideas about what to do - and opinions about what not to.

We have selected some of the most useful small group cycling travel tips that our guests have provided over the years to help you make the very most of your vacation - and the space inside your suitcase.
"Think about the time of year you visit - we went at the beginning of October, and even so found it rather hot for mid day cycling although the evenings were cool. The sites and towns were not as overcrowded as in high season." – Fiona Eccles Greece cycling tour

"Cycling the Dalmatian Coast was a terrific vacation full of memorable and exciting moments. It is difficult to pin down just one, however, cycling around Korcula was definitely a highlight. Big uphill climbs were rewarded with simply stunning views of the coast and there was always a colourful village nestled in a turquoise cove just around the corner." – Sharron Beazley cycling in Croatia

"Take a slip on gel saddle cover if you're not wearing cycling shorts." – Hilary Thomas cycling in Greece
"It was much hotter than the weather chart predicted - reaching at least 40C in April is normal according to conversations with people we met. Otherwise just enjoy every minute - it's wonderful." – Kathryn Gow cycling in Cuba

"You will get an excellent combination of a varied and carefully considered bike route, decent bikes, faultless driver and bike support and very good quality accommodation in a variety of luxury camps, homestays and hotels. The country is fascinating and takes in tea plantations, jungle, small villages and short stretches of busy towns." – Stevan Johl cycling in Kerala, India