South Africa luxury travel map & highlights
---
MAKE THE MOST OF YOUR TIME
Our South Africa luxury travel highlights take you from the literal highs of Table Mountain and its eponymous national park, to the natural highs of seeing whales off the coast of Hermanus. You can also lead the high life, staying at some of the country's finest boutique hotels, such as in the Winelands or on the Cape Peninsula. You will feel high after seeing the Big Five at Kruger National Park, staying in high end luxury on nearby private wildlife reserves such as Sabi Sands or Madikwe. And for families who want to throw in some serious beach bliss, combine a trip to Kruger with a flight up to neighbouring Mozambique. High fives all round.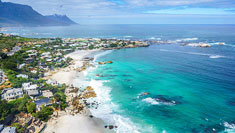 Cape Town
It's classy and vibrant, and no matter what your interests, this Mother City takes you into her bosom. It has a setting like no other in the world, with Table Mountain as natural protector, the vibrant and contemporary cool Waterfront, and multi cultural and historic influences from Cape Malay, Robben Island or District 6. It's is the oldest city in South Africa and, like all good elders, has many stories to tell.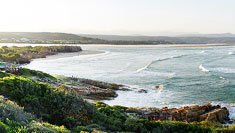 Garden route
This is one glorious garden stretching 300km between Mossel Bay in Western Cape to Storms River in Eastern Cape. And in between a mélange of marvels, including the surf and dramatic sandstone cliffs of Plettenberg Bay, the arid Klein Karoo where mountain zebra roam, the mountains of Outeniqua and Tsitsikamma, and then beach after beach. This garden is like the Chelsea Flower show on steroids.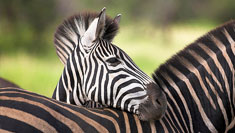 Kruger National Park
You can fly from coast to Kruger to explore over 20,000km² of wildlife wonders among landscapes of acacia, savanna and tropical forest. Although famous for its Big Five, there are actually 147 mammal species here. Luxury vacations veer towards game lodges on nearby private reserves, where wildlife still roams, but where you can do bush walks and night time safaris, both restricted in Kruger.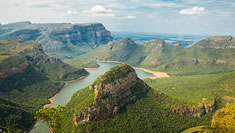 Table Mountain National Park & Peninsula
The prettiest of peninsulas stretches south of Cape Town, with a mountain chain as its spine and that big Table as its main squeeze. There is so much more around the Table though. Go hiking or biking around Silvermine's mountain fynbos terrain, visit Kirstenbosch Gardens, head to Cape Point with 249m-high sea cliffs, or fall in love with penguins at Boulders Beach.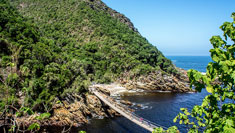 Tsitsikamma National Park
This national park is very different to others in South Africa because its focus is water. In fact, this beautiful name, given by the indigenous Khoisan people, means 'clear water' with various rivers coming down to meet the sea. Storms and Groot Rivers are the best known, and there are lots of activities to do here: hiking along gorges, swimming in waterfalls, horse riding and, of course, boat trips.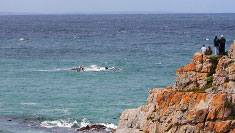 Whale watching, Hermanus
Hermanus is humpback heaven especially if you love whales but not being on the waves. Because this 'Whale Coast' is one of few places in the world you can have superb views of whales from land, June to October. Southern Right whales also migrate from the Antarctic around June to mate, with calving taking place Aug- Sep. Kayaking out to see the whales is a total treat and check out the Whale Festival in Sep.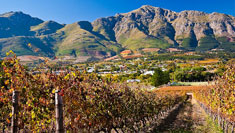 Winelands
The grand cru region of the Garden Route, there is a lot to toast here. With fine wineries in some of the country's most stunning locations, there are vineyards here dating back to the 1700s, with world class Sauvignons and Shiraz emanating from sandstone peaks and sweeping, green valleys. There are wonderful places to stay here too, from a mansion in Franschhoek to one in the foothills of Groenberg Mountain.


South Africa luxury trip travel advice
---
TIPS FROM OUR FRIENDS IN SOUTH AFRICA
Why spend more on a luxury trip?
---

Simon Mills, from our supplier Native Escapes:
"South Africa still offers great value against Sterling. You can get some superb accommodation options if you spend a little more – yet compared to other parts of the world, you get a lot more for your money on a comparable level."
Amanda Marks, co-director of World Responsible Tourism Award-winning Tribes Travel: "A luxury safari will generally mean sharing your wildlife experience with fewer people, and possibly having a vehicle and guide (usually of high quality) to yourself. It can also mean less road travel (choosing flights instead, to use your time to be on safari). Depending on the reserve, it can also mean having more diversity in the types of activities you can choose from."
Garden Route tips
---
Simon Mills, from our leading supplier on South Africa's Garden Route, Native Escapes: "For someone traveling the Garden Route for the first time, allow around five to seven days, but bookend the trip with Cape Town, the Winelands and whales (in season) and also a safari on the Eastern Cape. You then have an action packed, two-week trip, with plenty of activities and sights to keep you busy. Personally, I really like the off-season here – July to September. The whales are in Hermanus, which is a great place to stop on the way to the area and the lodges on the Garden Route are geared up for the colder weather (colder being 20°C) with log fires, red wine and lovely, hearty food. The days are warm and sunny and perfect for discovering this lovely part of South Africa."
Are the places you stay in right up there?
Amanda Marks, from our supplier Tribes Travel: "South Africa has a lot of choice when it comes to accommodation. There are some luxury camps and lodges which are wonderful both in terms of service and hospitality in the lodge and with regard to the level of wildlife guiding. You also get a very personal service – usually hosted by a camp manager which gives a feel of a house 'party'; high quality food; a variety in terms of where you dine (in a dining room, around a fire, by a river); a room which has everything you need including niceties such as good quality toiletries, perhaps sherry, possibly a butler (yes really), a lot of space and very comfortable beds; privacy; often a small plunge pool. A butler doesn't do it for me personally, but privacy and space, preferably with great views and everything you need in terms of plugs, fans for keeping cool are all worth paying for."
Township tips
---
Amanda Marks, from our supplier Tribes Travel: "A township tour can be one of the most eye-opening and privileged experiences you can have in South Africa. However you must pick who you go with very carefully, otherwise it's just voyeurism and no one, least of all the township residents, benefits from your visit. Go with a guide who lives there, and visit projects, shops or restaurants run by local residents so a range of people get a chance at earning something from your presence in their community."
Luxury vacations and family tips
---
Simon Mills, from our supplier Native Escapes: "The luxury lodges are set up for families. With plenty to do, specific meal times and food options and loads to keep them interested; kids are so well looked after – when we went with my daughter she felt like a princess – and when kids are happy, the parents are happy. You also have some luxury safari lodges in malaria free reserves, so one less headache for families. Lodges like Marataba in the Waterberg is great for families. The little touches here for families are special and the breakfast options are a thing of beauty."
Tips from our travelers in South Africa
---
ADVICE FROM THOSE WHO HAVE BEEN THERE
At Responsible Travel, we think the best people to advise our travelers are often... other travelers. They always return from our tours with packing tips, weather reports, ideas about what to do - and opinions about what not to.

We have selected some of the most useful South Africa luxury travel tips that our guests have provided over the years to help you make the very most of your vacation – and the space inside your suitcase.
"The vacation will be planned entirely around your likes and preferences, so think carefully about what you want to get out if your trip. Then take advice from the experts at the vacation providers, they really do know the country and will know what's feasible/best within your timescales and budget. Other providers may be slightly cheaper, but we were so thankful for their expertise and pro-active customer service... Our trip took in 5 different areas of South Africa and every single part of it was unforgettable." – Philippa Roll
"Just do it..!!... the vacation providers were fantastic. The Birkenhead House is the best hotel I have ever stayed in...the shark diving was truly a bucket list ticked, always wanted to see the Great Whites and they didn't disappoint... Cape Town was fun, and we had a wonderful guide... he made the 3 days we spent with him just perfect, it was sad to say goodbye! Then the last leg at Thornybush was like a scene from childhood stories. Never imagined we would actually see as much as we did, never mind leopards and black rhinos" – Sammie Haines
"Loved the area around Tsitsikamma – some brilliant walks. Did not get chance to do the walk to the waterfall, as we spent too long around the suspension bridges. We assumed a 3km walk could not take too long, but when we got to the start we had not allowed enough time. Robberg peninsula was also a great walk, but not a gentle stroll. When it says 4 hours, it is pretty accurate (we managed 3 hours 50 mins, partly because we kept stopping to look, and partly that there was a lot of clambering over rocks)." – Yvonne Chapman
"Arrange your activities prior to traveling, especially Cape Town as we had trouble getting to the main attractions... We loved every second of our vacation, but the things that most stand out are our Safari at Tanda Tula, the beauty of Plettenberg Bay and the amazing people at Kanonkop House in Knysna." – Laura Beccaria
"We appreciated the freedom afforded by an individual itinerary and self drive as opposed to a tour, but with the security of having all the accommodation booked in advance, and advice and suggestions as to where to go. It was difficult deciding just what we wanted to see and do so research beforehand is very helpful... Most scary/exciting must be the canopy tour we did in Tsitsikamma... memorable in a different way was our trip to Robben Island where we were shown round by ex political prisoners; it gave us much food for thought." – Barbara Sykes