CAPTIVE ANIMAL VOLUNTEERING
Many of South Africa's animals have suffered at the hands of humans. Big cats in cages, neglected horses and primates poached or shot by farmers are just some of the reasons why South Africa's animal sanctuaries exist. Rehabilitation centers care for displaced or mistreated wildlife until they're ready to be released into the wild or into a national park or game reserve. This will usually be the case for younger, orphaned, animals. Unfortunately, some of the animals that are rescued won't ever be in a position to return to the wild, and domesticated animals such as horses will also need to remain here for the rest of their lives. Volunteers are required to care for animals on their path to recovery and release or just help them live out the rest of their days free from harm. From feeding and monitoring infants to mucking out stables and educating local youngsters about conservation, captive animal volunteering is all about putting animal welfare first.
Our South Africa Volunteering Vacations
Volunteer with primates
Step out of the protected perimeters of South Africa's national parks and game reserves, and you'll find the world becomes a much more dangerous place for primates. Drought, habitat destruction and the fight for food have all placed monkeys and baboons in direct conflict with humans. Poaching, illegal pet trading and traffic incidents also increase the risks for primates living in the wild with many infants left orphaned and struggling to survive on their own.
Volunteering at a monkey rehabilitation center
is the best way to help fill the void left by primate parents as little ones require round the clock care and attention to ensure they become strong enough to rejoin a troop and eventually be released into the wild
Gill Stevenson, one of our vacation volunteers at a primate rehab center in South Africa:
"Volunteering with monkeys is not just soft and cuddly but also quite physical. It's hard work as there are huge amounts of food to prepare from 7-9am that must be finished on time. Food prep is not just chopping many dozens of eggplants, cabbages, mangos and peeling hundreds of bananas each morning but also hauling the crates and washing the fruit before chopping."

Volunteering at a big cat sanctuary allows you to make a difference to the lives of lions, leopards and tigers that have been captured, mistreated and kept in appalling conditions.

Big cat sanctuaries
Often run by international animal welfare charities, and set within the South African savannah, big cat sanctuaries place volunteers where they're needed most; just don't expect to be cuddling cubs or walking leopards on a leash. Close contact with big cats, especially as cubs, is not what genuine sanctuaries do. Monitoring behaviour, preparing food and feeding lions, leopards and tigers are just some of the tasks allotted to volunteers, with opportunities to watch big cats, and other animals, up close, in some magnificent natural settings, all part and parcel of a four-week placement. Please note: domesticating lions, from infancy, can lead to
canned hunting
. Do your research, before blindly signing up to cuddle cubs.
Our top South Africa Volunteering Vacation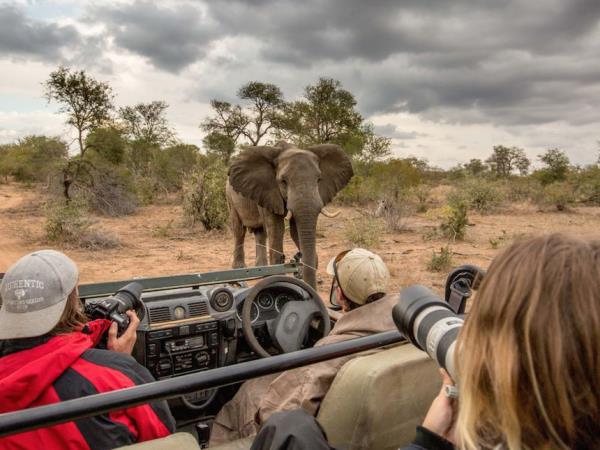 Enjoy amazing wildlife photography while giving back!
From
£

2595
4 weeks
ex flights
Small group travel:
2023: 1 Oct, 29 Oct, 26 Nov, 24 Dec
2024: 21 Jan, 18 Feb, 17 Mar, 14 Apr, 12 May, 9 Jun, 7 Jul, 4 Aug, 1 Sep, 29 Sep, 27 Oct, 24 Nov, 22 Dec
If you'd like to chat about South Africa Volunteering or need help finding a vacation to suit you we're very happy to help.

Animal orphanages
Many of South Africa's wild animals are treated as pests and vermin by farmers, and subsequently shot if they're deemed to be threatening livestock or damaging crops. Logging and deforestation is also responsible for misplacing and disorienting animals in the wild which, in turn, leads to infants becoming lost and alone. An animal orphanage on the edge of Kruger National Park, aims to restore the balance. Orphaned animals, such as lions, cheetahs, squirrels, primates, caracals and meerkats, are provided with a safe environment in which they can regain strength with the hope that one day they'll be well enough to be released back into the wild. Monitoring health, maintaining facilities and looking after animals that are no longer able to care for themselves are just some of the ways that volunteers can help to make a difference. Educating local children (many of whom come from underprivileged rural backgrounds) is also a vital part of working at an animal orphanage. Volunteers gain full training as they seek to improve the relationship between humans and animals and help to change opinions through structured play and lessons on conservation.

Horse rehabilitation centers offer volunteers the chance to right the wrongs and become part of a team who are committed to animal welfare and the upkeep of stables and riding facilities.

Volunteer with horses
Riding experience is not essential for volunteers, although it's welcome, and there are plenty of jobs and equestrian activities to ensure you get just as much out of the experiences as the horses. Food prep, dipping, grooming and mucking out are all daily jobs around a horse rehab center. Horses are one of the few animals that can also contribute financially to their own upkeep with bush trails and beach rides along the Indian Ocean (don't think donkeys at Blackpool) offering exercise to both horse and rider.
Anne Smellie, from our tour supplier Oyster World, shares some tips for wildlife volunteers:
"We want to attract volunteers who know what they're letting themselves in for. We want to be able to manage expectations and can usually tell if someone is right for a role after just a short, informal chat on the phone. We want our wildlife volunteers in South Africa to be culturally aware and ethically engaged and to know that they'll be making a genuine contribution. They need to know there may be some early starts and hands will be required to get dirty, as well clothes."
"Remember to only bring working clothes that you don't mind getting obliterated. Also, when you're volunteering to be part of a team we want to make sure that group dynamics really work. We can't have someone lying in bed all day whilst everyone else is out digging a hole or cutting back invasive plants. Fitting in with the group and the local lifestyle are key elements that go towards becoming a successful volunteer."
"Often primate release sites take ages to find as they have to have enough resources to support a troop and be far enough from humans to avoid conflict. Some primate rehabilitation centers will also release animals into national parks although there are still a few pockets of wilderness in South Africa that will give them a truly wild experience."
More about South Africa Volunteering