Leopard conservation vacations
in South Africa
Imagine coming face to face with one of Africa's most elusive, and most breathtakingly beautiful big cats. A traditional safari might yield a leopard if you're very, very lucky but a leopard conservation volunteering vacation will actively focus on monitoring, tracking and observing these vulnerable creatures.

Volunteers provide vital support to research programmes in game reserves which have seen a steady decline in leopard numbers. And while camera-trap sightings are still more likely than in-person encounters, you can rest assured that your vacation will play an indelible role in protecting the future of South Africa's most secretive big cats.
Our South Africa Volunteering Vacations
Why leopards?
Unfortunately, there's very little known about the leopard's true conservation status. Nocturnal and supremely well camouflaged, it is notoriously difficult to even find a leopard, let alone accurately assess population numbers. Once prevalent across Africa, Asia, and Europe, it is estimated that leopards now only inhabit a quarter of their original global range. In South Africa it is estimated that
leopards have lost 80 percent of their historical range
, and that currently two thirds of leopard territory is found outside protected areas, leaving them even more at risk of poaching and human-wildlife conflict. Studies have suggested that leopard populations in South Africa are declining by 8 percent each year, and the IUCN have recently upgraded their threatened status to 'vulnerable'.
High levels of hunting outside the boundaries of South Africa's reserves is having a huge impact on the numbers of leopards found within the protected areas. In KwaZulu Natal, this decline has prompted the region's wildlife authority to instate new legislation on trophy hunting, and on how leopards that enter local villages and communities are controlled.
Volunteers now play an integral role in providing the manpower needed to maintain effective, ongoing monitoring projects to estimate leopard population numbers and densities. These figures will be used to assess whether this new legislation is successfully and sustainably securing the future of these big cats.
What does a leopard conservation volunteering vacation entail?
Much of the monitoring work in the reserves and parks is done remotely; leopards are the king of camouflage, solitary, nocturnal and devilishly difficult to catch a glimpse of on game drives. As such, your main tasks will involve maintaining a network of camera trap stations (usually a minimum of 30 spread over 100-120km2), downloading photographic data each day and sorting and categorising the photos.

In the field, you'll regularly visit the camera sites to make sure the pair of cameras at each are still active and that they haven't been dislodged, trampled, scratched or destroyed by curious visiting animals. You might also be involved in clearing vegetation to improve photo quality, or conversely create natural screens to hide and protect the cameras from the wildlife they're out to capture.
While leopards are your main focus, keep your eyes peeled for the conservation teams' other priority species, including elephants, black and white rhino, cheetahs and African wild dogs. If you're lucky enough to see them, you'll record the location of any sightings using handheld GPS, taking notes on the animals' numbers and behaviour.

You don't need previous experience to join one of these projects; a reasonable level of fitness, an interest in conservation issues and an upbeat, can-do attitude will get you far. On-the-ground training and close support from the experts leading the research teams will take you the rest of the way.

Expect to spend anywhere from four to seven hours a day downloading, sorting and categorising photos on the research computers with at least two days per week of free time. Your computer-based work is interspersed with drives out to the camera stations, plus you'll be based in the African bush, with its accompanying wild repertoire of spine-tingling sights, sounds and smells. This is admin work that doesn't drag.
Where will I stay?
Your accommodation will be in one of the permanent research camps based in a variety of reserves across KwaZulu Natal. Which reserve you will be staying in will depend on where the leopard population census is focused at the time. Wherever you find yourself you can expect comfortable, but basic rooms with shared facilities and a gorgeously wild backdrop of African savannah. You'll also be expected to pitch in with camp duties – although cooking dinner to the sounds of distant elephants trumpeting and the nocturnal bush waking up for the night is never a chore.
Our top South Africa Volunteering Vacation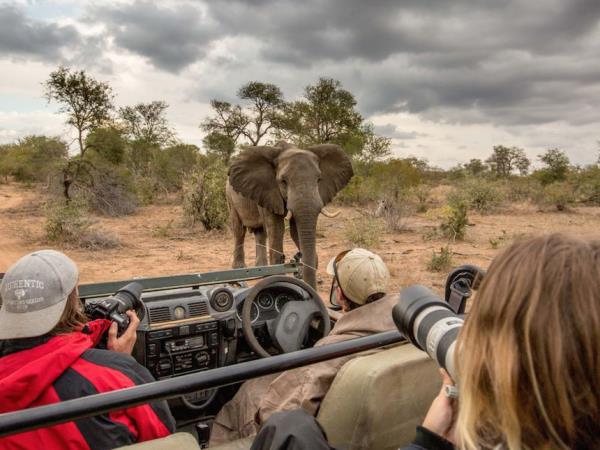 Enjoy amazing wildlife photography while giving back!
From
£

2595
4 weeks
ex flights
Small group travel:
2023: 1 Oct, 29 Oct, 26 Nov, 24 Dec
2024: 21 Jan, 18 Feb, 17 Mar, 14 Apr, 12 May, 9 Jun, 7 Jul, 4 Aug, 1 Sep, 29 Sep, 27 Oct, 24 Nov, 22 Dec
If you'd like to chat about South Africa Volunteering or need help finding a vacation to suit you we're very happy to help.

How can I make sure my vacation supports leopard conservation?
If you'd prefer not to volunteer but would still like to make sure your safari in South Africa is going to support leopard conservation efforts, then choose a responsible safari company which takes wildlife conservation seriously. They may have their own research going on, or they may support a programme of environmental education in local schools; either way, some of the income from your safari will help sustain vital conservation projects in the long term.

Outside KZN, safaris in some of the reserves in the Greater Kruger area, such as Thaba Tholo Wilderness Reserve support the INGWE leopard research programme, which assesses leopard populations in South Africa's Mpumalanga province.

And leopard-focused vacations aren't only found in South Africa. Further afield, vacations tracking critically endangered Amur leopards in Russia or snow leopards in the Himalayas all support conservation research, and help local communities understand the value in keeping their sublime feline neighbours alive.
When to go on a leopard
conservation vacation
These projects need the assistance of volunteers all year round. The best time to go really depends on whether you have any other plans for your time in South Africa before or after volunteering.

From July to September, the dry season brings wildlife to waterholes and makes it easier to spot in prolific quantities in KZN's reserves and in nearby Kruger National Park. The slightly cooler temperatures at this time of year can make early morning game drives a bit chilly, although afternoons are usually very pleasant. April and May can be good options for altogether warmer wildlife experiences, without too much rain.

The South African summer, from October to April, brings rain and high temperatures to KZN; afternoon storms are a regular occurrence from December to February when the heat and humidity peaks.
More about South Africa Volunteering