SOUTH AFRICA VOLUNTEERING ADVICE
Choosing a placement
Ellie Petrie, from our supplier Pod Volunteer, shares her volunteer travel advice:
"Think about whether you want a structured placement with a stricter timetable. We often find that with animal placements, you wake up at six, do a feeding, you're cleaning at 10, and then there's another job to do. We have teaching placements with a similar structure. In some projects we have our own volunteer coordinators on-site – I'd recommend this sort of project if you're slightly nervous or if you haven't volunteered before. Placements with less structure might suit a more confident person who wants to grab things by the horns and get really involved. If we think a volunteer isn't suitable, for whatever reason, we'll tell them at the application stage and in most cases recommend they join a different project where their skills and experience will be of more use."
Our South Africa Volunteering Vacations
HOW LONG TO VOLUNTEER FOR
How long to volunteer for
Jon Arnold, from our volunteer vacation supplier Oyster Worldwide:
"It's got to be a longer term volunteering project when you're working with people in a teaching environment. A two week vacation teaching in a school wouldn't benefit the volunteer or the project, at all. Two week vacations work better for volunteer projects with animals, where you can get stuff done on day one. But when you're working in a community or in a school, with basic living conditions, in a lot of cases, it takes time to find your feet as a volunteer. It also takes time for the school to work out your skills and how best to use them, and if you're only there for one or two weeks the opportunity's gone before you know it."
Where you'll be living on wildlife conservation vacations
Erin Sparks, from our supplier, Pod Volunteer:
"If anything, we describe the accommodation as more basic than it is. It's very difficult because everyone has different expectations, but all accommodation is of a very liveable standard; just remember that if you are working with animals, often in an earthy and wet environment, it's impossible to keep living spaces pristine. Some are dorms, others you share with between two to four people – it varies and volunteers are responsible for keeping their area clean and tidy. You're there to slot in and help out as opposed to be waited on hand and foot."
HEALTH & SAFETY FOR VOLUNTEERS
HEALTH
Visit your GP or travel clinic at least six to eight weeks before departure to ensure you are up to date with all necessary vaccinations. If you're volunteering with animals or spending time within one of South Africa's rural communities then make sure you tell your GP as you may require more vaccinations than a standard South African vacation, including rabies, so allow enough time for a full course to be completed.
Visit the South Africa section of the Fit for Travel website for up-to-date info on malaria, immunisations and advice on all other help risks.
In general, the southern and western regions of South Africa are malaria-free. However, malaria is present in the northeast – including Kruger National Park. Check if you need medication.
Make sure you get full travel insurance that covers you for working with wildlife and in remote rural areas, if applicable. You'll also need to be covered for emergency repatriation and medical evacuation, particularly if local healthcare facilities aren't well equipped.
If you're volunteering in South Africa for longer than four or five weeks, find an insurance company that can personalise your policy to cover specific requirements. This is especially advisable if you're planning on undertaking additional activities, and also if you're traveling with kids.
Bring a stock of prescription medicine if you need it. Supplies may not be available in more remote, rural areas. A decent first aid kit is also worth including on your packing list with medicines for upset stomachs, sterile dressings and hypodermic syringes. Visit your local travel clinic for more info and supplies.
Sun screen, wide brimmed hats, shades and long sleeves are all essential, certainly if you're spending all day outdoors, even in the winter. On the flip side, nights can get really cold, so layers, bed socks and woolly hats will be the key to getting a good night's sleep.
South Africa is currently experiencing one of its worst ever droughts. Although tap water is safe to drink in most of the country, supplies may be limited. Bear this in mind when keeping dehydrated, definitely if you're volunteering as a family.
Explore with an authorised local guide first and listen to their safety advice before you set off on your own. Be careful around ATMs, also. Machines have been known to be tampered with so try, where possible, to only use machines inside banks. . Township tours should only be undertaken with a registered guide. Laptops, expensive cameras and hand held gadgets can be extremely tempting to thieves. Be sensible, don't flash expensive kit around, and leave the bling jewellery at home to further increase your personal safety. If you're volunteering with animals – whether captive or wild – you should also receive a full safety briefing, including info about how to approach animals and what distance is a safe distance. . If you're volunteering to work in habitat conservation you should be given a full safety briefing including how to use tools and how to lift heavy items, correctly. If you're faced with a physical challenge that just seems too much then don't be afraid to say so. Work can be hard but it shouldn't be so hard that it's not safe. If you've got plans to drive in South Africa then be aware that not all road safety procedures are always adhered to by local drivers. Night driving is not advised, especially around the entrance to Kruger National Park and on roads surrounding KwaZulu-Natal. Do not pick up hitchhikers or stop to assist seemingly distressed travelers – these techniques are often used by car-jackers. If you need the police, the number to call in South Africa is: 10111.
Our top South Africa Volunteering Vacation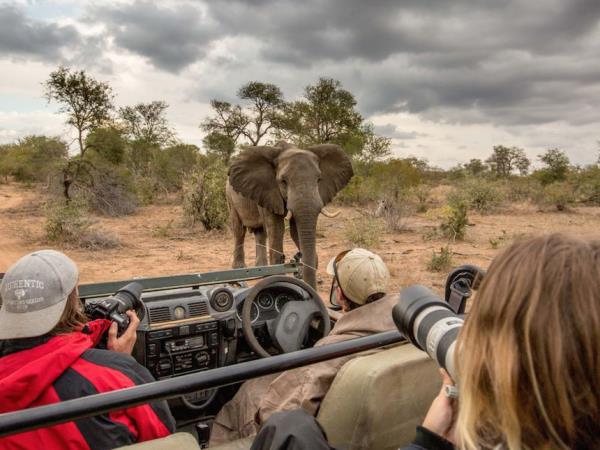 Enjoy amazing wildlife photography while giving back!
From
£

2595
4 weeks
ex flights
Small group travel:
2023: 11 Jun, 9 Jul, 6 Aug, 3 Sep, 1 Oct, 29 Oct, 26 Nov, 24 Dec
If you'd like to chat about South Africa Volunteering or need help finding a vacation to suit you we're very happy to help.

SOUTH AFRICA TIPS FROM OUR VOLUNTEERS
At Responsible Travel, we think the best people to advise our travelers are often... other travelers. They always return from our tours with packing tips, weather reports, ideas about what to do - and opinions about what not to.
We have selected some of the most useful South Africa volunteering advice that our guests have provided over the years to help you make the very most of your placement – and the space inside your suitcase.

Being so 'hands on' with the baboons and vervets was amazing and so rewarding

"Being so 'hands on' with the baboons and vervets was amazing and so rewarding, and seeing a group transferred into an Intro (the next phase before release) was really inspiring. Be prepared for hard work. Also take plenty of old clothes and warm ones too, it's really cold at night and in the mornings." – Gillian McGowan, volunteering at a monkey rehabilitation center

"At less busy times of the year you get some afternoons off and more excursions, but during my time (baby season) we worked hard seven days a week. The upside is you get adorable babies to look after. If I could go back in time and choose to do it again I definitely would, but I am glad that I booked only three weeks as keeping up that intensity for longer would be difficult." – Sarah Dakin, volunteering at a monkey rehabilitation center

"No popping down the shop, so take all the stuff you might need. Take a mosquito net if you're going in summer. Buy a South African SIM for your phone. The mobile signal is more reliable than the wifi. Binoculars are essential and a fairly decent digital camera with a good zoom. You'll be expected to take your turn at cooking, so jot down some basic recipes if you aren't good at improvising. The kitchens are pretty well stocked. Finally, you don't have to be young! Most of the promo material features young people but I'm rather too close to 70 for comfort and no-one for a second made me feel out of place or any less valued than the younger people volunteering."." – Sue Shearman, volunteering on endangered wildlife conservation projects in KwaZulu-Natal



The ultimate priority is the animals. You are not on a game drive and you will not be looked after as a traditional tourist. However, you get to see and experience things you would never even get close to during a traditional safari.

– Karin van Volen, volunteering on endangered wildlife conservation projects in KwaZulu-Natal
"This is not a safari so be prepared to contribute during the daily monitoring sessions and around the camp. There are daily tasks that need doing to keep the camp running smoothly and you'll be asked to help out the monitors who work extremely hard. Go with an open mind and heart, be respectful and kind to your environment and colleagues; enjoy yourself." – Sharon Williams, volunteering on endangered wildlife conservation projects in KwaZulu-Natal

"You will spend your time with knowledgeable and highly experienced people who will be happy to share their experiences and let you experience things you would never be able to do on a standard safari vacation. I really feel that two weeks is not enough and to get the full benefit you need to stay at least a month, possibly up to two or three. However, if you are just looking for a cheaper safari vacation, or something to just fill time during a gap year, this may not meet your expectations as you will also have to do work. Take part in all the activities which often means getting up early and don't expect too much luxury, although everything provided is more than adequate."- Michael Dantas, volunteering on endangered wildlife conservation projects in KwaZulu-Natal

"The longer you do this the more you will get out of it. If you can visit more than one reserve then do – they make for a fab contrast and you will have a more diverse experience. It is worth bearing in mind when you go that the wildlife is not delivered on a platter, like on some safaris… if you immerse yourself in the projects and take an interest in all the flora and fauna you will start to understand the biodiversity and how everything needs to work in harmony together. Definitely don't forget to take some good binoculars and any nature guide books so you can make the most of what's around you." - Sophie Tanner, volunteering on endangered wildlife conservation projects in KwaZulu-Natal


More about South Africa Volunteering