Where to go on South Africa wildlife vacations
---
Map & highlights
If you say you are going to see wildlife in South Africa, people will always ask if you are going to Kruger National Park. It is a must, of course, but there are 19 national parks in South Africa, including two Tranfrontier Parks, shared with Botswana and Namibia. There are also so many other creatures to croon over than the Big Five, with eclectic beauties such as penguins at Boulders Beach, whales and dolphins along both the Cape and KwaZulu Natal's coasts as well as blissful beautiful birding to be done, just about everywhere. Volunteering with wildlife vacations are also a superb and often cheaper way to fawn over the fauna, with primate rehabilitation a firm favourite, especially with families.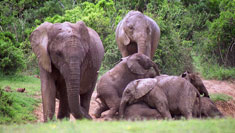 Addo Elephant National Park
One of the country's main wildlife hubs, Addo is home to over 500 elephants, although there was only a handful when the park opened in 1931 because of hunting. Home to rhino, lion, buffalo, zebra, leopard and many more, it also encompasses coastal terrain including Bird and St Croix Islands, where you can't land but there are boat trips to see penguins, seals and whales in season.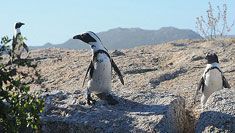 Boulders Beach
This stunning beach, just outside Simon's Town, is home to a huge colony of endangered African penguins, with wheelchair and pushchair friendly boardwalks along the dunes leading to Foxy Beach, which is where you can see them more clearly. The Boulders Beach Visitors Centre is the main info spot, however. January is great to see the babies, and it gets busy here, so come early morning or evening.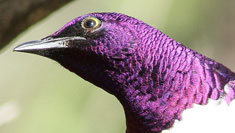 Hluhluwe-Umfolozi Park
One of Africa's oldest game reserves and one of KwaZulu Natal's most celebrated birding areas, including southern bald ibis, jacana, violet-backed starling and African finfoot. And, as well as a fine reputation for conservation of its Big Five, there are thriving populations of raptors. This is also an area to contribute to conservation, with volunteering trips to monitor wild dogs, or survey cheetah and leopard.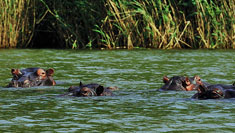 iSimangaliso Wetland Park
AKA St Lucia wetlands on KwaZulu Natal's coast, this is the place to see flamingoes flying alongside basking hippos, or pelicans swooping past elephants. In fact, the saline lake of St Lucia is SA's only breeding ground for the pink backed pelican. Birdlife is prolific and beyond pretty, with over 360 species thriving along its lake and feeder rivers where canoeing among papyrus is just magic.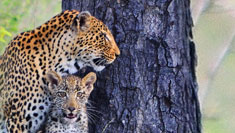 Kruger National Park
One of the world's most famous wildlife wonderlands, and it is indeed wonderful. Although not the be all and end all to wildlife in South Africa, as there is so much to the country than Kruger, it comprises almost 20,000km² of habitats that are home to the Big Five and many more, over five hundred species of birds and a superb array of places to stay, from chic safari camps to remote lodges.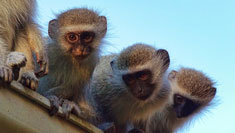 Monkey rehabilitation, Kwa Zulu Natal
Experience primates being released back into the wild after being injured, abused or orphaned. They are gently prepared for life back out in the wild over months or years, as volunteers contribute towards their bonding with other monkeys, feeding, cleaning and anything that needs doing. This is not a trip that is all about cuddling, but there is plenty of coo-ing.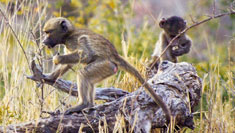 Primate rehabilitation, Limpopo
Projects working with rescued or injured monkeys and baboons are more hands-on than most. At SA's largest primate rehabilitation center you help with all sorts, from preparing food, cleaning enclosures and general maintenance, all in preparation for their release back to the wild. A project very popular with volunteering families and their little monkeys.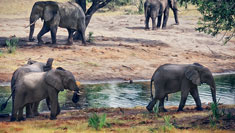 Tembe Elephant Park
In KwaZulu Natal, this is the heart of what has become known as 'Elephant Coast' even though the park itself is inland. As well as safaris to see over 200 elephant and other Big Five mammals, this is also a popular spot for wildlife conservation trips. Conservation work here involves monitoring of lions, elephant and wild dogs in one of SA's wildest and most wonderful regions.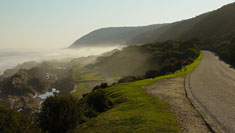 Tsitsikamma National Park
It's all going on at Tsitsikamma, a stunningly located coastal forest, so named by the indigenous Khoisan people, translated as 'clear water'. It is a landscape of deep gorges, waterfalls and coast, making it home for whales and as well as birds and monkeys. You can do canopy tours or go on ocean safaris. Check out nearby Monkeyland Primate Rescue Centre, and Birds of Eden forest aviary too.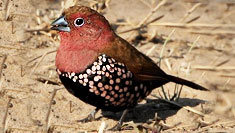 uMkhuze Game Reserve
AKA Mkuzi Game Reserve, it's home to endangered black and white rhino. You can see crocodile and hippo on the pans as well as leopard, elephant, giraffe and wildebeest along its Mkhuze River. With camping facilities, birding is bliss here, with species including pink-throated twinspot, eastern nicator and Neergaard's sunbird. Check out unknown and nearby Lebombo Mountains Reserve too.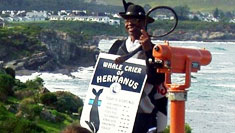 Whale watching Hermanus
One of few places in the world to watch whales from land. So those prone to sea sickness will delight at this notion. Although still a small village in many ways, Hermanus is southern right whale capital, with a famous resident "Whale Crier" who blows his kelp horn to you know when they are in sight. Kayaking among the greats is also an option, with June to November being the best time.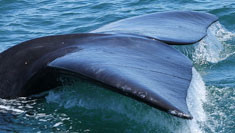 Whales & dolphins, KwaZulu-Natal
As year round dolphin watching off the KwaZulu Natal coast, there are also whales, mainly humpback, migrating north along during June and July and back south again in Sep-Oct. From land, check out the whale watching towers at Cape Vidal and Mpenjati or take boat trip from Durban or St Lucia, ensuring it is one that has a
whale watching licence
.
Sample South Africa wildlife itineraries
---
14 day South Africa safari vacation:
Balule Game Reserve ► Kruger National Park ► Thorny Bush Game Reserve ► Wild Rivers Reserve

17 day South Africa and Swaziland safari vacation:
Kruger National Park ► Malolotja Nature Reserve, Swaziland ► Mzuki Game Reserve ► Addo Elephant National Park ► Tsitsikamma National Park ► Hermanus Land-based whale watching (in season)

11 day South Africa luxury wildlife adventure:
Cape town ► Whale Coast ► Shark Alley ► Geyser Rock ► Dyer Island ► Simon's Town ► Boulder Beach ► Sabi Sands Reserve