Adelaide travel guide, South Australia
Walk the streets of Adelaide and at some stage you will see someone in a t-shirt bearing a slogan that sums up our fair city. The words are erudite yet spare, subliminally evocative yet ultimately accessible.
They read: 'Heaps good'.
Yes, Adelaide is heaps good. Grammatically suspect? Perhaps. But a big pile of sunshiny goodness with beaches on one side and hills on the other – definitely.
The trick to immersing yourself in this goodness is to know what we most love as a city – our open spaces, our restaurants and one of Australia's longest strip of cultural treasures – and then join us in loving it. Somewhere in the process you'll find yourself kicking back with a bottle of something nice and asking out loud: can life get any gooder?
Parklands:
The Central Business District (CBD) is entwined in a giant figure of eight, a girdle of parkland that makes us one of the world's greenest cities. This is where we play, home as it is to our celebrated Cricket Oval, a very pretty public golf course (that costs less than $20 for a round – kerr-ching!), pitches, courts, boating lake and the Botanic Gardens.
Both CBD and parkland is cleaved by the pleasing River Torrens and looked over by founding father Colonel William Light whose statue points at the city. The parklands are our signature and heritage because Col Light put them there in 1836. His original map is in some respectful gloom within the Migration Museum off North Terrace.
Views from his statue on Montefiore Hill are truly lovely, though for many years it was believed he's pointing to the women's loos in the Oval. Sadly, not true.
Sport:
South Australians live for sport. We especially live for sport when it involves beating the Poms, which is why The Ashes series is (a) as close to heaven as we can get on this earth and (b) banned from conversation until 2012. If there's a match playing at The Adelaide Cricket Oval, go there. If it's well-attended you must at some stage go to the Hill (a mound of green with a large bar), mostly dedicated to shenanigans and stupidity, and one of the last left in the country.
Glenelg:
Pack your swimmers and take the tram to Glenelg. You'll alight a few metres from the beach on a strip with more pubs, cafes and shops than you can wave a hotdog at.
The old Town Hall has a charming museum on how Glenelg has been a favourite for generations (as well as the entry point for the settlers in 1836). It may feel a little English – and Brighton is the next suburb along – but there are discernable differences. We respectfully point to the sand, the blue seas and the weather.
Going a little wild:
And this has absolutely nothing to do with nightlife on Hindley Street…
Within greater Adelaide you can enjoy three improbably 'out there' experiences.
The first is
kayaking among dolphins and shipwrecks.
Just a matter of 30 minutes from the CBD, you can paddle wild estuarine among thick, thick mangroves. It beggars believe that there's a city so close – especially when you come across the rusting hulks of old vessels and the pod of wild dolphins which will invariably check you out. Much to the delight of everyone (including scientists) these dolphins have learned to tail walk. The teacher? One of their number called 'Billy' who spent some time in captivity.
The second is
swimming with dolphins.
How? Well you can jump off the back of Temptation Sailing's 17m Catamaran and swim among the off-shore pods.
And the third is hiking to the top of
Mt Lofty.
Start at Waterfall Gully 15 minutes from the CBD and begin the two mile climb through pastures and thick bushland. By the time you reach the top (which takes about 1.5 hours) you've climbed to 2000 feet. The good news? There's a bar and restaurant at the top enjoying knockout views. The bad news? You have to walk down again.
Adelaide Central Market:
This is one of Australia's oldest covered food markets, so it's charm, bustle and happy tin ambience is not entirely surprising. What is surprising is the range of food stuffs: you can pretty much taste the whole state here and trust us, it's good. Doing one of Mark Gleeson's gourmet walking tours is the way to go, though you run the risk of coming home with all sorts of exotica which you may or may not be able to cook up in your hotel…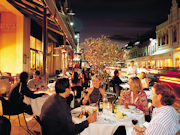 Eating:
Adelaide's 'eat streets' are thoroughfares of eating, drinking and making merry.
The most famous is Gouger Street which sits outside the Market and is possibly the most eclectic gathering of restaurants and cafes. There's a strong Asian showing (including Thai, Korean, Japanese and Chinese) plus a small Chinatown close by; Sunday morning sees yum cha aficionados doing their frenzied ordering thing.
Rundle Street is another popular thoroughfare of tucker – a sea of tables and sun shades – with two extremely good pubs and a couple of cinemas thrown into the mix. Melbourne Street in North Adelaide is popular on Friday and Saturday nights, Hutt Street is big with the weekend breakfast set. Read more about
South Australia food and drink
Free transport:
Trams are nice, and you can ride on them within the CBD for free. Free bikes can also be had if you surrender your driver's licence. We like free.
North Terrace:
When we want to sound posh we call this our 'Cultural Boulevard' but in essence it's a substantial gathering of significant buildings, national treasures and students sunning themselves under broad trees. If you have a full day, start at the eastern end in the Botanic Gardens when the light is streaming through the giant fig trees.
You can spend hours in here especially if you get lost among the ornamental lakes, stone science houses and the new structure housing the giant lilies.
Across the road is Ayer's House, a window into 19th century grandeur and an idea of just how much money used to slosh around this city. Keep going and you're at Adelaide University where you might wander at will. You'll eventually find your way to the wonderful 1881 Art Gallery (home to the world's finest collection of 19th century Australian art), the South Australian Museum (don't miss the opalised plesiosaur from Coober Pedy), the very beautiful Victorian space that is the Mortlock Wing of the State Library and the Migration Museum.
Except for Ayers house, everything is free to enter. Further on you'll find the Festival Centre and the Adelaide Oval, both of which have fee-paying tours. Next you'll find the State Parliament and the Casino: one is full of shady characters who happily take our money; the other is the Casino.
Port Adelaide:
The Port is something of a rising star, with old quarters getting new makeovers and the maritime heritage looking increasingly shipshape.
Pubs are being scrubbed up for the Sunday brunch set, perfect places to sit outside and smell the salt air while keeping an eye out for dolphins (which reliably make an appearance).
The suburb is also a bit of a museum haven, home to the excellent Maritime Museum (including lighthouse tour), a huge railway museum, the South Australian Aviation Museum (the old boys sometimes fire up their restored Merlin engine), South Australian Military Vehicles Museum and the Australian Museum of Childhood.
Adelaide Festival of Arts:
We're home to an international arts festival that counts itself alongside other majors including Edinburgh and Bayreuth.
For three weeks it consumes the city, filling streets, venues, pubs and parks with theatre, music, galleries and a sizable literary fest.
It's a biennial event (the next one is in 2-18 March 2012), coinciding with the annual Comedy Festival and WomAdelaide.
The latter is a three-day festival of international music held in the Botanic Gardens, a leafy session of lounging and loving the world. A few weeks after this – in some contrast – the streets are turned into a three-day race track for the Clipsal V8 Supercar race.
Perhaps unsurprisingly, it's called Mad March. As they say, book early to avoid disappointment.
Wine:
We have a winery/vineyard within the city limits, one that is renowned the world over: Penfolds Magill Estate. This is where you can try the famous Grange Hermitage, either at the tasting room or in the especially fine restaurant. Some weep for joy when they get to taste the legendary vintages – others shed a little tear when they see the bill.
The Adelaide Hills region, famous for its sophisticated Sauvignon Blancs, is part of greater Adelaide and just 20 minutes from the CBD. It lays claim to being the closest wine region to any capital city, but truth is you're a world away from city life – a thousand feet up and surrounded by charming villages and blissful vistas. Wine touring is popular but chances are you'll fall into one of the 40-odd wineries, open a bottle in front of the view and forget to move on. Read more about
South Australia wine regions

See our
suggested itineraries
Responsible Travel would like to thank the South Australia tourist board for their sponsorship of this guide