Beaches & marine life of Kangaroo Island, South Australia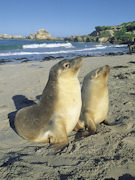 You've got over 350 miles of coast to explore and a lot of wild, wild ocean. Don't know where to start? Here's where…
Sea lions:
Australian sea lions are of course at Seal Bay, the place where rangers will take you into their midst so you can watch them after they've returned from a hard night's fishing. Be sure to take your time on the long boardwalks leading down to the dramatic white sand beach: the sea lions love to take shade under the planks of wood – the only thing between them and your feet!
You can also see colonies of sea lions and New Zealand fur seals at Admiral's Arch. Otherwise be sure to keep an eye out all along the south coast: you might find them emerging from the surf when you least expect...

Janet Simpson, Ranger at Seal Bay Conservation Park
"An amazingly special place with a colony of wild Australian Sea Lions – you can actually stand in a colony of wild animals!"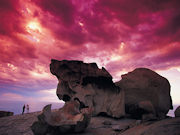 Rock formations:
Remarkable Rocks are well named. These house-sized granite formations are perched on sloping rocks. They've been carved by sun, wind and salt to form intriguing shapes, their grey bulks tinged with a fierce patina of orange lichen. Nearby Admiral's Arch is a different state of rocky spectacle and worthy of a salute.
Surfing:
If you know what you're doing, then you're onto a good thing with local surfers relishing powerful south coast breaks off Hanson Bay and D'Estrees Bay.
If you don't know what you're doing, head to Pennington, or Stokes Bays in the north, where beginners may feel more comfortable. Local knowledge is definitely worth seeking out.
Beaches:
And beaches and beaches. The most famous is Vivonne Bay, once nominated as 'Australia's Best' (a big call but apparently it satisfied an academic on lots of counts). Emu Bay is three miles of popular white sand loved by swimmers and 'fishos' and driven on by 4WDs (an odd sight and an even stranger experience but one that ultimately works on a beach this big). Beaches like American Beach on Dudley Peninsula and Bales Beach on the South Coast are beauties.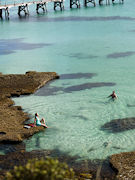 But it's not difficult to find some true solace on the sand: the question is how far do you want to walk? One of the great pleasures is bushwalking through massive Flinders Chase National Park, following creeks and paths through thick bushland down to an isolated cove of sand and surf.
Beachcombing:
Everyone loves to beachcomb on Kangaroo Island. More than one artist does something speccy with the smooth forms of driftwood and one bloke recently collected enough four-by-two (presumably lost from a stricken freighter) to make himself a fine shed…
The best time to comb the sands is early morning, but if the locals have beaten you to the punch, remember that beaches on the southern side get all sorts of flotsam driven up by the big surf.
Some of these beaches are only accessible by boat or hiking, like Maupertuis Beach for instance, the large swoosh of sand reached by cresting the headland beside Rocky River in the Flinders Chase. If you do the walk you'll get the first pickings.
Lighthouses:
three of them, all with history and a touch melancholy. But they were obviously needed – Kangaroo Island has some 50 wrecks lying off its rocky shores. Cape Willoughby was the state's first lighthouse, built in 1852. Cape Borda Lighthouse opened on 5 July 1858; both are open for tours and you can stay in the Lighthouse Keeper's cottage at Cape Borda. Cape du Couedic opened in 1909.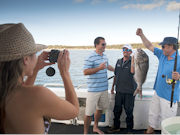 Fishing:
the waters off Kangaroo Island are rich, rich, rich. We're talking fabled King George Whiting and (sea) salmon close to shore, with trevally, snapper and the world's biggest samson fish out in the deeper fields.
So how do you get a piece of the action? Most service stations sell the basics and anyone can drop a handline off the Kingscote jetty or cast a reel off a beach. Alternatively, you can buy into one of the many charters, relying on the knowledge of your hosts.
Kangaroo Island Fishing Adventures uses a 65-foot vessel (sleeps 12) to find the big game; alternatively Wallaby Bob runs a rather smaller operation but is confident enough to offer a 'no catch no pay' policy.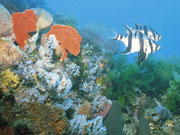 Scuba-diving:
...and if they're good for fishing, they're good for diving. Sure enough, Kangaroo Island offers some of the best temperate-water diving in Australia. At 20-24 metres you'll find walls of gorgonian coral, blue devils, harlequin, truncate coralfish and boarfish.
Operators like Kangaroo Island Diving Safaris can help you find some of these creatures of the deep as well as seals and dolphins.
Food and wine:
Kangaroo Island wineries like Bay of Shoals Wines, Dudley Wines and Sunset Winery serve up views over vines and ocean. Restaurants with coastal outlooks include Sorrentos (Penneshaw), Ulonga Café and Wanderers Rest (American River), Aurora Ozone and Seaside Inn (Kingscote) and quirky Rockpool Café (Stokes Bay). If staying in a vacation rental, 2 Birds and a Squid can deliver restaurant quality food to your door. Read more about
South Australia wine regions
Dunes:
Little Sahara is a series of king-sized dunes near Vivonne Bay. The dunes are as big as hills – big enough to make sand tobogganing very popular with kids and adults alike…

Kangaroo Island

Kangaroo Island nature and wildlife
Responsible Travel would like to thank the South Australia tourist board for their sponsorship of this guide