Eyre Peninsula itinerary, South Australia
Eyre Peninsula is one of the most beautiful unspoilt regions of Australia. It covers over 2000 kilometres of South Australia's western coast, including the Nullarbor Plain and stretches into the Outback. It's especially known for its rugged coastline, beautiful bays and beach towns, marine wildlife, fishing and fresh seafood.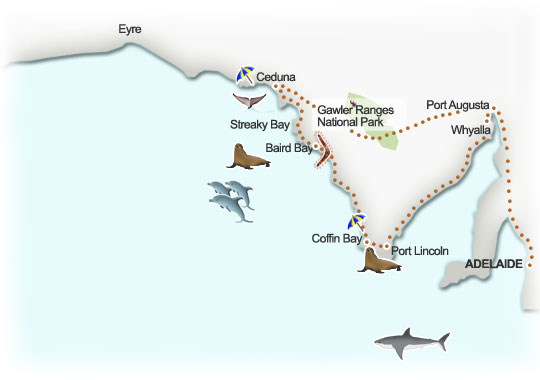 Day 1 - Whyalla
Make your way to Whyalla, perhaps traveling from Adelaide via the Clare Valley. Take a snorkelling trip here to see the fascinating multicoloured cuttlefish (May – August), visit the Maritime Museum or take a tour of the steelworks. Pick up a Seafood and Aquaculture Trail brochure and Seafood and Beyond Rewards Card from the visitor information center: this self-drive tour is the first of its kind in Australia, and includes guided tours on a self-drive trail stretching from Whyalla to Ceduna. Highlights include southern bluefin tuna, abalone, oyster, crayfish, prawns, scallops, murray cod and shark, being farmed and processed. At Cowell, sample some of the local oysters. Continue along the coast and drop into the seaside towns of Arno Bay and Port Neill. Tumby Bay is a lovely seaside town with white, sandy beaches and crystal blue waters. Spend the night in Port Lincoln.
Adelaide to Whyalla:
381km. 4 hours
Whyalla to Port Lincoln:
266km. 3 hours
Note: If you're traveling from Adelaide or Yorke Peninsula, you can shorten your journey by crossing Spencer Gulf on the Sea SA car and passenger ferry. The Sea SA Ferry travels between Wallaroo, Yorke Peninsula and Lucky Bay (near Cowell), Eyre Peninsula. The ferry crossing reduces the driving time between Adelaide and Port Lincoln by 4 hours. If you are driving a hire car, please check with your hire car's policy to ensure your car is allowed on the ferry.
Day 2 - Port Lincoln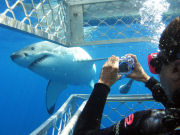 Port Lincoln is famous for its beautiful blue water and it is three times the size of Sydney Harbour. It is home to Australia's largest commercial tuna fishing fleet and is also a great spot for recreational fishing. The town has many tours and attractions – choose from marina tours, fishing charters, 4WD safaris, fish processing tours and swim with tuna tours, and explore the great national parks nearby. This is also the only place in Australia where you can dive with great white sharks – in a shark-proof cage, of course.
Day 3 - Cofffin Bay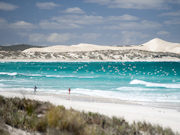 Drive to pretty Cofffin Bay, another oyster growing area and popular summer vacation town. If you are driving a 4WD, take a drive into stunning Coffin Bay National Park, before continuing along the coast to Elliston. Use your Seafood and Beyond Rewards Card along the way. Stop at Locks Well Beach and take the 279-step stairway down to one of the best fishing beaches in Australia. The Great Ocean View Drive winds round the cliff tops and bays near Elliston and shows some of the region's most photogenic vistas. Stay overnight at Streaky Bay and dine on delicious local seafood at the Streaky Bay Hotel, or Mocean's Café.
Port Lincoln to Streaky Bay (via Coffin Bay):
323km. 4 hours
Day 4 - Baird Bay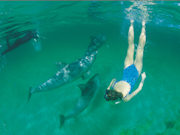 Next stop is Baird Bay. Here local tour operators take you for an early morning swim with the sea lions and dolphins. It's an amazing experience you'll never forget: you'll sense that these remarkable animals are delighted to see you and be entertained by you – rather than the other way around! Ceduna is the focal point and business center of the far west coast. Visit Ceduna Aboriginal Arts & Cultural Centre for authentic artwork.
Streaky Bay to Baird Bay:
47km. 30 minutes
Streaky Bay to Ceduna:
111km. 1 hour 30 minute
Day 5 - Ceduna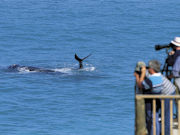 If you are here between June and October, you've every chance of seeing Southern Right Whales at Head of Bight. These magnificent creatures migrate to these waters to breed and nurture their young.
The round trip from Ceduna to Head of Bight is long, but the scenery is said to be more spectacular than the Great Ocean Road. On the way, visit the eclectic 'windmill' town of Penong and its interesting Woolshed Museum. Nearby Cactus Beach is one of the world's most famous surfng breaks.
Take a short detour to Fowlers Bay, and check out the spectacular coastal scenery of shifting sand dunes that are perfect for hiking or sand-boarding. Spend the night back in Ceduna. Chinta Air run tours from Ceduna to Head of Bight if you would like to see this amazing landscape from the air. If you're traveling to Perth, continue onto Eucla, and follow the Nullarbor Plain itinerary to Perth.
One way – Ceduna to Head of Bight Interpretive Centre:
260km. allow 3 hours
Day 6 - Gawler Ranges National Park
From Ceduna take the Eyre Highway inland to Wudinna, the gateway to Gawler Ranges National Park. Here you will find a spectacular wilderness area where great domes of volcanic rock contrast with the stark white salt lakes. There are brilliant displays of wild flowers in spring and year-round wildlife includes the southern hairynosed wombat, pygmy possums and hopping mice. The park is vast and remote – you can visit it independently, or join a Gawler Ranges Wilderness Safaris tour. Independent visitors must be well prepared. It's currently best to visit in 4WD vehicles, although conventional vehicles with high ground clearance might pass on some tracks. Keep to designated tracks and avoid traveling in the park when conditions are wet. If you aren't heading to Gawler Ranges, continue on the highway to Port Augusta. From here take the drive south back to Adelaide, Yorke Peninsula, or continue to the Flinders Ranges or Clare Valley.
Ceduna to Port Augusta:
468km. 5 hours
Port Augusta to Adelaide:
305km. 3 hours 30 minutes
Responsible Travel would like to thank the South Australia tourist board for their sponsorship of this guide