Food & drink in South Australia
Food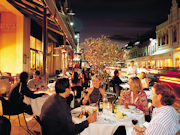 In the 1970s, Greek, Italian and Chinese restaurant owners in Adelaide thought it was time to call Australian food for what it really was: old-school, British and awful. "Enough with your roast dinners and boiled vegetables!" they cried. "Your meat pies leave us cold! And no matter how much Thousand Island dressing you pour over your 'prawn cocktail', it will never be cuisine!"
In its stead, they decided to show just how good South Australian produce – grown in a balmy Mediterranean climate or fished from warm, rich seas – could be.
They started sharing their dishes that used local baby octopus, herring, squid, vine-ripened tomatoes, juicy olives, slowly cured meats and salamis. Local chef Cheong Liew even dared to blend the cooking styles and flavours of Asia and the Mediterranean, giving rise to a movement that would soon sweep the country: Australian 'fusion' cuisine.
For this, we fall to our knees and whisper an unbridled 'thankyou, thankyou'. We also take great pleasure in inviting you to try it for yourself…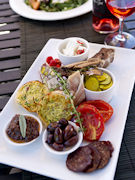 Today, whether you're in a five-star restaurant, country cafe or at a 'counter' within South Australia's vibrant pub scene, you'll be served dishes that have flair, flavour and a belief that our local ingredients are among the finest in the world. Don't believe us? Try the King George whiting caught off Kangaroo Island, the bluefin tuna from Port Lincoln, the blue swimmer crabs, the abalone, oysters, the grain-fed Angus beef raised in the Coonawarra, the saltbush flavoured lamb from the mid-North, the Riverland fruit…
And try them you will. Most visitors get to meet our producers and growers because so many of our population are employed in food and wine industries.
They're working the oyster beds, in the fishing harbours, in the million-acre cattle stations and in the cottage industries hand-making cheeses, chocolates and relish. Of course they're also in the vineyards.
But how about our tables?
City dining can be as exclusive and elegant as you chose to make it, but on streets like Gouger or Rundle Street, where diners literally line the pavements on a sunny afternoon or starry night, you'll indulge in a proper shared experience that is very South Australian.
Strike out further afield and you'll find experiences that fuse dining with destination. Eat beside the beach, picnic beside Jacob's Creek (yes, that Jacob's Creek), dine by the most sublime vine or go wild with some truly funky flavours in the far-flung outback (Feral Platter with camel, goat and kangaroo anyone?)
But you don't have to go to the top end of town – or the state – for a special meal. The pub ('hotel') scene takes its food pretty seriously and our cafes, too, are serving up charm, character and colour.
A final word: our meat pies are actually really, really good. Soft tray, crisp covers, rich fillings of beef, venison, kangaroo, pepper steak with red wine... Shh. Say nothing.
Drink
Of course you already know we're one of the world's great wine destinations (more about that later) but please don't think we're obsessed with the grape. Read more about
South Australia wine regions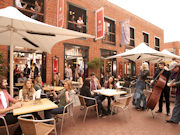 There's also a rich tradition of beer-drinking in South Australia, and we delight in being the home of Cooper's, the last of the great family-owned breweries in Australia. We may suffer a little bias but frankly it beat the majors to fits.
By the way, when you buy a stubby of Cooper's Pale, you need to roll the bottle gently to mix the tasty sediment into the body of the beer; on doing so you, will be showing proper respect and invoke murmurs of approval from those thereabouts.
South Australia has seen renewed interest in boutique beers, with the resurrection of names that have been dead some 100 years including Knappstein's in Clare as well as modern wonders like Vale Ale from McLaren Vale (motto: "Be silly. Be Honest. Be kind") which must be tasted to be believed. Curiosities include Fargher Lager in Parachilna (a cold one in the desert) and Grumpy's Brewhaus in the Adelaide Hills (beware the goat out the back, he hates everyone).
Responsible Travel would like to thank the South Australia tourist board for their sponsorship of this guide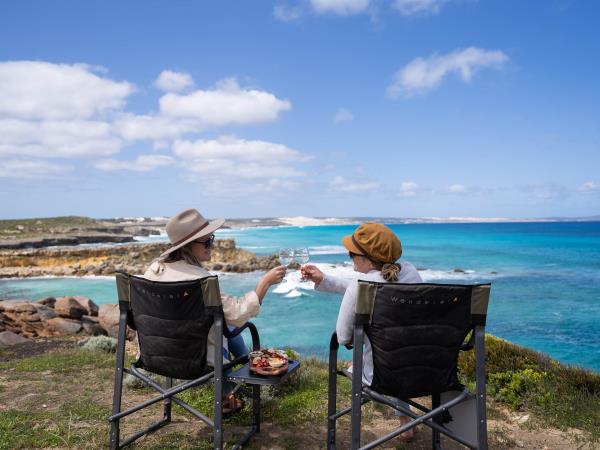 Eyre Peninsula private escape from Adelaide
From
AU $

2995
5 Days
ex flights