History & geography of South Australia
South Australian geography
As we've already said, South Australia is B-B-BIG and it pays to get your head around its scale. Why? Because what looks like a 'quick trip' on the map can be the equivalent of Land's End to John O'Groats (and back) or Los Angeles to Dallas.
The good news is with distance comes diversity. You can quite literally go from a breezy Mediterranean climate in the southeast corner to arid deserts in the far north. Here then is a quick need-to-know sketch of the state's main components…
1. The gulf waters and the Great Southern Ocean.
We love the ocean, in fact most of our population lives on its sandy fringes, savouring the breezes, views, surf, wrecks, whales, dolphins and fine eating fish. But the fact is, most of our coastline is still exactly as nature made it, wild and empty. There's an awful lot of it to enjoy – make sure you do.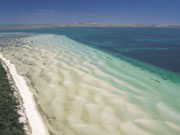 2. Kangaroo Island.
KI is Australia's third largest island, measuring approximately 80 miles across. Bizarrely, it too has a wealth of landscapes, from lush forests to monster sand dunes, from low-lying wetlands to thumping great cliffs. Give yourself a few days – you'll need them.
3. Peninsulas.
Three of them: Fleurieu, Yorke and Eyre. Chances are you'll get to see
Fleurieu
because it's on the doorstep of
Adelaide
, home to McLaren Vale wineries and a jumping off point for Kangaroo Island.
Yorke
is a much-loved vacation escape for locals (if you want to see how Australia was in the 1950s, then right this way!).
Eyre
is a huge destination in its own right and one that can take time to explore. In the north are the remote Gawler Ranges, but it's the coastline for which it's best known: big coast, big surf, wild seas.
Port Lincoln
on the tip of the peninsula is home to more millionaires (per head) than anywhere in the country, courtesy of the amazing blue fin tuna industry. Lincoln is growing as an adventure destination and we recommend it highly.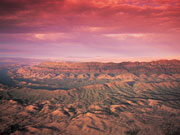 4. Ranges.
The
Mount Lofty Ranges
are probably our most important, keeping us cool, giving us awesome views and providing a goodly amount of rain-shadow to our growers of food, wool and wine.
The
Flinders Ranges
, six hours north, are probably our most spectacular, rising steeply from the arid plains of the mid-North to some 1000m and harbouring Wilpena Pound, a truly remarkable landform that is a bugger to explain but astounding to climb.
Most recently, the snaggle-toothed Ranges were seen to properly excite Sir David Attenborough, home as they are to fossils that prove up the planet's earliest known primitive animals. The
Gawler Ranges
are lower than the Flinders but they're older, less visited and offer real rewards to those who take the time to immerse in the gorges, valleys and ancient river beds.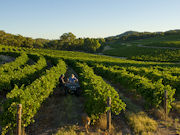 5. Winelands.
Thanks to deucedly fine terroir and just the right climate, we are the nation's biggest producer of wine. In a strange twist of fate, given that we're 'New World' wine producers – we're also home to the world's oldest Shiraz and Cabernet Sauvignon rootstock. South Australia has 16 official regions, all as lovely on the eye as they are on the palate, though each with their own 'feel'. A quick trawl of the wine almanac throws up household names including Barossa, Clare Valley, Penfolds Grange, Jacob's Creek, Wolf Blass, Henschke and even the infamous 'chateau cardboard' wine cask – all proudly established here in South Australia.
6. The Murray River.
Australia's longest river ends a huge journey from Queensland at a small South Australian port called Goolwa. Once upon a time, paddle steamers plied its broad back bringing bales of fine wool to clippers bound for Blighty. For good reason, Mark Twain set eyes on it and called it Australia's Mississippi. The broad, benign river slogs through some beautiful gum-tree country, rich farmland and some celebrated red river cliffs. There are even a few paddle steamers that still chug along the lower reaches.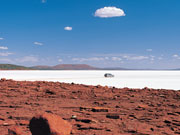 7. Outback.
'Hot', 'dry', 'weird', 'profound', 'overwhelming', 'never-ending', 'a bit frightening'… Where to begin? Probably in Coober Pedy, a moonscape town built on opals – you'll never see anything like it.
Then there's the Lake Eyre salt lake (bigger than Belgium and 15.2m below sea level), luxurious Arkaba and Angorichina homesteads, super-isolated outback pubs and the white-knuckle ridge-top tour of Arkaroola. You can lose yourself in the outback – er, literally – but it's an important trip to make.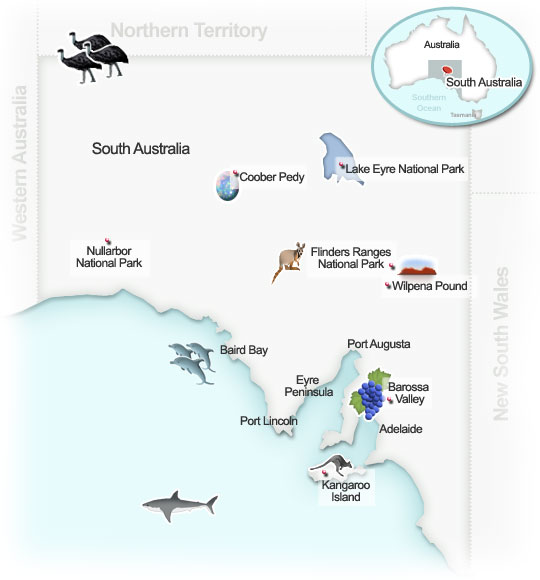 South Australian history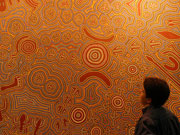 Our state is home to Aboriginal peoples, including Kaurna, Adnyamathanha, Ngarrindjeri and Narungga.[g1] [MA2] It's important to understand that Australia's Aboriginal population is not a single group (in the same way America is not home to one native tribe), but instead some 150 groups of language-based peoples who once had hunter-gatherer practices and 'dreaming' stories specific to their immediate 'country'. So, desert peoples had different practices from coastal peoples, hills peoples, river peoples and so on.
As you probably know, the arrival of the Europeans was a disaster for them (those language groups once numbered over 500) a story you can properly hear from Haydyn Bromley, who does a brilliant retelling at the foot of Wilpena Pound. Ex-teacher Haydyn is descended from Adnyamathanha, Yarluyandi and Narungga.
As Australia's European histories go, South Australia's is a bit of a weird one. For a start, it was 'free-settled', in other words, it wasn't a convict colony. Basically, in the 1830s a bunch of non-Anglican investors in Britain thought they could go to the other side of the world to (a) freely practise their 'dissenting' religions and (b) make lots of money.
They achieved both, slowly pushing into the massive state, suffering more than a few casualties along the way but acquiring land and resources. They rode wild cycles of boom and bust, but mostly flourished on crops, wool, gold and copper. The profits got spent on a beautifully-made city (Adelaide), a plethora of churches (including, by the by, the Southern Hemisphere's first mosque), even more pubs and whopping great stately homes and homesteads in the most unlikely places.
German Lutherans have a prominent place in our history, encouraged by the Brits to sail south to escape persecution, but also to bring their badly needed artisan skills. Handily, they knew how to make wine, the fruits from which we're still enjoying. Migrants – then and now – have always been welcome in South Australia, not least because they bring skills, ideas and energies.
Finally, we should mention Kangaroo Island which has a curious history.
Aboriginal people left the island thousands of years ago for a reason now lost, though it's still called the 'Place of the Dead' by mainland Aboriginal peoples. And secondly, the European history was especially colourful thanks to whalers, sealers, escaped convicts and all sorts of roguish types who didn't shave.
Today we're still a major food/wine producer, but we're also big in mining (we have the world's largest uranium deposits plus monster copper lodes), biotech, defence (we build submarines), and education (we have a huge local and international student population)
Responsible Travel would like to thank the South Australia tourist board for their sponsorship of this guide