Responsible tourism in South Australia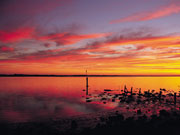 Green South Australia
Our State has a vision that supports sustainable tourism developments via programs that give priority to the most environmentally appropriate, well-designed and sited projects that will assist South Australia in sustainable tourism design, while the local tourism industry is taking the lead on national climate change initiatives to build on the State's reputation for protecting its natural environment.
Understanding that green tourism is an area with huge potential for growth with increasing numbers of domestic and international travelers choosing 'green' vacation experiences, the State Government and industry are committed to supporting sustainable tourism development in this State, as well as marketing our credentials as a "green" vacation destination.
South Australia's green tourism credentials:
The strategies of the
South Australian Tourism Plan 2009-2014
are underpinned by a focus on sustainability. The environment is included as one of the parameters in the balanced scorecard for achieving the vision, and is one of the selection criteria for selection of the key focus areas and thirteen strategies.

The South Australian Tourism Commission (SATC) actively encourages sustainable tourism developments in key areas of the State. Through its ongoing Tourism Development Fund (TDF) grants program, the SATC provides financial support to help operators and investors incorporate green technology into their development initiatives. Indeed, two of the TDF's primary objectives are:
Manage any potential environmental impacts and ensure the protection of the natural environment of a tourism area;
Give priority to the most environmentally appropriate, well-designed and sited projects that will assist this State's reputation for innovation in this area of endeavour.
A key tool to provide guidelines for sourcing developers, investors and development assessment agencies is the SATC's Design Guidelines for Sustainable Tourism Development
Recent examples of projects which have benefited from Tourism Development Fund grants include:
The $15 million world renowned Southern Ocean Lodge development on Kangaroo Island, which was opened in 2008, was designed to have both minimal impact on the delicate coastline and to maximise each guest's environmental experience and has used organic materials to encourage a sense of place, such as recycled timbers, white limestone floors and walls.
Similarly, Rawnsley Park Station eight luxury eco-villas have been designed to complement the natural surroundings, and boast the latest environmental design features, including rendered straw bale walls, polished timber floors over suspended concrete slabs and overhanging eaves/wide verandas to provide shaded walls.
Other funding grants have helped existing tourism operators install solar power, biocycle wastewater treatment facilities and boardwalks, promoting sound environmental management initiatives.
South Australia has long been recognised for pioneering green tourism initiatives, participating in a world-first pilot program, Ecotourism Australia's 'Climate Change Certification Program' in 2008, recognising tourism operators for taking action in response to climate change. This unique program allows the traveling public to identify SA tourism operators who are committed to sustainable practices and reducing their carbon emissions. This program is administered in South Australia by the South Australian Tourism Industry Council (SATIC)
Our events industry is committed to environmental sustainability and actively encourages partners, local communities and visitors to embrace green initiatives incorporated at our great events.
Adelaide's popular world music festival, WOMADelaide, is a leader in 'green' events; with credentials including the use of 100% accredited Origin Energy GreenPower and a sophisticated waste management strategy featuring a three-bin system. In 2009 the festival turned four tonnes of waste into compost and more than 50% of all waste produced by the festival was diverted from landfill. The event also planted more than 7000 native plants with Australia's largest environmental organisation, Greening Australia.
South Australia was instrumental in developing the sustainable tourism category at the South Australian Tourism Awards, in connection with the Department for Environment and Natural Resources in 2005. In 2008, Qantas took that concept to the national stage with a major national Award for Excellence in Sustainable Tourism, forming part of the Australian Tourism Awards. The award recognises and showcases successful tourism businesses that set out to minimise their environmental impact, conserve natural resources, respect local cultures and benefit local communities. The Hilton Adelaide was a finalist in the inaugural national award for their efforts to be an environmental leader in the hospitality and tourism industry.

Source: Ian Darbyshire, Chief Executive of the South Australian Tourism Commission
Responsible Travel would like to thank the South Australia tourist board for their sponsorship of this guide