South Australia luxury travel
The world is waking up to South Australia's luxury resorts, lodges and hotels...
Kangaroo Island
Southern Ocean Lodge
can possibly lay claim to being the jewel in South Australia's crown, celebrated for its stunning clifftop location on the south coast and its peerless service. The 21-suite property has a wellness spa and exclusive island tours.
Private Lifetime Retreats
on the north coast offers three very different retreats, all overlooking the white sands and turquoise waters of Snelling's Beach. It's hard to go past the Cliff House with its circular tower bedroom and cliff-edge Jacuzzi.
Kangaroo Island also does amazing contemporary houses and retreats sold on a self-catering basis, many of them enjoying absolute beachfront access. Check out
De Coudie Beach House, Kangaroo Beach Lodges, Island Beach Lodge
and
Malibu Lodge.
To savour five-star style in some of the lesser known corners of the island, take a tour with
Exceptional Kangaroo Island
. It's operated by former wildlife ranger Craig Wickham whose motto says it all: 'Good food, good wine and wildlife in the wild'.
Wine regions
The Louise
in the Barossa is renowned not only for its views over famous vines, but for its restaurant, Appellation, one of Australia's finest regional dining experiences. With just 15 suites, this is a hot ticket stay.
At
Seppeltsfield Vineyard Cottage
, one couple gets to indulge in all of life's little luxuries in their 1860s cottage located within the Barossa's famous Seppeltsfield estate.
Abbotsford Country House
is a fully hosted homestead set on 50 acres, enjoying sublime views.
In McLaren Vale,
The Retreat at Chapel Hill
is where eight to 14 guests can surround themselves in historic vineyards; it also has a highly regarded program of cooking classes.
In Clare Valley,
Thorn Park by the Vines
is a luxury retreat on the edge of Seven Hill in the Clare Valley. To the north is
North Bundaleer
, a stunning restoration of a grand Edwardian property on 400 acres; the owners, hosts and restorers have finished the elegant interiors with period furnishings and works of art.
In the Adelaide Hills,
Thorngrove Manor
is a lavish architectural statement of European styles that's part folly and part fantasy.
For private tours in style, Mary Anne Kennedy of
Taste of South Australia
can get you into the cellar doors of note to enjoy private tastings with the winemakers.
Rich+Lingering
is also highly regarded for its great taste tours.
Outback
There are three luxury homesteads located relatively close to Wilpena Pound.
Arkaba Station
is a 170-year-old homestead sitting at the foot of the dramatic Chace Range on 64,000 acres. It was recently bespoke-tailored to accommodate just 10 guests. Take an early morning safari, lounge in the pool during the day and dine by candlelight at an old wool classer's table.
Angorichina Station
has been in the same family for four generations so there's not much your hosts don't know about this 136,000-acre sheep station. If you can tear yourself away from the beautifully appointed property you're out there doing scenic flights, guided walks and 4WD tours.
Arkapena Homestead
is a 1950s building homestead catering to four. Complete with its own pool, it offers real seclusion and spectacular views of Wilpena Pound.
Rawnsley Park
(part of the same 9,000 acre station) has Eco-villas famous for their sliding roof panels over the bed to allow for a little star-gazing…
Eyre Peninsula
The Peninsula has three retreats of note.
Kangaluna Camp
in the Gawler Ranges has been designed along the lines of a luxury safari camp with a communal area plus three cleverly made 'tents' (structures with all the comforts of home plus the romance of canvas).
A new 'Swagon' is a brilliant little addition – a 100-year old dray wagon converted to hold a specially-tailored 'double swag'.
It's a romantic under-the-stars experience you won't forget!
A 500-acre property called
Tanonga
is just 25 minutes' drive from Port Lincoln and has two chic retreats. These self-contained one-bedroom structures enjoy striking architecture, plush interiors and amazing views.
In Lincoln itself, the new 4-star
Port Lincoln Hotel
is perfectly located overlooking Boston Bay and right next door to the waterfront cafes, restaurants and pubs.
Nullarbor Traveler
offers exclusive 'Xplore Eyre' tours for two to six guests. You'll start in Port Lincoln (or Wilpena Pound), travel via every fabulous eating, drinking and swimming experience known to the region. You end at the remote Nullarbor outpost of Cook where you join the Indian Pacific train and travel in Gold Class (private cabin plus all meals) to Perth.
Adelaide
Adelaide is home to several of the big five-star hotels – including
The Hilton
and
Intercontinental
– as well as a few you may not have heard of. The
Sebel Playford
on North Terrace is a delicious Art Nouveau-inspired hotel on North Terrace; the
Rendezvous
on Waymouth St does contemporary opulence; while the
Medina Grand Adelaide Treasury
offers a sensitive and clever conversion of the original Treasury building.
Among the city's boutique retreats you'll find the gorgeously styled
Adelaide Parisienne Apartment
overlooking the old Stock Exchange and the chic
Miller Apartments
near Rundle Mall.
If you like properties with a little provenance, try the unusual period retreats of the North Adelaide Heritage Group, including
Buxton Manor, The Bishops House
and
The Fire Station
.
At Adelaide's beaches you'll find upmarket hotel accommodation at the top of the
Glenelg Pier Hotel
and the like of the
Luxury Beach House
(Henley) which offers finely appointed accommodation for parties of two to 10.
Across South Australia
Companies like
The Tailor
and
Big Blue Air Touring
can put together luxury packages, flying you on fully-hosted private charters between experiences and luxury retreats.
Great Southern Railway is famous for
The Ghan
, one of the world's great rail journeys from Adelaide to Darwin via Alice Springs and Katherine. Over three days, you'll see the scenery change in colour from the Mediterranean yellows and olives of South Australia to the red deserts of the central deserts to the emerald greens of the Northern Territory wetlands around Darwin. You'll enjoy 'whistle stop' tours along the way as well as great dining.
Luxury rail journeys also travel west to Perth and east to Melbourne, Sydney and Brisbane.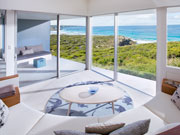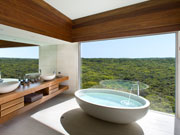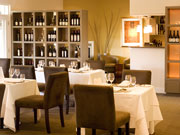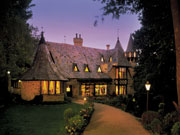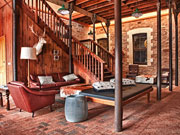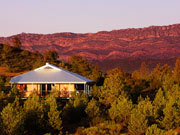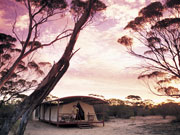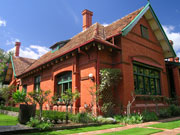 South Australia travel information
Responsible Travel would like to thank the South Australia tourist board for their sponsorship of this guide