Things to see & do in South Australia
The bucket list!
What would we do if our timing was right and the bank manger was in a good mood? Here's what…
1. Finding your own beach on Kangaroo Island
Step 1: go west, where the old growth beauty of southwest Kangaroo Island is preserved thanks to some 200,000 acres of national park.
Step 2: Pick a track and follow it. Push through thick bushland into old limestone gorges with craggy, mysterious caves, heading off to explore a few, keeping an eye out for nesting kestrels.
Step 3: Arrive at a creek and follow it – hop rocks, cross bridges, push further down, down, down. Stop at pools for a bite to eat: keep a look out for the shy platypus, frequently seen in these parts; in the drier understorey, look out echidnas and heath monitors. Continue on until you emerge onto a sight you thought only existed in castaway movies: a bone-white beach lapped by turquoise water with a gentle surf rolling a little way out.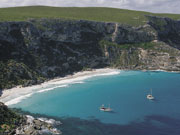 Step 4: There are no footprints here. None. So do what everyone else does: strip off your clothes and go for paddle in the shallows.
But too late – you realise you're not alone on the beach. There are three western grey kangaroos on the sand, stock still, watching you with long-lashed eyes. Turns out kangaroos will occasionally drink sea water for the salt. Who knew?
2. Swimming with dolphins and sea lions at Baird Bay
One place, two animals that don't mind sharing…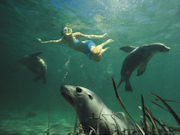 Baird Bay is beautiful, a sheltered body of water surrounded by broad fields – so beautiful in fact that it's almost a shame to don the mask, hop out of the boat and leave it behind. Then the dolphins come charging up, their enormous bodies speeding past you, turning on a dime to make another flypast and take a closer look – close enough for you to see the texture of their grey skin, the marks of life in the wild, battle scars earned in the mighty seas off Eyre Peninsula. Back into the boat and you're off to another part of the bay where sea lions are gathered on the rocky seawall. You jump into the water – and so do they…
Pray for pups. They're incredible.
3. Two nights at Southern Ocean Lodge on Kangaroo Island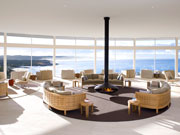 Within months of its opening in 2008, Southern Ocean Lodge found itself on eminent bucket lists all over the world.
Why? Like a good share tip, it was passed among the sort of people who frequent $1000-a-night wilderness lodges – discretely lauded for its modern statement within an ancient landscape, its sense of scope and grandeur (ocean in front, sea of bushland behind), its flawless service and a menu that properly interprets some of the finest ingredients found anywhere…
If we had an especially deep bucket, we'd take the Osprey Suite, which is 120 sq metres of incredible loveliness with a hand-sculpted granite bath to die for. As it is we're quite happy in the 'Grerat Room' lounge area reclined in a deep sofa with a view of migrating whales…
4. Hike to the top of St Mary Peak, Wilpena Pound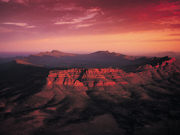 There's a long climb ahead of you – best to get up before the sun rises, pack lots of water and make the steady ascent... The cool of dawn is sweet-smelling, the wallabies are out nibbling green shoots and the outline of the Wilpena rim is beginning to take shape.
Half way up, the sun is beating down, thermals are rising, hot enough to give the huge Wedge-tailed Eagles some loft. At least your pack is getting lighter as you work through the water.
Six hours into the trek and you're about to crest the rim at nearly 3000 feet. Your legs have the shakes, your heart is pounding. But at long last you're about to see exactly what is inside Wilpena Pound…
5. Diving with great white sharks to the sound of AC/DC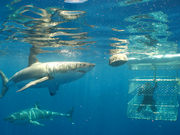 There are very few places in the world where you can dive with great whites. And only one place where you can do it to the sounds of hard rock… Sign up with Adventure Bay Charters of Port Lincoln and you'll be taken 40 miles off-shore to the Neptune Islands. This is where the ocean is big and deep and clear. You've seen these great whites in the movie Jaws. No, really – this is where Steven Spielberg shot his live action footage in the 1970s, knowing they were big and bonny and, when offered a meaty incentive, ready to smile for the camera.
But Adventure Bay Charters doesn't 'berley' up to bait sharks. Instead, they pump AC/DC into the water – and with amazing results. So who's ready to go down with sharks over 16 feet long? After getting suited and booted you're hooked up to an air supply (no diving experience necessary), put into the steel cage and given 45 minutes of face time.
For those about to rock – we salute you.
6. Wine and vine, ocean and Star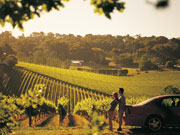 This is one of our favourite eat-and-drink combos, entailing a short drive into the wine region of McLaren Vale on the stunning Fleurieu Peninsula.
Do a morning tasting tour among the soothing green vales of McLaren to get you in the mood (we especially recommend the 1860s ironstone barn of Coriole Vineyards) then head for your lunch booking at the Star of Greece. Push through the 'burbs of Port Willunga to find the timber curio perched on a cliff.
Take a pre-dinner champagne onto the deck and savour the views of sparkling sea and serried headlands. The beach below is open for business – if you descend for a between-course stroll or splash in the shallows, be sure to check out the old fisherman's caves.
7. A 10-day self-drive of Outback highlights, including a hunt for opals in Coober Pedy
We'll spare you the details (check them out here), but no question this is a trek that pays proper homage to Outback. The Oodnadatta Loop gets you properly into the big open spaces where (perhaps for the first time) you'll get a true feeling of adventure, of being in control of your own destiny. You'll camp under the stars, stay at homesteads, overnight in pubs and even sleep underground.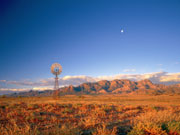 You'll unwind in Coward Springs' thermal waters while cockatoos come screeching in to roost (hard to believe you're in a desert), eat kangaroo and camel at the famous Prairie Hotel, inspect bizarre mound springs, explore ghost towns, tread carefully onto Lake Eyre's salt flats, hear Aboriginal histories of ochre trade routes and go looking for the amazing opal of Coober Pedy.
And then you'll know what it means when people say "It's a different world out there..."
8. The Cedars followed by Hahndorf Hill Winery
Sir Hans Heysen (1877-1968) spent his life painting two of South Australia's most celebrated landscapes, the Adelaide Hills and the Flinders Ranges. For many years he was dismissed as a painter of 'chocolate box art' but Australia is coming around to seeing in a very different light, regarding him as one of the great practitioners.
His home at The Cedars near Hahndorf is hung with an extraordinary collection of work that shows both his range and his accomplishment (many of them recently returned from a major national tour). The country around The Cedars was his inspiration, providing both the gum trees and the Australian light he sought to capture; today, landscape artists sit in the paddocks to attempt the same.
Like many artist homes, the house, the gardens and the evocative stone studio (you'd swear Heysen has just stepped away from his easel) lends insight into both the man and his work. A few minutes from the property is Hahndorf Hill Winery, complete with sublime views and a convivial deck. A perfect place to toast artists at work everywhere.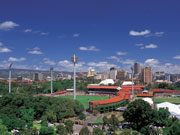 9. Join the crowd on the Hill at an Adelaide Oval Test Match
Ahhh, yes, The Hill. Firstly, the Hill sits in one of the world's most beautiful test cricket grounds with the Cathedral spire on one side, green parklands all around and the Mount Lofty foothills in the distance. Secondly it features two iconic bits of kit, the original 1911 hand-cranked scoreboard with its bar directly underneath. Thirdly, since cricket 'hills' (green mounds where the poor people used to sit) have always been associated with somewhat spirited behaviour, most cricket grounds have done away with them. So ours is one of the last.
'Larrikin' traditions continue on the Hill, but it's always good natured, and at its best when the British 'Barmy Army' goads the Australian hordes.
In the absence of the Pommy cricketers, any contest is liable to provide lively distraction with plenty of robust barracking. Twenty20 cricket (and Twenty20 Internationals) is really packing the stands – keep an eye out for fixtures.
10. A glass of Shiraz with Wayne Dutschke
Who's Wayne Dutschke? He's the bloke who's come in off his fields to say 'hello', an easy going chap with a ready grin and firm handshake. He's a Barossa winemaker, the winemaker who made the superb 2009 Oscar Semmler Shiraz you have in your glass. He's also the Barossa Valley Winemaker of the Year (2010) and rated five red-stars by leading critic James Halliday. His name is on the bottle – Dutschke – a third generation boutique brand that does especially well among American connoisseurs. But give him an excuse and he's off the harvester, happy to host a tasting…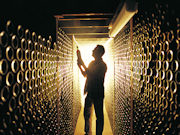 The cool barrel room smells of oak and Wayne's happy to talk shop – the best parcels of grape, the difficulties of vintage, the challenges of exchange rate, and who's best on the Barossa golf course, Peter Lehmann or Stephen Henschke.
The Semmler is sensational and an hour slips away as easily as the vintages slip down. This is the Barossa and this is the business. Perhaps it's the Shiraz, but you don't feel like an outsider looking in. You feel right in the thick of it.
Responsible Travel would like to thank the South Australia tourist board for their sponsorship of this guide