Join Chris Packham in South Georgia
A one off place such as South Georgia merits a one off team to take you there. In the southern summer, Chris Packham and Paul Goldstein will be co-leading their own Antarctic wildlife photography cruise with 92 berths up for grabs for anyone who wants to join them on the trip of a lifetime.

This sort of expedition has not even the slightest sense of a 'celebrity cruise' vibe about it, and there is absolutely no hubris or conceit involved. Every night in the bar, for example, these two experts put on a talk, or a photography workshop, perhaps – whatever feels right depending on the day's waves, weather and wildlife. Much like the itinerary, it is neither structured nor rehearsed.

Chris and Paul also realise that for the passengers, this trip really is a one off – and they both do their utmost to utterly maximise the time, night and day. They also muck in at mealtimes with everyone else, do off the cuff presentations which are far from scripted, chat about specific photo editing software and give tips on technique. They are also an amusing team, who are quick to find fun in every situation. It's not all reverential, silence on deck stuff here with these guys.

Although there is no fixed itinerary, as such, after sailing two days east to South Georgia, from Port Stanley in the Falkland Islands, you'll be invited to make the most of the photographic opportunities on the beaches of Salisbury Plain, Gold Harbour, St Andrews Bay, Royal Bay and Elsehul.

There's an expedition leader on board but, in the main, it's Paul and Chris's choice of what happens, and when. Whether it's teaching someone about camera software, going on watch on the bridge for several hours or speaking after dinner, they do it all alongside other experts and expedition officials.
Our South Georgia Vacations
Every Antarctic wildlife expedition has staff responsible for monitoring and controlling the activities throughout, to ensure the smooth running of the cruise. As this two week South Georgia cruise is a special chartered expedition, these roles are shared very much by Chris and Paul. They're a bit like a BBC wildlife documentary TV crew who help to make screen time so spectacular.

They do this by keeping a watchful eye night and day just so that you can get the right shot. They give informative and informal chats, humorous anecdotes and then shout 'action' when the right moment comes along. They are on board, literally and metaphorically, around the clock.

Behind the scenes, there is also the all important expedition leader. He or she has the technical responsibility, as well as being in charge of the 53-strong crew, taking decisions about where the vessel can go and when, depending on ice conditions, access, tide and weather. The expedition leader is, technically, in charge. So if Paul or Chris want to go into a particular inlet, the expedition leader will decide if the vessel has the draft to go in there and whether it's completely safe.
Making every moment matter
Chris and Paul's approach to getting results this close to Antarctica is to go slow. Make every moment mean something. Stop and breathe it all in. Visiting this area is, for them, an almost spiritual experience, not one that can be rushed. The way in which they can do that is to throw all ideas of an itinerary out the window and go with the flow. If they see signs of a blue whale or a colony of penguins, they will put the brakes on. If conditions are right they will aim to gain on land access to beauty spots where you might discover millions of king penguins, gentoo penguins, elephant seals, giant petrels and vast colonies of albatross. They certainly won't be rushing you back on board. Although sometimes it's difficult to get Packham back on board at all. Dinner can wait.
Read more about the
wildlife in Antarctica.
In case you need credentials
Chris Packham is an award winning BBC wildlife presenter, leading conservationist, Vice President of the RSPB and a great adventurer. He's a wildlife oracle, blisteringly funny and often sees things differently to the rest of us. Indeed, The Times summed him up perfectly as 'the heir to David Attenborough'. Paul Goldstein, is a highly experienced wildlife guide, committed conservationist and also an award winning photographer. Paul has over 30 years of experience working in the travel industry, too. He is the one who creates the sail plan for the charter, and coordinates everything to ensure that everyone is available at the right moment. They have done these charters together, and separately, on many occasions. And when you go to the extremes of the world, you have to understand it does not always run smoothly.
Fellow passengers
If you are serious about wildlife, then you'll be more than welcome aboard. You don't have to be a photographer to come along, but if you've been meaning to really find your way around your DSLR for a while, or have always wanted to capture the perfect ic of a penguin, then this is the perfect trip for you.
Our top South Georgia Vacation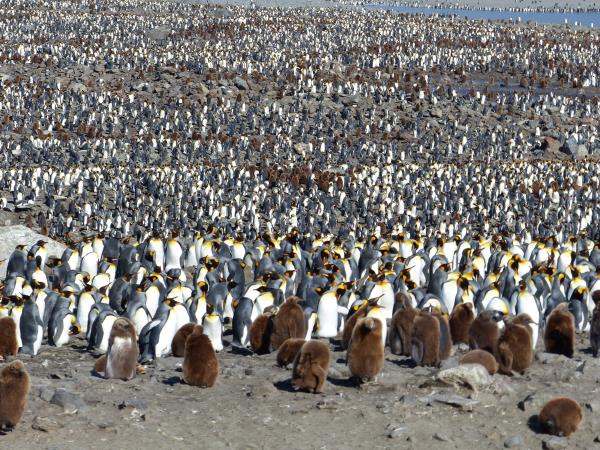 Water, wilderness & wildlife in breath-taking perfection
From
£

7990

to

£

17450
20 days
ex flights
Small group travel:
2020: 9 Feb, 11 Feb, 14 Feb, 15 Feb, 23 Feb, 24 Feb, 25 Feb, 1 Mar, 19 Oct, 21 Oct, 1 Nov, 9 Nov, 10 Nov, 16 Nov, 1 Dec, 2 Dec, 8 Dec, 18 Dec, 20 Dec, 22 Dec, 27 Dec
2021: 3 Jan, 6 Jan, 10 Jan, 12 Jan, 17 Jan, 19 Jan, 20 Jan, 22 Jan, 2 Feb, 10 Feb, 16 Feb, 23 Feb, 24 Feb, 27 Feb, 10 Mar, 22 Oct, 23 Nov, 24 Nov, 25 Nov, 26 Nov
2022: 11 Jan
If you'd like to chat about South Georgia or need help finding a vacation to suit you we're very happy to help.
The expedition vessel
You'll be making the voyage onboard the Valivov, an ice-strengthened expedition ship designed for polar adventure trips in Antarctica and the Arctic. This is one of the most advanced research vessels afloat with ample space and contemporary facilities for 53 staff and crew, and 92 passengers.

Onboard amenities include a spacious dining room with unreserved seating, presentation and lecture theatre, afternoon and evening lounge bar, well-stocked library with plenty of polar-related books, gymnasium, sauna and swimming pool. There is also a lift from passenger levels to the bridge.
Top tips for first timers:
Do your research. You will always find a cheaper trip, but then you will probably find the ship has 250 passenger berths instead of less than 100. Look at the ice and stabilisation capability of the ship, and the flexibility of the itinerary. How many opportunities will you have to disembark? Few lucky passengers will undertake this kind of expedition more than once, so research is critical.
Don't come with an instruction manual for your camera. You need to know that camera competently before you set sail, or even two cameras as there isn't a clinic on board to fix them if something goes awry. You will get all levels of advice on board, but the more you know before you embark, the more you can hit the ground running.
Don't look at these places just through a viewfinder. Two reasons: first, it will be far more indelibly etched on your own memory mainframe if you just watch. Second, the more spiritual and patient you are, the better your photographs will be. Patience isn't a virtue, it's a must with wildlife. The people who will value this trip are those who want to take stunning photographs, not just record shots.
More about South Georgia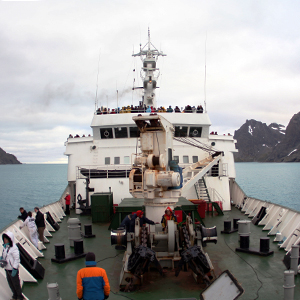 The best time to visit South Georgia is any time during October to March as for the rest of the year this Southern Atlantic island is pretty much inaccessible for all but the hardiest of explorers.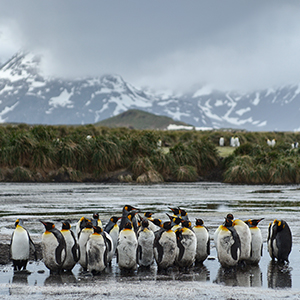 Tread carefully through our South Georgia travel guide and learn that a flexible, positive attitude and an adventurous sea faring soul are all that's needed to make the most of your time.
Back to the top
Convert currencies