Sri Lanka luxury travel map & highlights
---
MAKE THE MOST OF YOUR TIME
One of the joys of luxury vacations in Sri Lanka is that you can include exquisite extras on your tailor made menu. Treat yourself to the champagne of experiences with Ayurveda spas enveloped by tropical forest, a hot air balloon trip over the northern sacred sites at sunrise, or watch elephants emerge from the forest from your luxury safari tent. You don't get a bubblier experience than seeing blue whales surge out of the Indian Ocean.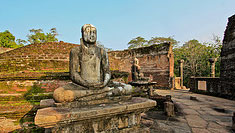 The Cultural Triangle
The number of ancient, sacred sites is overwhelming. Aka the Cultural Triangle, they date back to the ancient Sinhalese civilisation. They are important places on Buddhists' pilgrimages and, if you can take time to travel outside peak season even better. The three main points on the triangle are the vast palaces of Anuradhapura, ruins of Polonnaruwa and citadel at Sigiriya.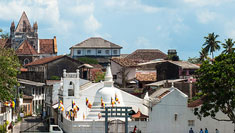 Galle
Galle is gorgeous. And although you may have a private driver, do consider the iconic train journey down the Indian Ocean coast from Colombo to get here. The city is a wonderful mix of Portuguese colonial remnants, such as the 16th century fort, contemporary coastal cafes and boutique hotels. Sip cocktails at former mansions or treat yourself to a spa in exotic and exquisite locations. It's all very UNESCO and all very unique.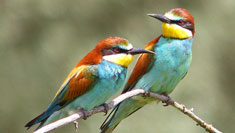 Horton Plains National Park & Ella
Make sure you engage the services of local hiking and birding guide for hiking through these tropical forests, such as up to Worlds End via stunning Bakers Falls watching out for a bevy of beautiful birdlife en route. With charming hotels and guesthouses at nearby Ella, more glorious hikes await up to Ella's Rock. The hotel will pack a picnic. You just need good shoes and a cozzie for Rawana Ella Falls.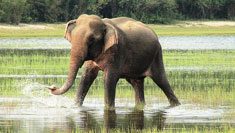 Other national parks
On a tailor made vacation it is much easier to include some of the quieter national parks en route. Such as Wilpattu in the north, aka Land of the Lakes. This is one of the world's most extraordinary wetlands, with elephants wandering through too. Same goes for Udawalawe on the boundary of the country's wet and dry zones. Or for true flamboyance, Bundala is grand central station for flamingos.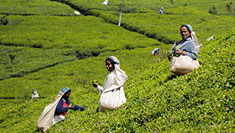 Hill Country
The tropical elevations of Sri Lanka's Hill Country are exquisite places to visit and stay. Many hotels come with waterfalls, natural pools, trails and birdlife on their doorstep. The train up from Ella is spectacular too, while the hike to Adam's Peak heavenly.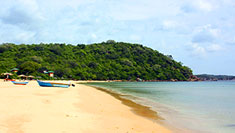 Trincomalee
A port city popular for luxury stays around its lagoons, bays and beaches, and also perfect for snorkelling, scuba diving and surfing. With a fascinating history, its natural harbour was conquered by Portuguese, Dutch and British. Trinco is the gateway to the still very much undeveloped northeast coast, which only opened up since the end of the war in 2009. So do chat to your vacation company about exciting happenings.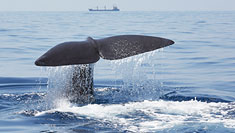 Whale watching
From February-mid March there is a small window to witness one of the most precious treats of the wildlife world: seeing blue whales basking and breaching. Charter a boat with responsible whale watching experts to watch this migratory marvel. For other whales species the window is larger with marine safaris taking place October-April out of Mirissa and Galle, as well as off the Kalpitiya Peninsula.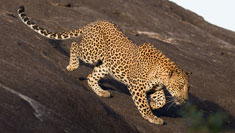 Yala National Park
It's beautiful but busy, so by staying in a nearby safari camp you can catch the natural beauties at sunrise and sunset. And also ensure that you go on a game drive with wildlife experts committed to responsible wildlife watching practices. Yala is home to elephants, sloth bears, sambars, jackals, spotted deer and crocodiles. And, most famously, leopard. Although, be warned; they are elusive no matter how much you pay.


Sri Lanka luxury travel advice
---
TIPS FROM OUR FRIENDS IN SRI LANKA

John Beswetherick, Managing Director of our leading Sri Lanka wildlife vacations supplier Tikalanka (UK) Limited:
Why Sri Lanka?
---
"Where in the world can you honeymoon with a hot balloon flight before breakfast, explore ancient cities in the daytime, spot a tusker at dusk, and sip sundowners on a tropical beach? Sri Lanka, of course!"
Hotel tips
---
"Although many sightseeing trips and activities in Sri Lanka are best in the early morning, an early start is compensated by a long siesta during the heat of the day in one of the island's wonderful boutique hotels or sumptuous villas. Most of Sri Lanka's hotels offer special honeymoon benefits including room upgrades, complimentary drinks and dinners, exclusive excursions, and personal pampering, all delivered with the legendary Sri Lankan generosity and smile."
Wildlife expectations tip
---
"Enjoy the spectacular and abundant birdlife in Sri Lanka as much as the 'Big Four' – you never know, you may become a closet 'twitcher'!"
Best time to go to Sri Lanka
---
"The best time to visit most of the national parks is from April to August when there are generally fewer tourists and the wildlife is more plentiful. Personally, I feel that May is absolutely superb all around the country, as it is outside both monsoon seasons. And it is the quietest time of the year too, so you can have a really good vacation then, and yet it is still considered low season. The monsoons aren't as predictable these days anyway."
Seeing wildlife – responsibly
---
"We stopped promoting Pinnawala Elephant 'Orphanage' in Sri Lanka in 2005 when we were approached by Born Free Foundation and became supporters of their global animal welfare campaign, Travelers' Animal Alert. We always state our negative position regarding Pinnawala in our replies and most customers decide not to visit once they are made aware of the animal welfare issues, thankfully."
Read Responsible Travel's
stance on Pinnawala Elephant Orphanage
and why we don't promote it.
Daniel Turner, Born Free: "Elephants used for elephant back safaris may be overworked and subject to strict training and management, leading to physical and mental suffering and injuries, as discussed above. They are especially prone to injuries to their backs – in particular blisters or cuts caused by howdahs (wood or metal seating). Walking regularly on hard surfaces with a heavy load can also increase the risk of foot problems."
Tips from our travelers in Sri Lanka
---
ADVICE FROM THOSE WHO HAVE BEEN THERE
At Responsible Travel, we think the best people to advise our travelers are often... other travelers. They always return from our tours with packing tips, weather reports, ideas about what to do – and opinions about what not to.

We have selected some of the most useful Sri Lanka luxury vacation travel tips that our guests have provided over the years to help you make the very most of your vacation – and the space inside your suitcase.
"Go for as long as possible. We were fortunate enough to take three weeks traveling around beautiful Sri Lanka so we were able to chill and relax in between all the exciting trips and activities we planned...We stayed at homestays, very small hotels and on an organic tea plantation so we really feel that that we were able to support the local people" – Catherine Huzzey

"Try to pace yourself to include everything you can because there is so much to see in this fabulous place... brilliant driver, friendly and knowledgeable. We would happily recommend this vacation with this operator as one of the best vacations we have ever had" – Peter Carter

"Take protection from the heat. Make sure you cover up your shoulders as a woman in the temples to avoid any stares or the wrath of the locals. Always take the time to say hello to those helping you as they are very friendly people and try to tip well in local restaurants. You should not be too worried about crime, but remember to be firm to those who are trying to sell you trinkets if you do not want them to. Once you have made it clear, they will leave you alone unlike other countries " - Alastair Francis

"Leave time to relax between excursions when planning your itinerary and take the advice of the vacation provider as they are the experts!...Sri Lanka has a tipping culture and we tried to tip generously particularly to our driver. The tour operator gave us a guide for fair tipping" – Elaine Brown

"Stick to the small bijou hotels/ bungalows away from the crowds whenever possible. Having your own driver and car makes for comfortable travel. Another time I would probably not move every two days waits quite exhausting" – Stan Deboehmler

"The aspect we most appreciated of the tour operator was that we said what we personally most wanted from the vacation - in our case, cultural interest, the opportunity to meet Sri Lankans, absence of crowds, high level of comfort, empty beaches where we could walk unmolested, wonderful scenery, and a leisurely itinerary - and they tailored the vacation the trip to meet our requirements exactly... Castlereagh Bungalow was the most luxurious, most welcoming, most helpful place we have ever stayed in; and the walks through the tea estate with idyllic views of the reservoir and surrounding hills, both relaxing and inspiring" – Ruth le Guen

It's a really varied vacation which is great. Do some reading before you go so that you can make the most of your time there. If it's a sunny day take a pair of socks with you when you visit the temples, because the sand and the stones are very hot… the most memorable bit? The visit to Sigirya. The climb up the rock is exhilarating and the views from the top are amazing!" – Jenny Fewtrell