Where to go cycling in Sweden
---
Sweden cycling map and highlights
Sweden is the third largest country in Europe, but happily, some of its most enjoyable cycling routes are clustered around Stockholm – and even within its boundaries, if you factor in the Ecopark. It means long transfers or internal flights aren't necessary on a cycling vacation, and its undulating terrain and quiet roads mean self-guided trips are popular. Head out to bucolic Sörmland, famed for its lakes, forests and pretty villages, all conveniently spread out just south of Stockholm. Or take a ferry to the Stockholm archipelago, its 24,000 islands lying right on the capital's doorstep and stretching some 80km east into the Baltic Sea.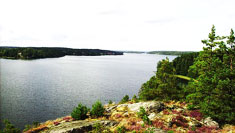 Lake Klämmingen & Marviken lakes
This sequence of lakes is lovely to cycle alongside. Marviken's lakes are the product of violent geological history, formed when a mountain split in two, and are bordered by 50m high rocks and cliffs in places. Lake Klämmingen has heaps of lovely bathing spots, bays for picnicking and easy kayaking, and from the top of the lake it's a short cycle to pretty Mariefred.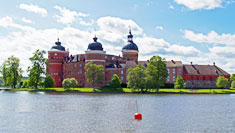 Mariefred
This pretty, vibrant village on the shores of Lake Mälaren is full of historic buildings, including the impressive and fairytale-like Gripsholm Castle. It makes a great cycling center. Put your bikes on the steamboat over from Stockholm, then cycle along the lake to Taxinge Manor, famous for its delicious cakes - a journey of about 30km.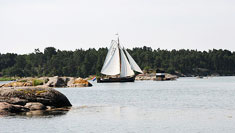 Stendörren Nature Reserve
This pretty spot on the Sörmland Archipelago is incredibly peaceful. To reach it, cycle along lanes through varied countryside – evergreen forests, meadows and lakes – passing the impressive 17th century Nynäs Manor House. Once here, park the bike and hike across the small bare rock islands using an intriguing system of suspension bridges, then whip up a barbecue on one of the built-in grills dotted around.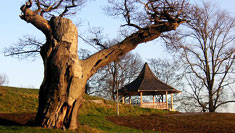 Stockholm
Cycling in Stockholm doesn't sound particularly enjoyable or safe, but the Swedish capital's trump card is its Ecopark, which forms an arc more than six miles long, stretching around and through the city. Perfect for cycling, it's peppered with lakes, streams and canals to cycle cycle along, is home to deer, hares and moose, and boasts several museums, castles and inns.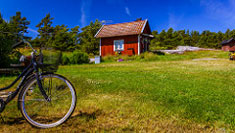 Stockholm Archipelago
An archipelago of 24,000 islands lies on Stockholm's doorstep, with ferries and bridges connecting them and cycling is a fun way to explore. Pretty Ornö is best discovered by bike, since it's the largest island, and you can pedal the length of popular Utö, crossing a bridge to tiny Ålö to chill on white sand beaches. Hop off the bike, too, for sea kayaking or hiking through woodlands.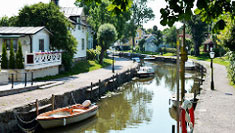 Trosa
Pretty 17th century Trosa is nicknamed "the World's End" because it sits on the edge of the Baltic. Take time out of the saddle to visit the little town square and walk along the canal as it heads to the sea. From here, a great day's cycle is to the 18th-century Royal Tullgarn Palace, passing through classic Swedish countryside – pine forests, sparkling lakes and open green fields.


SWEDEN CYCLING HOLIDAY TRAVEL ADVICE
---
TIPS FROM OUR FRIENDS IN SWEDEN

Carmen Hamdi, founder of our supplier Nordic Trails, moved from the UK to Sweden with her family. She gives her insights on cycling vacations in Sweden:
Cycling en famille
---
"Even in the busiest summer season, Sweden is relatively quiet and less stressed than much of Europe, with little queuing and plenty of space and freedom for children. The society is very child-friendly and safe. Cycling in the Stockholm archipelago is popular with families because the distances are rather short (never more than 38km) and some days are also flexible. Here or in the countryside around Stockholm there are plenty of opportunities for swimming, as well as boat trips to add variety. Sweden is child friendly and kids are welcome everywhere. The routes are often away from the traffic and when they are on Tarmac roads they are rarely busy."
Tips on terrain
---
"The routes are a mix of both Tarmac roads and dirt tracks, most of which are good enough for a car to pass. There are some instances of narrower tracks and some can be quite rough, but only for short distances. The Tarmac roads are rarely busy so traffic is not an issue – I deliberately plan the routes to avoid busy roads."
The joy of a self guided cycling vacation
---
"You don't follow set trails with sign posts and markings, but you are given very good maps and route instructions and I can safely say that this has worked well, with very few people getting confused about where to go! Actually following the map and making your way from A to B, rather than just following a set route which is all marked out, is also to a certain extent a part of the trip. It adds a sense of achievement to the day!"
Thoughts on fitness
---
"Cycling in Stockholm's archipelago is not very demanding and I grade it as an easy trip, but there are a fair few hills so you have to be able to manage a day's cycle. The countryside trip is classified as a moderate and covers longer distances each day, and a hilly terrain. When I say hills, they are about 20-60m – not so high – but there are several of them in a day."
SWEDEN CYCLING HOLIDAY TRAVEL ADVICE
---
TIPS FROM OUR TRAVELLERS
At Responsible Travel, we think the best people to advise our travelers are often... other travelers. They always return from our tours with packing tips, weather reports, ideas about what to do – and opinions about what not to.

We have selected some of the most useful cycling in Sweden travel tips that our guests have provided over the years to help you make the very most of your vacation – and the space inside your suitcase.


"Do a little training beforehand. Wear cycling shorts and/or take a gel seat!" – Angela Newton

"Just be prepared with enough food and drink so you can stop anywhere on your day cycling to rest and eat." – Helen Roberts

"If you love off the beaten track locations and visiting local places then go! The variety of activities allowed us to do and see so much and gave us opportunities to use different muscles daily. Pack bike pants if you are delicate! Sun cream and mozzie spray is a must, and a good camera, as the views are amazing." – Ingrid Sloan

"Do some cycling and walking before you go, to get your muscles in a bit of shape." – Rebecca Brown

"There was a bit of wet weather around although we got fairly lucky, so pack appropriately. Make sure you have enough time in Stockholm, it is worth it. We also booked a follow up week on the island of Utö, which was fantastic, so maybe consider this if you want another week." – Mike Platten