Where to go cycling in Tanzania
---
map & highlights
Most cycling vacations in Tanzania hug the Kenyan border, making the most of the cluster of highlights including Serengeti National Park, Lake Natron, the Ngorongoro Crater, the Rift Valley escarpment and traditional Maasai villages. However, in a little over two weeks you can also travel between Nairobi in Kenya to Dar es Salaam, interspersing time in a minibus with time in the saddle to cover more ground. Most trips will see you cycling for 11-12 days out of 15 or 16, with distances ranging from 25-100km per day; however, family cycling vacations stick to a far more manageable 40km maximum.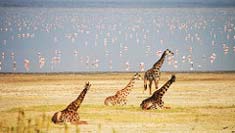 Lake Manyara
Beloved of Ernest Hemingway, who declared it the "loveliest [lake] in Africa", Lake Manyara and its fertile surroundings provide habitat for hippos, buffalo, giraffes, tree climbing lions and some 300 bird species, including flamingos. Rides descend rapidly down the Rift Valley escarpment to the lake shore, keeping an eye out for gazelle and wildebeest, then you can disembark for game drives through the forests.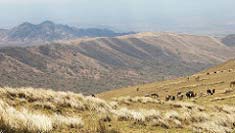 Longido to Lengai
A real highlight of cycling in Tanzania, this route bounces along unpaved roads across parched plains and past seven volcanic craters. A three-hour pedal takes you along around 40km of the full 95km route, with few vehicles likely to pass you along the way. Take in the mountain backdrop before arriving at your campsite close to Lake Natron, whose waters are as brilliantly pink as its resident flamingos.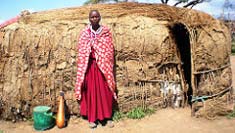 Maasai villages
All our cycling vacations in Tanzania take place in Maasai country, close to the Kenyan border. In the Mount Longido Forest Reserve, you can walk with a Maasai guide, or trek along mountain slopes learning about medicinal plants. Explore local villages, learn about daily life, spend a night or two in a homestead and sit around a campfire, swapping stories of your diverse daily lives – or joining their lively dances.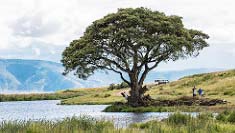 Ngorongoro Crater
Ngorongoro is a giant bowlful of wildlife, living in various ecosystems from forests and plains to hippo-infested waterways. The animals here are not migratory, ensuring sightings year round – including (hopefully) the rare black rhino, which is tricky to spot elsewhere. Descend the walls of the crater, some 600m to the floor, taking in the impressive views as you go, looking out for rhinos, elephants and buffalo.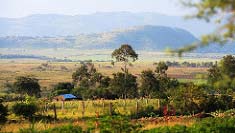 Rift Valley descent
The Great Rift Valley carves its way many thousands of miles through the African continent, leaving vast lakes, volcanic crafters and dramatic escarpments in its wake. One of the most exhilarating rides of a cycling vacation in Tanzania is a 30km, fast descent into the Rift Valley, through villages and smallholdings, all the way to the shores of Lake Manyara, on largely dirt roads.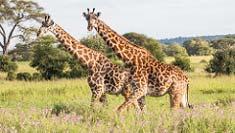 Serengeti National Park
No trip to Tanzania would be complete without witnessing the vast plains of the Serengeti National Park, keeping an eye out for the Big Five and following the great wildebeest migration on its way into Kenya. You can't cycle here, but game drives in the acacia-dotted grasslands are thrilling, as are campsites located within the park – beneath the stars, and surrounded by the wild sounds of the savannah.


Tanzania cycling vacation advice
---
tips from our friends in Tanzania
Frank Cheshire, from our leading Tanzania cycling vacations supplier Intrepid, shares his advice for making the most of this unusual vacation:
Why go on a cycling vacation in Tanzania?
---
"It's unusual! There are very few places that you can cycle side by side with wild animals, past volcanoes, through traditional Maasai villages that have rarely seen a cyclist (especially one wearing any type of Lycra!) and then roast and grind your own coffee at the end of the day. Equally this trip is also about time off the bike visiting the magnificent Serengeti National Park and wildlife spotting in the Ngorongoro Crater – it's a great blend of cycling and sights! Oh, and don't worry about not feeling 'fit enough'. I'll let you in on a secret when it comes to cycling vacations – before they arrive everyone thinks that they will be the slowest no matter how fit they really are – just relax and enjoy it."
Fitness advice
---
"A reasonable level of fitness is required so enjoy the trip but you don't have to be really fit – the pace is usually fairly sedate, around 15km/h and we take regular rest stops to make sure everyone is okay to continue on. Tanzania is naturally hilly so there are a few uphill sections but as long as you stay within your limits then everything is achievable. I'd advise trying to ride a few hills back home to get used to both the uphill and riding downhill, and also to (slowly) ride a few times on a gravel track rather than just in smooth bitumen so when you get to Tanzania you'll be well prepared for the African roads. The one thing about cycling in Tanzania to be mindful of is the elevation. Much of the route is above 1,500m above sea level so cycling can sometimes affect your breathing; taking it easy until you become acclimatised is the best way to go. And we always have a support vehicle with us in case you need a quick (or long!) break. Mostly I'd advise just focusing on the amazing experience cycling in Tanzania will give you – there will always be challenges but the amazing scenery, people and unique nature of the experience will outweigh any challenge you may face."
Who goes on these vacations?
---
"We attract the full range of people on this trip but almost all are recreational cyclists with a keen interest in seeing the destination by bike as opposed to setting speed or distance records each day. We have an even split of couples and solo travelers, and in terms of age it ranges from 21 up to 72, with a very even spreads across all age ranges."
Packing advice
---
"Well first of all pack your helmet as getting a quality one locally is almost impossible. If you cycle a lot at home then bring your own saddle and pedals as you'll be more comfortable – conversely if you aren't used to riding for a few hours at a time then consider bring a gel cover for your saddle for extra comfort. It's often sunny and dusty in Tanzania so a good pair of sunglasses (that you can ride in, leave the good Ray Bans at home) are essential as it warm clothing – most people don't realise it can get cold at night, especially at altitude. But most of all pack your determination, humour and sense of wonder to enjoy a truly unique experience."
What are your personal highlights of cycling in Tanzania?
---
"To be honest I loved it all, from being led to a small village by a Maasai elder in traditional clothing on one of our bikes to riding across the flood plains of Lake Manyara surrounded by thousands of iridescent pink flamingos to freewheeling down the Rift Valley Escarpment on a perfectly surfaced road to seeing the Milky Way with my own eyes in Arusha National Park. Most of all I love the look of welcoming surprise on the faces of the children and the adults as you cycle through their world – high fives with a stranger on a bike never gets old!"
Tanzania cycling vacations tips
---
recommendations from those who have been there
At Responsible Travel, we think the best people to advise our travelers are often... other travelers. They always return from our tours with packing tips, weather reports, ideas about what to do – and opinions about what not to.

We have selected some of the most useful Tanzania cycling vacation travel advice that our guests have provided over the years to help you make the very most of your vacation – and the space inside your suitcase.
"I would thoroughly recommend this trip, but be aware that the African sun is an added challenge on the bike. A fantastic adventure with great variety of landscape and cycling terrain. Cycling is the ultimate way to visit remote parts of the amazing African continent." – Susan Ducollet-Holliday

"The exhaustion and triumph after achieving a difficult day's riding. Tom (my son) dancing with the Maasai warriors. The dust that got everywhere. The strange and wonderful bathroom and toilet arrangements. Seeing the blue Indian Ocean at the end of the trip and diving into it in our cycling clothes. The friendship within our group aged from 24 to 73 and from England, New Zealand, USA, Finland and South Africa... Having to get off the bike because a giraffe was crossing the road ahead... This is a great vacation but I'd advise you to get some off-road experience before tackling it. Many of the dirt roads we were on were in a poor state of repair, because they were off the beaten track (no pun intended!)." – Jane Thurnell-Read

"Lots of most memorables.....but the ones that really stick in my mind are: 1. First spotting of a zebra in the wild and not in a Wildlife Park 2. Sitting around the campfire (which we rarely had as John believed and which I entirely agree because of the extensive deforestation in Africa for wood that is used by the locals etc for fuel) and then walking out to the tent, looking up and seeing black, black sky with a zillion starts and hearing animal noises in the background… 5. At the same location, sitting around with the Masai guards on night asking questions about the culture and just discussing life. 6. Riding "no hands" across the dry lake (approx. 16 km) of Lake Amboseli." – Suzette Lang

"Every day brought new experiences. The animals just kept coming out on cue! Just go for it. You don't need to be a mega cyclist to enjoy the family vacation." – Monica Szolin-Jones

"The most memorable or exciting part? Waking to the sound of a lion killing a wildebeast behind our tent in Amboseli National Park campsite. Singing and dancing with 500 children from a local primary school in Tanzania." – Gaenor Morris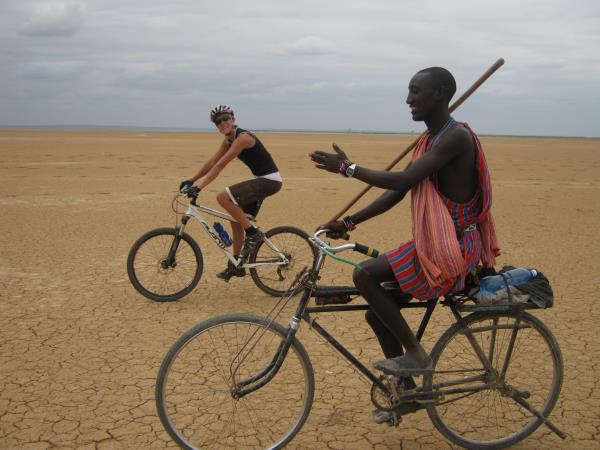 16 day biking and wildlife adventure in Kenya and Tanzania.
From
NZ $

6500
16 Days
ex flights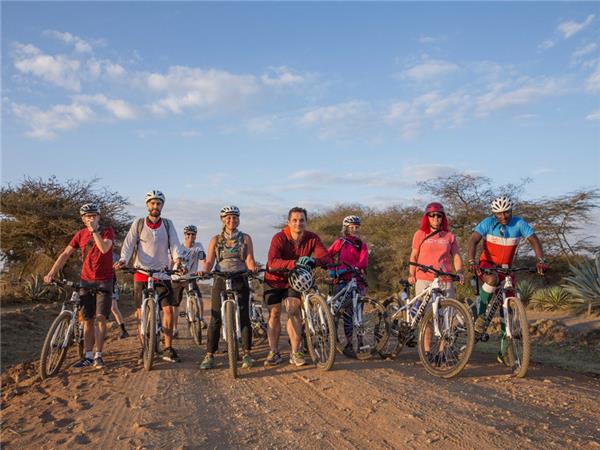 See the Serengeti, Ngorongoro Crater and Great Rift Valley - by bike!
From
US $

4046
13 Days
ex flights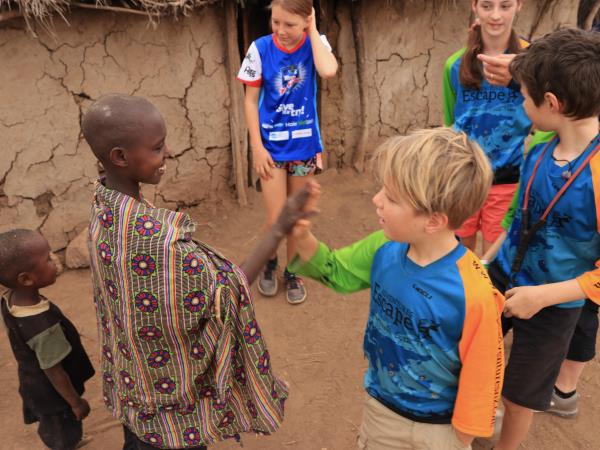 Family Biking and camping adventure in Kenya and Tanzania
From
NZ $

6500
16 Days
ex flights