Tanzania luxury vacations
map & highlights
---
MAKE THE MOST OF YOUR TIME
A luxury vacation in Tanzania typically includes a driver meeting you at Dar Es Salaam airport or one of the local airstrips. There will be omfortable 4x4s to take you on game drives, accompanied by a private guide, and internal flights in small planes to cover the miles between Dar Es Salaam, Kilimanjaro, Selous, Ruaha and Zanzibar. Obviously, a luxury trip can't magically iron out Tanzania's pitted, dusty roads, so expect any overland travel to bounce you around, but that's part of the adventure, whatever you pay! There will be time to recover, too. Most bush and beach itineraries finish with a relaxing stay on Zanzibar, Mafia or Chole Islands, where snorkelling, swimming and sun worshipping are the luxurious full stop.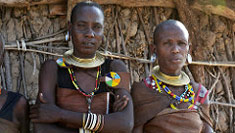 Lake Eyasi
Somewhat off the beaten track, Lake Eyasi is home to huge flamingo and pelican populations from Jun-Nov, but shrivels to an otherworldly parched lakebed during the dry season. It's home to the Datoga tribe, too – recognised by the distinctive circular tattoos many women have around their eyes – whose dress and lifestyle is similar to the Maasai, and the Hadzabe tribe, who are traditionally hunter gatherers.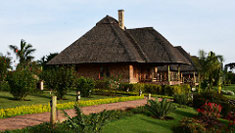 Ngorongoro Crater
This giant, 25km-wide volcano crater acts as a self-contained ecosystem. From the rim, the cliff plunges down 600m to the crater floor, where 30,000 animals live, including massive bull elephants, leopard and black rhino. It's the easiest place to see the Big Five year-round, so it is often crammed with vehicles, but some beautiful lodges dot its rim, with fantastic views part of the luxury offer.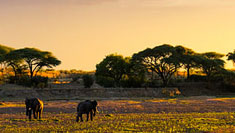 Ruaha National Park
This rough tract of wilderness is one of the most remote parks in Tanzania, with only a handful of lodges and few visitors. After the rains, the Great Ruaha River bursts its banks before shrinking to wildlife-filled pools in the dry season, which attract lions and hyenas. Ruaha is bordered by several game reserves, making it a vast landscape able to support huge herds of elephants.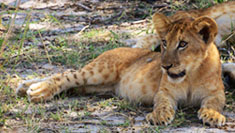 Selous Game Reserve
Little-visited Selous is even larger than the Serengeti, with the wildlife numbers to match. Thousands of elephants, buffalo and antelopes roam the park, along with rare African wild dogs, not usually seen in the north. A boat cruise on Lake Tagalala gets you close to hippos, crocodiles and birds. The massive space and handful of lodges mean you're far more likely to see wildlife than tourists.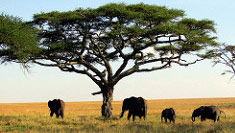 Serengeti National Park
A vast landscape of wide open plains, the Serengeti is Tanzania's oldest park. It gets its name from the Maasai word Siringet, meaning 'the place where the land moves on forever'. The Great Migration begins here as early as December, the Big Five are ever-present, and one of the largest populations of lion in Africa call this 15,000km2 park home.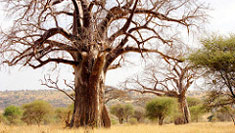 Tarangire
Tanzania's third largest park is a short hop from the northern hotspots, just as bustling with wildlife, but empty of tourists. Elephants swarm in herds of up to 300 against a surreal backdrop of silvery baobab trees. Fringe-eared oryx and gerenuk antelope cannot be seen anywhere else in Tanzania. Walking safaris allow you to enjoy the wilderness and heighten your senses to the ever-present wildlife.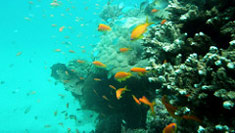 Offshore islands
Blending Middle Eastern, Indian and Swahili culture, Zanzibar is home to UNESCO-listed Stone Town, and many exclusive, small resorts where kayaking, private pools and boat tours complement the white sand beaches. Further south lies Mafia Island, fringed by coral reefs that are a diving hotspot, beaches where turtles lay eggs, mangrove swamps and tropical forests, while Chole Island offers a castaway adventure in eco-friendly tree houses.


Tanzania luxury trip travel advice
---
TIPS FROM OUR FRIENDS IN Tanzania

Amanda Marks, from our supplier Tribes Travel, has these insights into luxury travel in Tanzania, including what to expect and how far to travel:
Why spend more on a luxury trip to Tanzania
---
"There are some stunning luxury camps and lodges to stay at, which give a very high level of service, both in terms of hospitality in the lodge and with regard to the level of wildlife guiding. A luxury safari will generally mean sharing your wildlife experience with fewer people, and possibly having a vehicle and guide (usually of high quality) to yourself. It can also mean less road travel (choosing flights instead, to use your time to be on safari). Depending on the reserve you're at, it can also mean having more diversity in the types of activities you can choose from."
What to expect from a luxury lodge
---
"A very personal service – usually hosted by a camp manager which gives a feel of a house 'party'; high quality food; a variety in terms of where you dine (in a dining room, around a fire, by a river); a room which has everything you need, including niceties such as good quality toiletries, perhaps sherry, possibly a butler (yes really), a lot of space and VERY comfortable beds; privacy; often a small plunge pool. A butler doesn't do it for me, personally; but privacy and space, preferably with great views and everything you need in terms of plugs and fans for keeping cool is important. I relish views in particular and many luxury lodges/camps consider this important too."
Why fly?
---
"You can get to Ruaha and Selous National Parks by road, but that is very time consuming, and not what most people want to spend their vacation on. Even cheaper safaris to these places tend to use flights. Once here, the wildlife viewing is great, particularly in Ruaha which has far fewer people than Selous, but I also love Selous, too. I'd say Ruaha's distance from Dar Es Salaam and the very limited number of camps makes this park particularly relevant in luxury itineraries. Selous can certainly offer luxury safaris, but it can also offer safaris which don't necessarily break the bank."
Tips from our travelers in Tanzania
---
ADVICE FROM THOSE WHO HAVE BEEN THERE
At Responsible Travel, we think the best people to advise our travelers are often... other travelers. They always return from our tours with packing tips, weather reports, ideas about what to do - and opinions about what not to.

We have selected some of the most useful Tanzania luxury travel tips that our guests have provided over the years to help you make the very most of your vacation – and the space inside your suitcase
"Aim to enjoy every part of the vacation, whether it is the flight in a prop plane and landing on an airstrip with elephants and giraffes standing to on either side (or in the middle), or hundreds of hairy caterpillars in procession. Big or small, take it all in and enjoy watching and listening. The animals will be doing something different every time you see them and remember that it is a privilege to be in their environment." – Joanne Davenport

"Mixing safari with beach was a very good combination. Sports bra is a must for safari (particularly route from Matambwe airstrip to Sable Mountain), and tsetse flies are almost unbearable here; not sure what you can do to stop them (don't wear navy or black) but pre-warned is pre-armed! If you get the chance, fly camp in the Selous from Sable Mountain – a great experience!" – Claire Roberts

"If possible, try and arrange a safari tour where you are the only passengers (as opposed to sharing in large groups). You are more likely to have the quiet to appreciate the animals in a smaller group. Don't spend more than a day in the Stone Town unless you really want to shop or be especially touristy." – Ilana Howley

"We probably weren't quite prepared for how cool it was in the evenings, especially at the rim of Ngorongoro. Pack some fleeces!" – Philip Karstadt

"Simply relax, enjoy it and let the very capable staff take care of everything. The mosquitoes are a problem at certain times of year so take the pills and use repellant. Take plenty of US dollars, in small denominations for tips. It is very hard to cash traveler's cheques. Two nights is more than enough time to be in Stone town." – John Black

"Be prepared – it's a different world and if you want total relaxation and comfort, safaris aren't for you. However, if you can put up with insect bites and a sore bottom from bouncing around in a safari vehicle, then you will see some truly awesome sights. We think our vacation was well worth the money as we knew we were supporting local people and eco projects. That's what makes this vacation unique. Talk to your tour operator about how you can help the local people." – Clare Hewitt

"The most important thing about this vacation was realising as visitors we can make a real difference by choosing hotels, restaurants, tour operators, guides who can provide tourism in a sustainable way rather than those who are out to make a fast buck. Ask questions and make sure you are comfortable with where your money is going!" – Clare Hewitt