Best time to visit Galápagos
Unlike most other wildlife destinations, the animals here can be seen year round, with few migratory species and no need to wander off in search of waterholes or food. Their behaviour does vary though, so you may want to take this into consideration – whether you want to play with penguins, swim with baby sea lions, see tortoises hatching or sea turtles laying their eggs – there are wildlife spectacles year-round in the archipelago.

Seasons are split into cool and dry (June - November) and warm and wet (December - June), with the warmer season being the best time to visit Galápagos for warmer, calmer seas and good underwater visibility. Showers tend to be short, so you can make the most of the heat on the beach or the deck of your boat.
The Galápagos Islands,
month by month
New year in the Galápagos brings sunshine as well as rain, and although you'll only find a slight daily drizzle it's pretty much a permanent fixture from January through to May. The start of the year is when green turtles lay their eggs and considered one of the best times to visit the Galápagos Islands. Warmer weather signals l'amour and many of the land birds, sea lions, turtles and tortoises that you'll find on the Galápagos use February, March and April as their breeding or nesting season amongst a blanket of blossoming spring flowers. By May, blue-footed boobies are doing their courtship dance in North Seymour. This is also a great time of year for beach lovers as, although there's every chance of a daily shower, sea and land temperatures are at a high. The colder climes of June through to November send an abundance of plankton and nutrients to the rougher seas off the coast of the Galápagos which provides sea birds, such as albatross and penguins, with food as well as an underwater treat for divers braving the cooler temperatures. Although sunshine is not exactly at a premium during July this is the mating season for blue-footed boobies (particularly on Isla Española) and short-eared owls, with Genovesa Island providing the perfect place to observe rituals from a respectful distance. August and September are still dry but relatively cool and it's not until October that temperatures start to rise with December kicking off the start of hatching season for giant tortoises.
Our Galapagos Islands Vacations
The Galápagos Weather Chart
Our top Galapagos Islands Vacation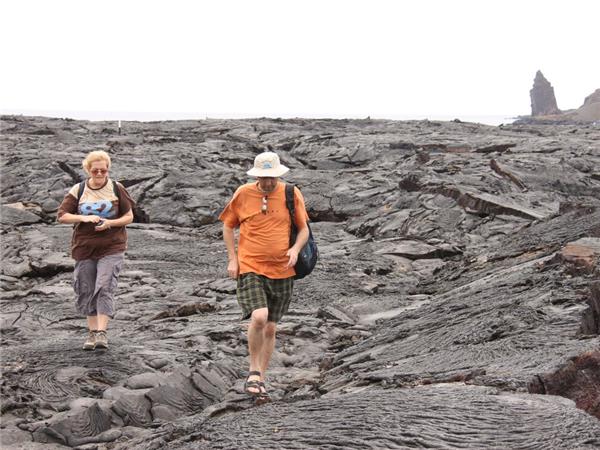 Discover rich marine life, abundant bird colonies and stunning landscapes
From
US $

5528

to

US $

7915
10 days
ex flights
Small group travel:
2023: 22 Aug, 31 Oct, 14 Nov, 26 Dec
2024: 9 Jan, 6 Feb, 20 Feb, 5 Mar, 16 Apr, 30 Apr, 28 May, 20 Aug, 3 Sep, 17 Sep, 1 Oct, 29 Oct, 12 Nov, 26 Nov, 10 Dec
If you'd like to chat about Galapagos Islands or need help finding a vacation to suit you we're very happy to help.

Responsible Travel recommends
Tim Winkworth, from our supplier the Family Adventure Company, recommends timing your visit to coincide with the courtship season of blue-footed boobies and frigate birds. The exact timing varies from island to island, so check with your vacation company: "You're not just seeing one or two birds; you are walking round, having to step off the path to walk around them in massive numbers as they're doing their mating rituals. The boobies are wobbling from left to right, like an accentuated penguin, and the frigate birds are inflating the red sac on their neck, blowing it up and making a noise (in Mar-Apr). They're doing something that is key to their life, and you're within it, not on the outside of it. I saw all these amazing animals - but what seals all my memories is sitting and watching two blue-footed boobies mimicking each other hopping from one foot to the other, one foot to the other (in Apr-Jul). It's lovely - it's not all big, powerful stuff; it creates a warm feeling!"
Wildlife events in Galápagos
Humpback whales
One of the archipelago's few migratory species is the humpback whale. These can be seen in the surrounding ocean from June-September.
Baby sea lions
Baby sea lions are some of the most awesomely adorable creatures on earth. To see really tiny ones, the best time to visit is in August, when they are born. Fancy swimming with them? Then dive into the sea in November, when the playful pups are getting their sea legs.
Green turtles
If reptiles are more your thing, the best time to visit Galápagos is at the beginning of the year to see huge green turtles laying their eggs on the beaches. They'll hatch around two months after being laid, with tiny babies less than 5cm long. In December-March, you can see baby giant tortoises hatching.
More about Galapagos Islands