Traveling in the Galápagos with kids

Unlike game drives or jungles, where animals are elusive and must be watched in silence, the Galápagos is overflowing with wildlife – and none of it is dangerous.

The Galápagos is every kid's fantasy island – a place with doe-eyed baby sea lions, tortoises as big as trikes, salt-snorting marine iguanas and comically dancing boobies – and none of show the slightest fear of humans. Family cruises are recommended, especially for pre-teens, as the guides tailor their talks for younger audiences, and parents needn't worry about disturbing child-free passengers with tantrums or slower-paced hikes. But when traveling in the Galápagos with kids, we recommend a land-based tour to really give them space and time. You'll have days off to spend on the beach, and no early departures or late nights to bother a fractious child.
Our top Galapagos Islands family Vacation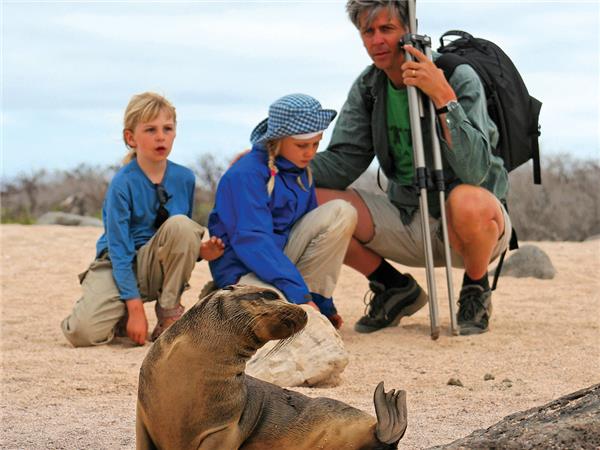 Follow in the footsteps of Darwin on this family vacation
From
US $

2374

to

US $

3475
8 days
ex flights
Small group travel:
2023: 2 Jul, 5 Aug, 31 Dec
2024: 7 Jan, 31 Mar, 6 Apr, 30 Jun, 3 Aug, 29 Dec
Activities for families in Galápagos
Explore the beaches
Give the kids a chance to stretch their legs and run around, at the many glorious beaches of Galápagos. Black sand, white sand, a backdrop of mangroves or volcanic rocks, they offer the chance to both relax and explore. Staying at Puerto Ayora gives access to some excellent little bays, which will be all yours (save the sea lions!) once the cruise ships leave town, but others are reached along forest trials or by hiking through atmospheric mangroves.
Take to the water
Kids will love kayaking – either along the shore or out in the open ocean. Two-seater kayaks are available, so parents can join younger children in the water, while sea lions, turtles, marine iguanas and penguins dive under the boats, fearless and friendly.
Stick to dry land
Cruise passengers have to stick to strict itineraries with early starts, prompt departures and late nights – all cooped up on a boat. With growing accommodation options on the islands – both in the towns and at inland and coastal campsites, land-based tours can give more flexibility for those traveling in the Galápagos with kids. They'll have more time to run around and soak up the atmosphere, bedtime is when you want – and you won't need to worry about bothering childless passengers.
If you'd like to chat about Galapagos Islands or need help finding a vacation to suit you we're very happy to help.

Responsible Travel recommends
Tim Winkworth is a family travel specialist from our supplier the Family Adventure Company. He also has three young and very lively boys. Here are his tips for cutting costs when traveling in the Galápagos with kids: "Most families anticipate that the Galápagos would be out of their price range - but by staying in a hotel you can cut the cost virtually in half, rather than booking on a boat with limited spaces and high demand. The boats are fine for children, but in my opinion you can actually improve the experience by giving them space – and the parents have more space too. It's just a bit more relaxing, and definitely better to let the kids go a bit wild and STILL see all the wonderful wildlife. Traditionally it's one of those places that people have believed are out of their reach. And that's why I'm delighted that there are now tours that they can do."
Morag Prosser, from our supplier ROW Adventures, shares her tips on family cruises and activities for those traveling in the Galápagos with kids: "Our family tours are only open to family groups – we don't do couples or singles. That's so that if you have a groups of seven- to ten-year-olds, they can run the tour at a pace that's suitable for that group. The kids have other kids to interact and learn with, and you don't have single adults chomping at the bit to move faster, and feel like the kids are holding them back so that their parents are getting uncomfortable. So by keeping those groups as separate as possible, we can run the tours at the optimum level.

"The wildlife particularly is what they love. The snorkelling with sea lions... most of them will start off a little hesitant but our guides are in the water with them and they can feel comfortable. By the end of the day it's usually the parents who are more nervous about the sharks or sea lions, and the kids are having a blast!"
More about Galapagos Islands