Visit Lhasa's monasteries & palaces
At 3,490m, Lhasa is one of the highest cities on earth – but this has not deterred its inhabitants from constructing some of the world's most astounding religious buildings here. The most famous of all is Potala Palace, the stunning former residence of the Dalai Lamas since the 7th century. Sat atop a hill in the middle of the city, this red and white palace dominates the landscape and its rammed earth walls contain over 1,000 rooms.
5km west of Lhasa, Drepung Monastery is the largest in Tibet; in its heyday it housed some 10,000 monks. Drepung was founded in 1416 and its name means "collecting rice" – a reference to the appearance of this sprawling white building from afar. There are grand entrances, colourful hallways, statues of Buddha and impressive woodcarvings. The second largest monastery in Tibet is Sera, built in 1419. Covering over 11 hectares, Sera lies in Lhasa's northern suburbs and contains many statues, scriptures written in gold, and beautiful murals. You can join the monks' debates from 3pm each Monday-Friday, in which they discuss Buddhist doctrines in order to reach deeper understanding. You might not comprehend a word – but the traditional spectacle is enlightening in itself. As if that wasn't enough, Lhasa is also home to Norbulingka – the Dalai Lama's summer palace, and Jokhang – Tibet's oldest and most sacred temple.

The Tibetan approach to the world's highest mountain gives you the chance to gaze in wonder at its astoundingly beautiful north face, sure to leave you speechless

Marvel at Everest's might
Tibet's Everest Base Camp approaches the mountain from its north slope, and, unlike its Nepalese equivalent, this route is usually carried out in a vehicle – making it much more accessible, despite its 5,150m altitude. You'll have sweeping views of Mount Everest from base camp, as well as from the nearby Rongbuk Monastery, founded in 1902. Rongbuk's monks and nuns, and the meditation caves punctuating the surrounding cliff faces, somehow make this incredible encounter even more spiritual and stirring.
Trek the Himalayas
Nepal is not the be all and end all when it comes to Himalayan hikes; Tibet offers some extraordinary routes well beyond the reach – or even the imagination – of most trekkers. While this once forbidden nation is gradually luring more tourists, few make it beyond Lhasa and a few key monasteries – but trekking vacations ensure you explore far beyond. Trek around the base of Mount Kailash (6,741m), sacred to Buddhists, Hindus and Jains, and take in the extraordinary views of this prominent peak, which overlooks two lakes. If you have four weeks to spare, you can trek from Lhasa to Kashgar, an incredibly remote desert oasis on Tibet's high plateau.

Many routes across Tibet are not so remote, of course – they are still used by pilgrims trekking to ancient monasteries tucked into Himalayan valleys and atop rocky peaks. Multi-day walks take you through beautiful scenery, staying at tiny herders' camps and close to traditional villages. And walking beside local pilgrims and monks, will bring you up close not only to Tibet's magnificent landscapes, but also to the deep spirituality of its people, despite decades of oppression.
Our top Tibet Vacation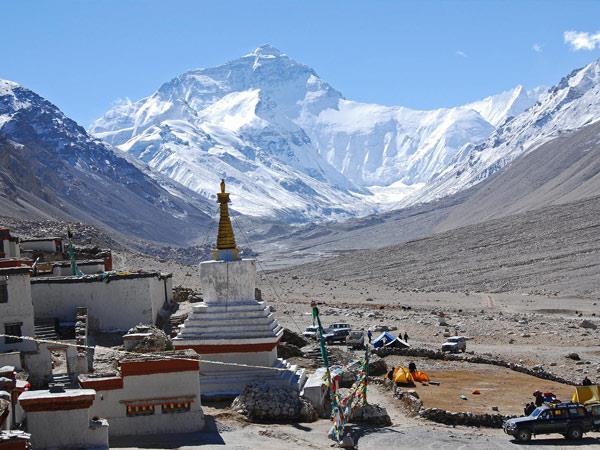 Surrealistic beauty of Mount Everest and Namtso Lake
From
US $

1200

to

US $

1400
10 days
ex flights
Small group travel:
2023: 11 Jun, 22 Jun, 9 Jul, 16 Jul, 1 Oct, 15 Oct, 24 Dec
2024: 30 Sep
If you'd like to chat about Tibet or need help finding a vacation to suit you we're very happy to help.


The kingdom of Bhutan, the Hindu traditions of Nepal and once-forbidden landscapes of Tibet offer quite different perspectives of Himalayan life

Combine countries
Two weeks in the Himalayas is enough to cross borders, exploring these three neighbouring countries: Tibet, Nepal and Bhutan, with shared cultures but very different backgrounds, politics and beliefs. Buddhist rituals, extraordinary palaces, temples and monasteries, "Gross National Happiness", struggles for freedom and a constant backdrop of snowcapped peaks ensure that this type of vacation will be as enlightening as it is memorable.
Alternatively, take the train to Lhasa from Beijing, with a 32-hour stretch from Xi'an on the highest railway in the world – the "sky train" – introducing you to some of the Earth's most dramatic landscapes outside your window. It's also a great way to acclimatise gently!