Marine conservation in Timor-Leste
Timor-Leste's jungly interior, pristine beaches and lack of tourist crowds make it feel like a hidden tropical idyll, but this is a long way to come just to chill out on the beach. Most travelers are here for the incredible biodiversity that thrives in its oceans. Timor-Leste is part of the Coral Triangle, a kind of underwater Amazon and the most biodiverse marine environment in the world, home to over 50 percent of the world's coral reefs.
Rugged Ataúro Island, where marine conservation projects are based, is particularly special. According to a recent
biological survey
, it sits in waters that have more species of reef fish per site than anywhere else on the planet. Other larger species thrive here too; the deep sea channels of the surrounding Wetar and Ombai straits are over 3,000m deep and are a major migratory route for sharks, turtles and marine mammals including whales, dolphins and dugongs.
What does a marine conservation vacation in Timor-Leste entail?
Despite Timor-Leste's biodiversity superstar status, research and monitoring has been limited and data is seriously lacking. A marine conservation trip is essentially a working vacation, where you'll join a team of trained researchers and scientists working to protect local ocean ecosystems, by taking research dives in previously un-surveyed waters.

As well as getting the lowdown on the health of offshore coral reefs, you'll help with cetacean (whale and dolphin) research and survey the island's threatened seagrass habitat, which is home to vulnerable species including dugongs, and serves as a vital feeding ground for sea turtles. You'll also spend time with the local community, supporting ecotourism ventures, taking part in beach clean-ups and raising environmental awareness.

The 8,000 people who live on Ataúro have traditionally survived by fishing and farming and are working on ways to create sustainable livelihoods in the face of overfishing, climate change and population growth. Marine conservation work helps them, and Timor-Leste's wider coastal communities, access valuable data so they can understand what's needed to protect their environment.
What training will I be given?
You're not expected to know the ins and outs of scientific research before you start; what's most important is your enthusiasm and desire to make a genuine difference. You'll be fully trained at the beginning of your trip by an on-site field scientist. Some of this will be classroom based, involving lectures and discussions, while some will be practical, underwater, on-the-job training. You'll also need a thorough medical check before joining a volunteer expedition.
Do I need to know how to dive?
If you want to get stuck into research dives then a PADI Advanced Open Water qualification (or equivalent) is essential. Don't be put off if you don't already know how to dive, though. Our tour operators can arrange for you to take a PADI course at a diving center in Dili, Timor-Leste's capital, a week or so before you start your expedition. Once you've begun your programme you'll be getting under the water five or six days a week, and once or twice a day, during which you'll survey new reef sites, collecting valuable data.
When can I go?
You can volunteer year round on Ataúro. The weather's always balmy, with the drier, cooler season running from April to October, when you'll need a thicker wetsuit; and the rains setting in from November to March, when warm water temperatures make for very comfortable diving.
How long do I have to commit to?
To make a real difference you should stay for between four and 12 weeks. If this is too long a commitment, it's also possible to take two-week, small group dive trips, during which you'll explore Timor-Leste both above and under the water, and learn about marine conservation through lectures and meeting field staff and local volunteers.
If you'd like to chat about Timor-Leste or need help finding a vacation to suit you we're very happy to help.

Where will I stay?
While staying on Ataúro and you'll usually split your time between homestays and an ecolodge. The island's local ecolodge is rustic but comfortable, and you've a choice of a dorm or a private thatch and wood hut, both with shared bathrooms. The rest of the time you can stay with a Timorese family – a wonderful way of providing an alternative livelihood for local families as well as a rich cultural experience for volunteers. Wherever you're staying, you'll be provided with three simple meals a day.
What about other activities?
There are rest days and afternoons off built into volunteer schedules, so you'll have plenty of time to explore your surroundings. With fabulous reefs just offshore and plenty of dreamy white beaches you could easily spend all your free time swimming, snorkelling and lazing about on the sands, but there's plenty more here to keep you busy. You could go on fishing or sailing trips with local fishermen, visit markets and craft centers, or head into the island's interior for some top notch hiking – often ending with dramatic views across the island's forested bulk.

Heading away from Ataúro, you can learn about the country's history in dynamic Dili and visit remote communities and coffee producers in its mountainous interior.
More about Timor-Leste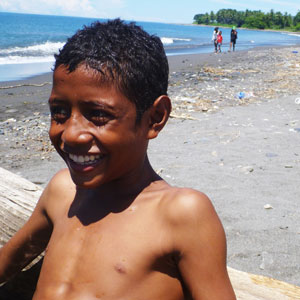 If you're looking for sun, sea and sand with an intrepid twist then Timor-Leste could be just the ticket.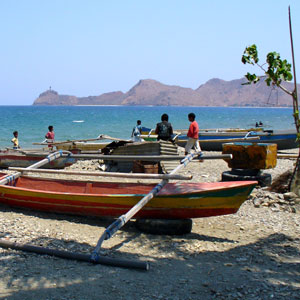 Whenever you choose to come, you'll find something to float your boat, so read on to discover the best time to visit, including top travel tips from our experts.