Birdwatching in Tobago
---
BRING YOUR BINOCULARS!
Teeny Tobago has one of the highest densities of bird species in the world – with some 220 varieties diving into its waters, flitting around its flora and hiding high in its rainforest canopy. But it's about quality as much as quantity here – whether you're a seasoned twitcher or simply taking a stroll through your guesthouse gardens, seeing the birds themselves is an absolute pleasure.
Some of the most commonly seen, thanks to the abundance of syrup-filled feeders draped from every balcony and branch – are the hummingbirds. The six species include the rare white-tailed sabrewing, seen mainly in the forest reserve, and the ruby-topaz – a photographer's favourite with feathers as jewel-like as its name suggests. The large, blue-crowned motmot is another striking specimen, turquoise and emerald as the island it inhabits. The most sought after bird is arguably the male blue-backed manakin, a tiny, black bird with a sky-blue cape and splash of red on its head. You don't have to go far to find birds though – yellow bananaquits will hop onto your breakfast table to steal guava jam, while the barks of the huge cocrico (aka the rufous-vented chacalaca) – Tobago's national bird – is a guaranteed wake-up call.

Tobago's diversity of species is due to its geography, straddling the Americas and the Caribbean. Although fewer than half its bird species breed here, migrants from North and South America make up the numbers.

Newton George is the island's most renowned birding guide; his specialty is the forest reserve as well as Little Tobago. His laser pointer makes spotting dark birds in the thick foliage easy, as well as his spotting scope – he finds the birds, you just look through the lens.

Newton George, wildlife guide
Listen to Newton speak about what kind of birds you can see in Tobago. [01:40]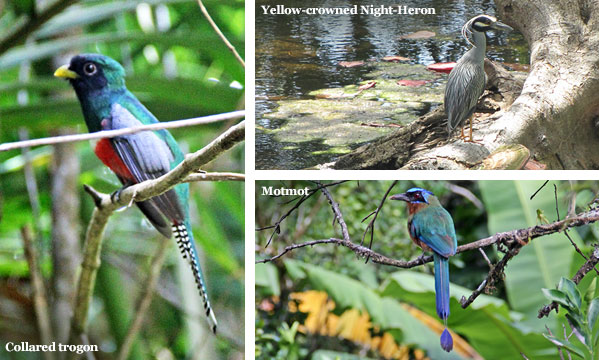 Main Ridge Forest Reserve
---
This is Tobago's key bird watching destination – with around 100 of its species found in the treetops. The main road leading into the reserve is a great place to start – as there is less foliage for the birds to hide in, and more light to shimmer of their feathers. Look out for several hummingbird species as well as blue-backed manakins, fork-tailed flycatchers migrating from South America, potoos and the beautiful collared trogon.
Little Tobago
---
If David Attenborough's done a wildlife documentary there, you know it has to be good. Part of the BBC series The Trials of Life was filmed on uninhabited Little Tobago, focusing on the magnificent frigatebirds. Known for the males' ballooning red pouch the frigatebirds were the stars of the documentary as their feathers lack any oily waterproofing. As they can't get wet, these seabirds often attack other birds mid-flight to steal their food – a dramatic display of nature.

Red-billed tropicbirds nest on the island from November to April, making this the best time to see these birds with their scarlet beaks and flowing white tail feathers. The clown-faced red-footed booby, brown booby and Audubon's shearwater can also be seen here.
Adventure Eco Farm
---
Hummingbird
fans should head to the
Adventure Farm and Nature Reserve
where five of the six species can be found buzzing around the villa's feeders. Leave a plate of freshly chopped tropical fruit out then go and ring the bell – they'll come buzzing in, loud as a swarm of bees. Around 48 bird species have been counted here. A new tilapia pond attracts
egrets and herons
, woodpeckers can be heard pounding the trunks, and
tanagers, flycatchers
and
doves
swoop in and out of the surrounding fruit trees.
Responsible Travel would like to thank Visit Tobago for their sponsorship of this guide
---
Photo credits:
[Top box - bananaquit: Tobago Tourist Board] [Yellow-crowned Night-Heron:
Teresa Frost
] [Collared trogon: Vicki Brown] [Mot mot: Vicki Brown]