Ukraine's cities, such as Chernivtsi, Lviv and Kiev, the capital, are surprisingly contemporary although you can still expect to find pretty pastel shaded facades, intricate churches and pedestrianised boulevards reminiscent of central Europe and the Austro-Hungarian Empire. As Ukraine is pretty flat, any undulations are instantly impressive, with the Carpathian Mountains standing out both for their height and for their waterfall-filled forests, as well as the wooden churches, constructed without nails by indigenous Hutsuls.

The west of Ukraine is safe, modern and relatively cosmopolitan where only nods to Russia can be found on novelty toilet rolls featuring Putin's face.

Religion plays a huge part in Ukrainian philosophy, almost as large as potatoes, which is why small group tours feature numerous examples of elaborate ecclesiastical architecture. They also whisk you off to some of UNESCO's finest heritage sites, including St Sophia Cathedral and the Lavra cave monastery, both in Kiev. Finally, eastern Ukraine, close to the Russian border, still hangs onto Mother's apron strings so it's best to avoid this region, as well as Crimea in the far south, for the time being.

Find out more in our Ukraine travel guide.
Ukraine is…
the largest country entirely in Europe, and the west actually used to be part of Poland, not Russia.
Ukraine isn't…
'the Ukraine', it's just 'Ukraine'.
Ukraine is a country of two halves with the west – where our vacations focus – providing a much more modern outlook in cities like Kiev and Lviv; whereas the east, on the border with Russia, still largely identifies with Soviet times past. The Dnieper River physically cuts the country in half from Chernobyl, on the Belarus border in the north, through Kiev and onwards to Odessa and the Black Sea. A full day's drive northwest of Odessa takes you around the Moldovan border to the cosmopolitan city of Chernivtsi and access to the Carpathian Mountains whereupon you can continue on to Lviv. Ukraine is also conveniently placed for trips onwards into Moldova and Belarus, for a real exploration of this largely unvisited part of Eastern Europe.
1. Carpathian National Nature Park
2. Chernivtsi
3. Chernobyl
4. Kiev
5. Lviv
6. Odessa
7. Zhovkva & Krekhiv

Carpathian National Nature Park
1. Carpathian National Nature Park
Access the alpine meadows, spruce, fir and beech forests of the Carpathian Mountains via touristy Yaremche and you'll find yourself amongst not only waterfalls, such as Probiy and Huk, but also the Dovbush rock carvings and wooden churches steeped in traditional Hutsul culture. Stay in a village guesthouse and find out more about the folklore and the food of those living deep within the Carpathians.
2. Chernivtsi
Set within the Carpathian foothills on the River Prut, Chernivtsi is one of Ukraine's cultural epicenters with a collection of theatres, museums and architectural grandeur leading back to the days of the Austro-Hungarian Empire. The UNESCO World Heritage Site of Chernivtsi University is certainly worth a visit, although sitting in Theatre Square with a slice of cherry solozhenik can be just as rewarding.
3. Chernobyl
The 1986 Chernobyl disaster continues to cast a spectre over the nuclear industry to this day. Scene of the world's worst nuclear accident, the site is now considered safe for visitors. Guided tours here also take you around nearby Pripyat, which had to be abandoned by its residents in the blink of an eye and now stands hauntingly desolate, and amazingly reclaimed by nature.
4. Kiev
You cannot come to Ukraine without taking in Kiev with an overnight train journey across the border from Minsk or a high-speed equivalent from Lviv just a couple of ways to arrive in style. Saint Sophia Cathedral, Kreschatyk thoroughfare, Independence Square, the Lavra cave monastery, the wooden windmills and churches of Pyrohiv Folk Museum; slice open Kiev and gorge on what lies inside.
5. Lviv
Life in the UNESCO-rated center of Lviv takes place upon a cobblestoned stage against a curtain of Renaissance architecture and market squares decorated with statues and fountains. Elsewhere Lviv features Jewish heritage sites, green parks and gardens, overlooked by the shadows of High Castle and St. George's Cathedral. Lviv is a cultural delight and blissfully unaware of mass tourism.
6. Odessa
There's an overnight train from Lviv to Odessa which leads to a cultural crossroads bound by the Black Sea and intrinsically tied with revolution and Soviet Russia. Odessa opens up to limestone catacombs, 12th century Shabo vineyards and the coastal fortifications of Bilhorod-Dnistrovsky as well as the city's Opera House, Potemkin Steps and monumental Alley of Glory.
7. Zhovkva & Krekhiv
As the Ukraine's only gas-free city (preferring wood-powered heating instead), Zhovkva knows a thing or two about progressive policies. However, it's the historical sites of the Holy Trinity wooden church and the town's largest building, Zhvkva Castle, which most tourists come to see. From here, make the pilgrimage to the village of Krekhiv, just 10km away, and its highly impressive 16th century Basilian Monastery.
Our top Ukraine Vacation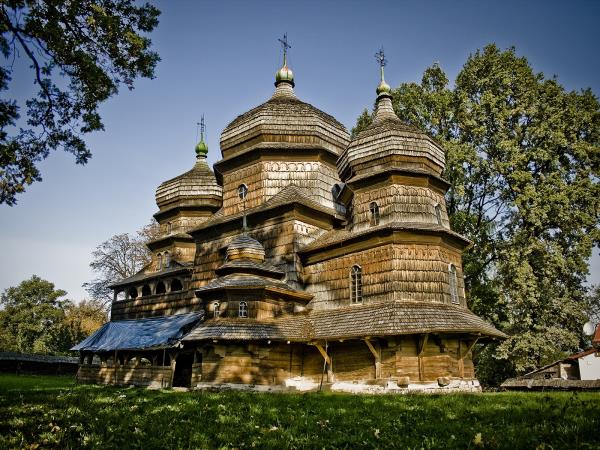 Stunning scenery, historic cities and traditional cultures
From
£

2675
16 days
ex flights
Small group travel:
2019: 9 Jun, 7 Sep
2020: 6 Jun, 12 Sep
If you'd like to chat about Ukraine or need help finding a vacation to suit you we're very happy to help.
Convert currencies